Tencent
Get more with myNEWS
A personalised news feed of stories that matter to you
Learn more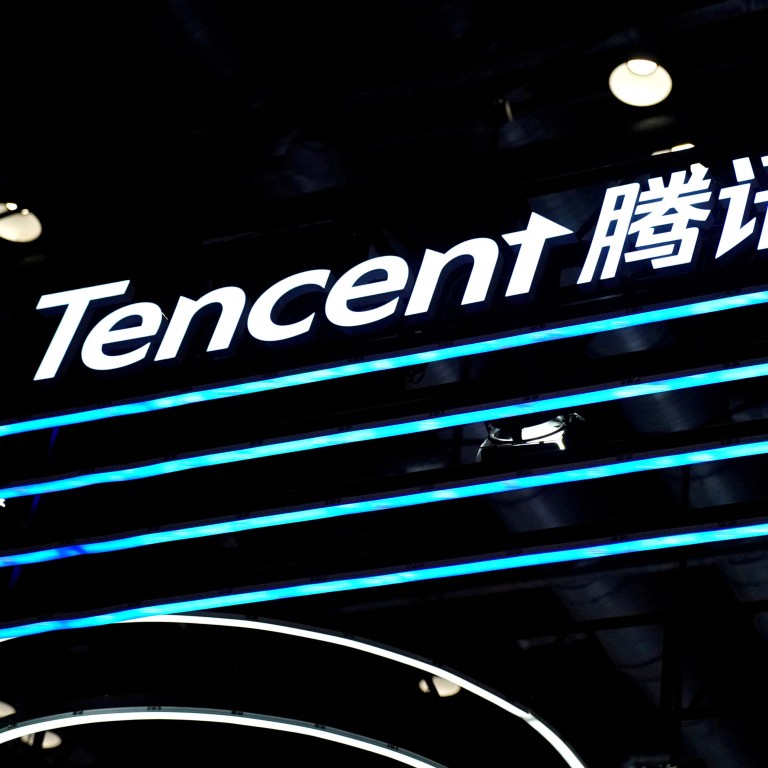 Tencent posts 2 per cent drop in third-quarter revenue, gives away Meituan stake, amid regulatory uncertainty and economic headwinds
The Hong Kong-listed internet giant posted a profit of US$5.63 billion for the three months ended September 30, up 1 per cent up from a year ago
Tencent said it would disburse its majority stake in Meituan to existing shareholders, in another divestment following move with JD.com
Tencent Holdings
reported a further decline in revenue in the third quarter, and said it would disburse its stake in on-demand delivery platform Meituan to shareholders, as the Chinese internet giant faces macroeconomic headwinds caused by the country's strict pandemic control measures.
The Hong Kong-listed company, which runs the world's largest video gaming business by revenue and operates China's largest social media platform, posted a profit of 39.9 billion yuan (US$5.63 billion) for the three months ended September 30, only 1 per cent up from 39.5 billion yuan a year ago. The number exceeded consensus estimates of 25.9 billion yuan by analysts polled by Bloomberg.
Total revenue in the quarter reached 140.1 billion yuan, down 2 per cent from 142.37 billion yuan a year ago. That was the second quarterly decline since the company's listing and worse than the consensus estimates of 141.4 billion yuan, according to analysts polled by Bloomberg.
Tencent also said it would disburse its majority stake in Meituan to existing shareholders in a 1:10 proportion, in another major divestment following a similar arrangement with
JD.co
m earlier this year.
After the divestment, Meituan will no longer be accounted as an associate, Tencent said.
Pony Ma Huateng, Tencent chairman and CEO, said the Meituan stake had generated significant returns. "Our resilient businesses, diversified cash flows, sizeable cash balance and substantial investment portfolio enable us to invest in strategic growth areas and innovation, while at the same time returning capital to shareholders," he said in a statement on Wednesday
Tencent president Martin Lau Chi Ping said in an analyst conference call that "we have made a very big financial gain from it [Meituan] already. That's why we would like to allow our shareholders to start making their own decisions about what to do with the shares".
Ma added that the company benefited in the third quarter from adjustments it has made. "We activated in-feed advertisements in Video Accounts, achieved breakthroughs in international games publishing, and executed cost efficiency initiatives which refocused us on core activities and controlled our cost growth."
With reference to Video Accounts, Lau said "revenue has been ramping up fast since we made additional inventory available … We are on track to exceed 1 billion yuan in quarterly revenue in the fourth quarter". With regard to overall ad revenue, Lau said "we are on track to resume year-on-year growth in late 2022".
The third quarter results came as Tencent continues to face macroeconomic headwinds under the country's Covid-19 control policies, and as it looks for new growth drivers for its business. Its share price has been on a roller-coaster ride, reaching a historic low since 2018 before rebounding this month.
Tencent shares in Hong Kong rose 2.2 per cent on Wednesday ahead of the earnings announcement, closing at HK$294.4.
Addressing the issue of job cuts, Lau said after a "rationalisation of non core and underperforming businesses, we optimised our workforce and controlled staff costs at the end of the third quarter".
In September the company pulled the plug on its WeGame app, the video game portal that was Tencent's answer to Steam, due to "changes in business development strategy". In the same month, Tencent was granted its first gaming license in 15 months, but its core gaming business faced a slowing domestic economy, shrinking player base and ongoing regulatory scrutiny.
Chief strategy officer James Mitchell said in the conference call that any improvement in video gaming revenue would depend on the issuance of new licences and the macroeconomic environment. International game revenue rose 3 per cent to 11.7 billion yuan in the third quarter, while domestic game revenue fell 7 per cent to 31.2 billion yuan.
China has cracked down on gaming content in recent years, introduced measures to protect minors and slowed the pace of new licence approvals. The gaming regulator has not released any new approvals since September.
Lau said in the call that "the overall regulatory situation is trending towards a more supportive environment".
The number of monthly active users for WeChat reached 1.3 billion in the third quarter.
WeChat's user base "represents strong long-term growth potential via ramping up monetisation on its Video Accounts and mini programs as well as other social segments, where a large user base is the key value proposition," Tsz Wang Tam, analyst at DBS, wrote in a recent note. "We are more optimistic on the long-term growth outlook of the WeChat ecosystem despite near-term macro challenges."