Foxconn
Get more with myNEWS
A personalised news feed of stories that matter to you
Learn more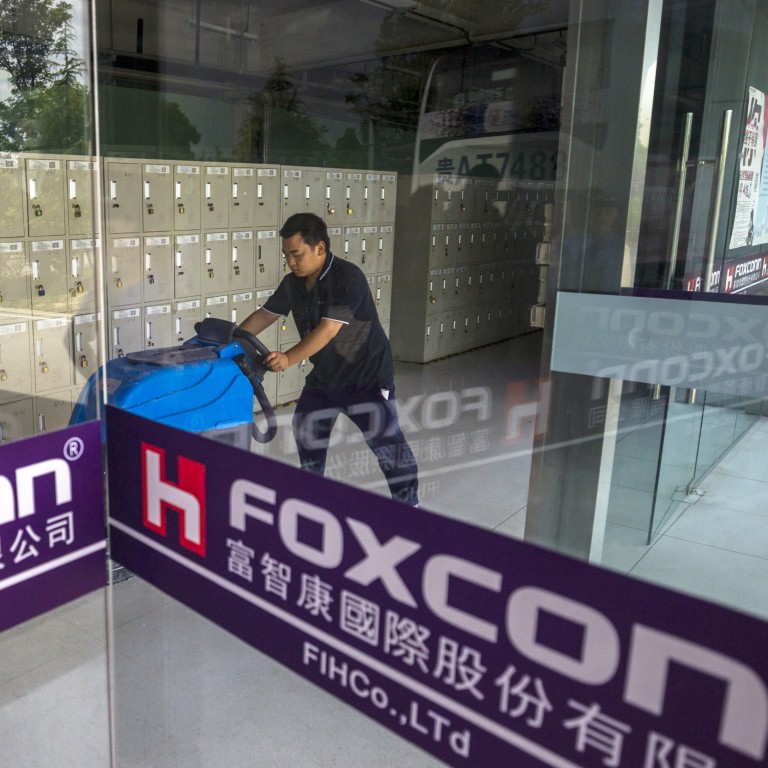 Apple supplier Foxconn suspends hiring at largest iPhone factory for 3 days over shortage of quarantine space
Hiring has been suspended through Saturday as Foxconn's strict quarantine policy has been unable to keep up with an influx of new workers
Since a Covid-19 outbreak spurred an exodus of workers, Foxconn and local governments have raced to restaff the factory to get it back to normal production
The world's largest iPhone factory, operated by Apple supplier
Foxconn Technology Group
in the central Chinese city of Zhengzhou, has suspended hiring for three days due to limited quarantine capacity, according to two local recruitment agents.
Yet strict quarantine policies have meant that there is not enough room for a huge influx of workers. Hiring has been suspended from Thursday to Saturday, an agent told the South China Morning Post over the phone on Friday. The person, who asked not to be named because he is not allowed to speak with news media, said many jobseekers are still applying.
More than 100,000 applicants have put their information into Foxconn's pre-hiring system, Chinese financial news outlet Yicai quoted an unidentified Foxconn executive as saying on Friday. If every applicant were hired, it would be enough for Foxconn to fill all of its vacant positions.
Under the required closed-loop mode of production that keeps workers confined to Foxconn's campus to minimise the spread of Covid-19, potential job candidates must go through a health check and a quarantine at a designated location before going to work on production lines. New hires must quarantine for four days, according to the latest notice from Foxconn's iPhone production unit in Zhengzhou.
Once Foxconn solves the capacity issue, hiring is expected to speed up, the second agent said.
Foxconn did not immediately respond to a request for comment on Friday.
The factory, which at its peak had about 300,000 workers, is struggling to maintain normal production. Apple issued a rare statement on November 6 saying the Covid-19 restrictions have
delayed iPhone 14 Pro and iPhone 14 Pro Max shipments
amid "significantly reduced capacity" at the Zhengzhou facility.
An initial batch of new recruits arrived at Foxconn's Zhengzhou facility last Sunday, according to a report by the government-run Henan Daily. Henan Vice-Governor Sun Shougang visited the campus that day, encouraging the employees to "be confident and united" that "production and living order will soon return to normal".
Neither Foxconn nor the local government has reported the scale of the Covid-19 outbreak at the facility. Henan health authorities recorded 108 confirmed cases on Thursday, 107 from Zhengzhou. Among the 1,579 asymptomatic cases, 1,556 were from Zhengzhou.