Huawei
Get more with myNEWS
A personalised news feed of stories that matter to you
Learn more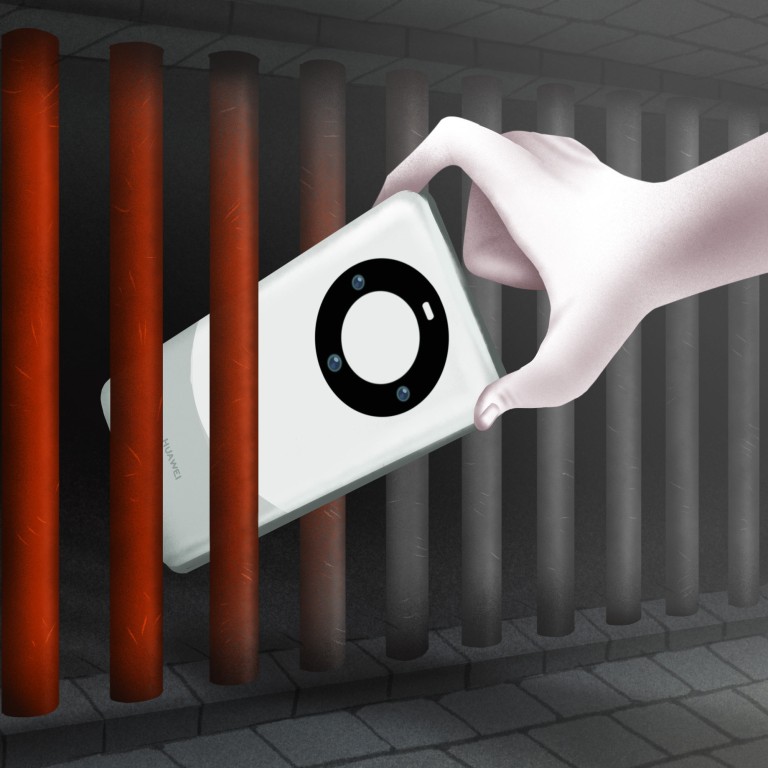 Huawei's 5G smartphone comeback, with advanced chip wrapped in secrecy, releases chokehold of US sanctions on China tech
Huawei's new 5G smartphones and the advanced, made-in-China chip for these handsets have become symbols of the country's victory against US sanctions
Formerly China's biggest smartphone vendor, Huawei has scrambled to adapt its production of handsets amid tightened tech restrictions imposed in 2020
"If you're expecting to buy a 5G smartphone made by Huawei, [all of us] need to wait for approval from the US Department of Commerce," Xu said. "We can produce 5G smartphones when they license 5G chips to us."
Huawei's return to the 5G smartphone market and the controversy over its advanced, made-in-China processor reflect the lengths taken by the company to build up its operations, following years of struggles on account of US trade sanctions.
Lee said Huawei's newly launched foldable model, the Mate X5, that is based on the same SoC as the Mate 60 Pro series, has also sold out.
"Huawei's return to the 5G smartphone market may not be a total surprise to investors, but the market excitement about it likely is," Lee said. He indicated, however, that investors "are keen to know why China could make this SoC, what the capacity is and will be, and which supply chain players are used by Huawei for its Mate 60 Pro series".
In its recent teardown of a Mate 60 Pro handset, Canadian semiconductor research firm TechInsights identified SMIC as the maker of the Kirin 9000s CPU, which fuelled speculation that the chip maker was helping Huawei overcome stifling US tech sanctions in a clandestine way.
"The difficulty of this achievement shows the resilience of the country's chip technological ability," said Dan Hutcheson, vice-chairman at TechInsights.
If confirmed, production of that 7-nm chip would be a major violation of the US sanctions rolled out last October, which capped China's logic chip-making at 14-nm.
In an email interview, the chief executive at Tokyo-based electronics research firm Fomalhaut Techno Solutions, Minatake Mitchell Kashio, told the Post that he believes the Kirin 9000s CPU was made via SMIC's 14-nm process based on their own handset teardown. He indicated that some special techniques were added to push the chip's performance closer to a 7-nm grade processor.
By contrast, Jefferies' Lee earlier this month suggested that SMIC had no direct part in producing the HiSilicon-designed Kirin 9000s.
"While the Kirin 9000s may have a similar build structure as other chips made by SMIC, it could have actually been built by Huawei," Lee said. "We believe it is highly likely that Huawei bought SMIC technology and equipment to develop the Kirin 9000s."
An industry expert from Naura Technology Group, who declined to be named owing to the sensitivity of the matter, said many experts in the semiconductor industry view SMIC as lacking the ability to scale production for 7-nm chips.
The trade sanctions that have made it difficult for mainland foundries like SMIC to obtain advanced chip-manufacturing equipment from the US and its allies have also "massively incentivised" innovation in China's toolmaking sector, according to Paul Triolo, senior vice-president for China and technology policy lead at Albright Stonebridge Group.
"As the Huawei Mate 60 Pro shows, US controls have forced companies like SMIC to push their existing tool capabilities beyond what they were designed for, and Huawei has also been able to use a systems engineering approach to compensate to some degree for the lack of access to cutting-edge manufacturing technologies," Triolo said.
"Huawei's future ability to use advanced semiconductors in its products depends to a significant degree on SMIC," he said. "The ability of SMIC to produce semiconductors using features at 7-nm is very significant, and has been driven by Huawei's need to be able to field competitive products, particularly for 5G."
While controversy over the Mate 60 Pro series' advanced CPU has spurred discussion in Washington about imposing further controls on both Huawei and SMIC, Triolo believes that the Biden administration would be reluctant to impose new restrictions amid ongoing efforts to improve US-China relations.
"It will also be very difficult to prove that SMIC violated extraterritorial US export controls," he said. "Any new restrictions would damage US suppliers of both companies, and would be opposed by US industry."
Huawei's ability to sustain this positive momentum in its 5G smartphone sales may boil down to how it can ensure a stable supply of key components, and how this can be done in a cost-effective way.
Competing in China, the world's largest smartphone market, against fellow Chinese Android handset vendors and Apple also means that Huawei must overcome the challenge of US restrictions that affect its supply chain partnerships, according to IDC analyst Will Wong.
"Another potential challenge is how Huawei can bring back former users who switched to other smartphone brands over the past few years," Wong said. He indicated that this is a particularly complex challenge because the other brands run ecosystems that create "stickiness" in their relationship with consumers.