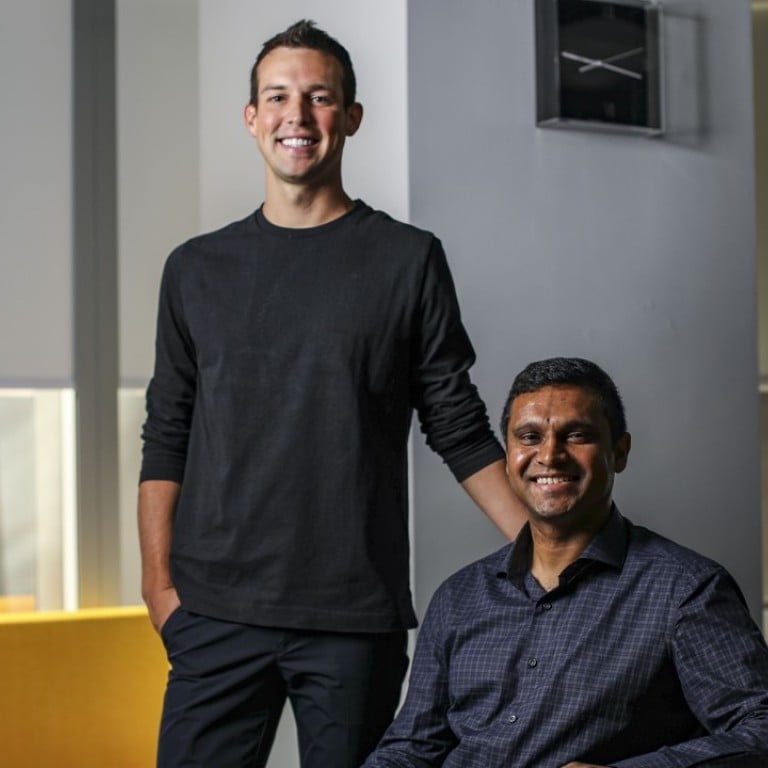 Exclusive

|
How Block.one founder Brendan Blumer went from magic swords to the world's biggest initial coin offering
Hong Kong resident, 31, behind two-year-old start-up raised US$4 billion in 2016 ICO
Brendan Blumer was 15 when he started his first business selling magic swords and armour used in online role-playing games like World of Warcraft. Now 31, the Hong Kong permanent resident has become a dragon-slayer in his own right after raising the world's biggest initial coin offering.
That Blumer and his two-year-old start-up Block.one is able to raise about US$4 billion in an ICO – similar to an initial public offering except instead of shares the investors get tokens backed by the cryptocurrency – is testament to the white-hot interest among investors in digital currencies and their underlying blockchain technology.
To put the ICO into perspective, Meituan Dianping, the on-demand meal-delivery giant that delivers takeaway food to most cities in China, raised about the same amount in Hong Kong earlier this month.
In an exclusive interview at the South China Morning Post's offices in Times Square, Hong Kong, Blumer talked about how the Cayman Island-incorporated venture came about, though he remained tight-lipped about the exact plans for the war chest the company has amassed from the ICO.
Blumer said he started to invest in cryptocurrencies around 2016 and subsequently developed interest in the underlying blockchain technology.
Concluding that blockchain will be "the next, more secure iteration of the internet," Blumer approached popular software developer Daniel Larimer, who already led the blockchain projects BitShares and Steemit, with the idea of building a new blockchain platform.
"Our first meeting was great," Blumer recounted. "Dan came out to Hong Kong, I learned more about his projects, showed him around the city, and he met our team." It took just three months for them to start working together on Block.one, said Blumer, who was dressed for the interview in black long-sleeved jumper and trousers.
Our Hong Kong is the perfect place to establish and build a global blockchain business, and that is why Block.one is here," said the Iowa native, who has been living in Hong Kong for 14 years. "It has a lot of the same values as blockchain" such as a free market and free movement of goods and people.
While cryptocurrency start-ups are gunning for everything from exchanges to games to social networks, the most hyped projects in the space are open-source platforms for the development of decentralised apps (dapps). Essentially, they are operating systems for blockchain similar to Google's Android or Microsoft's Windows, but are managed and owned by their supporters rather than a single company. One such platform is ethereum, whose digital token ether is now the world's second biggest cryptocurrency after bitcoin.
The EOSIO platform has often been dubbed as the most likely "ethereum killer" in large part because of its fast speed, which is required for mass adoption. Right now, ethereum can process a maximum of 15 transactions per second while the EOSIO blockchain can handle almost 4,000. That vulnerability was laid bare in December, when the ethereum network slowed down and transaction fees shot up as a result of a popular game called CryptoKitties, which lets players buy digital felines with ether tokens.

Blumer's competing EOSIO network has the ability to launch multiple blockchains communicating with each other with the same token, which speeds up the transactions. "This is the future because this is the only way to scale," Blumer said, adding that the function should be operational by the end of this year or early 2019.
The trade-off is a higher degree of centralisation, anathema to blockchain purists who embrace the distributed ledger technology for precisely its decentralisation. While there are currently nearly 15,000 computers validating very single transaction on ethereum, the EOSIO blockchain has only 21 so-called "block producers" to maintain the network. These producers are elected by users staking their EOS tokens under an algorithm developed by Larimer.
Cryptocurrency and blockchain companies have been moving toward the mainstream, with increasing institutional interest from the likes of asset management giant BlackRock, as well as a collaboration between New York Stock Exchange owner Intercontinental Exchange, Starbucks and Microsoft on a digital asset platform.
But the volatility in cryptocurrency prices remains a major strike against them. Bitcoin prices spiked to around US$19,000 in December 2017 but have since slumped to a trading range around US$6,000-US$8,000 in recent months. EOS is currently priced at about US$5.8, down more than 70 per cent from its peak at the end of April, according to data from CoinMarketCap.
That has slashed the net worth of the two Block.one founders Blumer and Larimer, who were estimated by Forbes to hold cryptocurrencies worth US$600 million to US$700 million, respectively, based on prices in January. The magazine estimated Blumer owns 15 per cent of Block.one.
Blumer declined to comment on his wealth and ownership size in the company.
"We will announce plans about how we are deploying our capital over time," Blumer said in the interview, when asked about plans for the funds raised in the ICO. In July, Block.one closed a new funding round – the amount of which was not disclosed – with participation by investors including PayPal's founder, Peter Thiel, and Beijing-based Bitmain, the world's biggest maker of bitcoin mining rigs that just signed a deal to sponsor the Houston Rockets.
As of now, Block.one has pledged to channel over US$1 billion to invest in start-ups built on EOSIO, which, according to Blumer, is "adequate capital for the time being."
Its venture capital unit recently launched a series of hackathon events across the globe, with a US$1 million seed fund for developers to pitch their EOSIO-based dapps. Through one of its partnership funds, Block.one's VC arm led a US$35 million round in June for San Francisco-based social virtual reality platform High Fidelity.
Block.one is building new products that are designed to be independent uses for the EOSIO software, as well as tools that help other developers build better products, according to Blumer. He declined to reveal more details to prevent copycats, he said.
While Block.one's core engineering team is based in Virginia with Larimer, Blumer is quickly expanding his Hong Kong office in the hip SoHo district on Hong Kong Island by drawing talent from the financial industry. About half of the 200-strong company is based in Hong Kong.
All this seems a long way from Gamecliff, Blumer's first business operating a platform for trading virtual gaming items at the age of 15. Since moving to Hong Kong in 2005 after his website was bought by Internet Gaming Entertainment, Blumer has launched another website to trade in-game avatars, before going on to start Okay.com, an online property agency focused on expatriates in Asia.
A sign of how serious Blumer is about his latest venture may perhaps be glimpsed from a small tattoo on his left wrist – the seven-sided chestahedron, known as the geometric shape of the human heart, and also the logo for EOSIO.