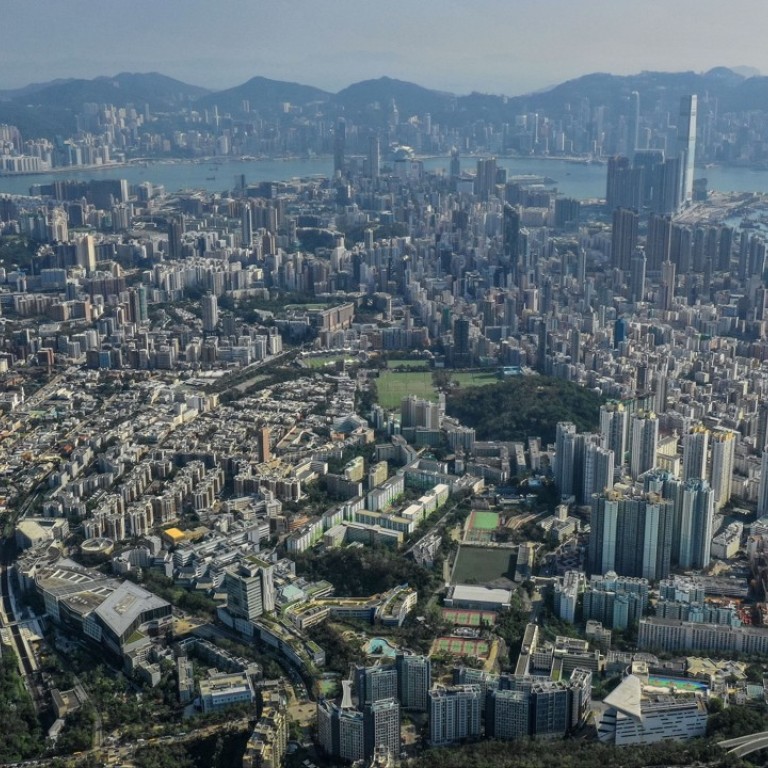 Stratospheric rents in Hong Kong's Central? No problem for cryptocurrency start-ups
Annual occupancy costs in Central average around US$307 per square foot a year, topping London's West End and Beijing's Finance Street, according to CBRE Group
It is going to take more than a US$600 billion crash in digital assets to deter cryptocurrency companies from splashing out on some the world's priciest offices.
Cryptocurrency exchanges and investment funds are leasing space in several of the most prestigious buildings in Hong Kong, home to the highest rents anywhere. Companies from BitMEX to Diginex Global have signed up for a combined 72,000 square feet (6,690 square meters) of grade A space in Central and Causeway Bay this year, according to Colliers International.
That represents about 15 per cent of the grade A space taken up since January on Hong Kong Island by mainland Chinese firms, which have dominated the city's market for prime office buildings in recent years. The soaring rents have prompted tenants including BNP Paribas and Goldman Sachs Group to seek cheaper locations for some of their staff.
That these young cryptocurrency firms can afford the rent -- together, they are paying an estimated HK$10 million (US$1.3 million) a month, according to the various buildings' going rates -- shows their optimistic outlook in the face of the sector's recent woes. Colliers said all five leases were signed after bitcoin peaked in December and then nosedived. These days, US$1.3 million will get you approximately five floors in New York's One World Trade Center.
Bitcoin, the largest cryptocurrency, has tumbled 65 per cent since its peak late last year. Its explosive rise and dramatic collapse, along with that of rival tokens, has prompted authorities from China to the US to scrutinize digital assets. Some firms, like cryptocurrency exchange Kraken, are pulling back, while others, including Binance, are still in hiring mode.
Diginex, which runs virtual currency mining operations, said in April it was fast-tracking expansion in Western Europe after a US$60 million investment from Madison Holdings Group, another Hong Kong-based blockchain and digital-services platform. Higgs Block Technology, the Singapore-headquartered group that owns the Coinsuper exchange, said in May it hired Karen Chen, the former president of UBS (China), as chief executive.
Coinsuper, which moved into the Agricultural Bank of China Tower in Central in early August, said in an email that its staff like their new office space because of the better view and nicer environment. Diginex and ANX International could not immediately comment, while Huobi declined to comment. BitMEX didn't respond to requests for comments.
"Blockchain companies show no signs of slowing their expansion in Hong Kong," said Philip Pang, an associate director of office services at Colliers. "These firms are leasing space in top-tier office buildings to attract and retain talent."
Not even some of the city's more traditional tenants like investment banks are prepared to stomach such stratospheric rents. Annual occupancy costs in Central average around US$307 per square foot a year, topping London's West End and Beijing's Finance Street, according to CBRE Group. Grade A office rents advanced 0.7 per cent month-on-month in August, with Wanchai and Causeway Bay posting the strongest growth, JLL said earlier this week.
BNP Paribas is moving its back office staff to Swire Properties' Taikoo Place in Quarry Bay, seven subway stops east of Central, to trim expenses. JPMorgan Chase & Co has pre-leased four-and-a-half floors at The Quayside in Kwun Tong, across Victoria Harbour on the Kowloon side, for some of its staff currently in pricier areas of the city.
Goldman Sachs, meanwhile, is relocating its people in The Center in Central to Lee Gardens Three in Causeway Bay after the lease ends. That will save about 30 per cent on rent, local media reported in April. The investment bank will however retain its headquarters in Central's Cheung Kong Center.
Trading platform BitMEX made headlines last month when it leased a full floor in Cheung Kong Center, the skyscraper that along with Goldman Sachs is home to Bank of America Corp, Bloomberg and parts of billionaire Li Ka-shing's empire. It paid a reported world-record price of HK$225 (US$29) per square foot a month. That is equivalent to US$348 per year.
The new digs are a significant step up for BitMEX. Back in January, when Bloomberg News interviewed BitMEX co-founder and former Citigroup trader Arthur Hayes, the firm was operating out of a sparsely decorated building in an area of Kowloon known for logistics and warehousing. Rents there are just 12 per cent of what BitMEX will now be paying, according to Bloomberg calculations.
To secure a spot in Cheung Kong Center, BitMEX paid one year's rent upfront to landlord CK Asset Holding, according to local media reports. That suggests building owners aren't quite as confident in the outlook for cryptocurrencies as their new tenants.
"It's pretty common for landlords to ask for larger deposits from tenants with weaker covenant strength," said Denis Ma, head of research at Jones Lang LaSalle. "Landlords are always open to taking on new tenants, it's just a matter of balancing rent against flight risk."