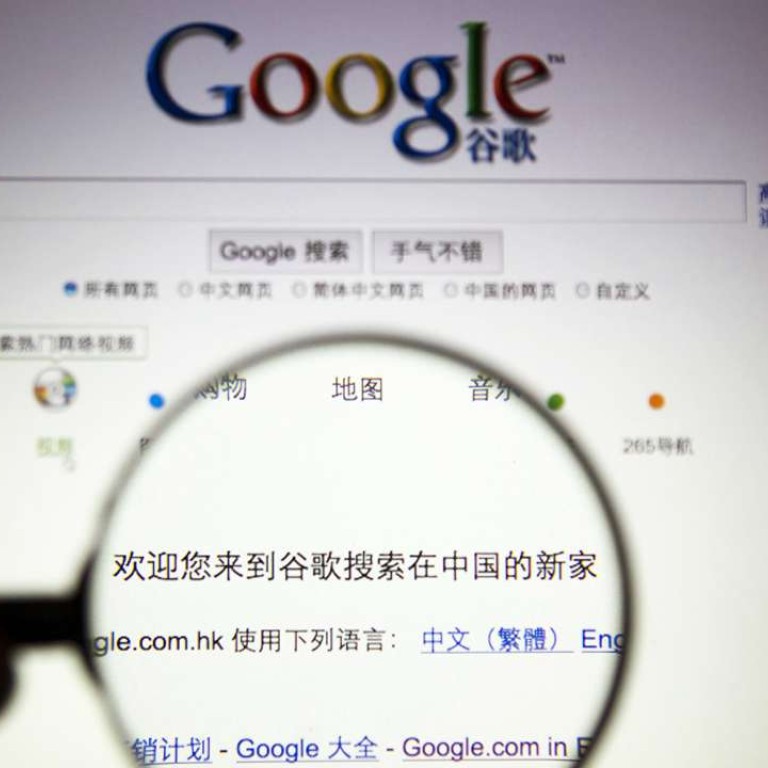 Google breaks through China's Great Firewall ... but only for just over an hour
Mainland Chinese bloggers share news of access from 11.30pm on Sunday until censors pull the plug at 1.15am on Monday after the internet giant reportedly launched new IP servers in Asia
The Google.com search engine could be accessed briefly in mainland China on Sunday night after years of disruption by the authorities that has almost completely blocked the use of the website.
At about 11.30pm, a growing number of Chinese internet users put posts online saying they were able to access Google's search engine through Google.com, Google.com.hk, Google.com.vn, Google.com.sg.
Yet Gmail and other popular foreign websites, such as Facebook and YouTube, remained blocked during the period, according to the internet users.
Access to Google was short-lived because all the services were once again blocked by about 1.15am on Monday.
Google declined to comment on the matter.
Some Chinese media said on their official microblogs that access had become possible because Google had introduced a series of new IP servers – vn\jp\uk\in\ar\es\pk\sa\sg – in Asian areas.
These had taken the Great Firewall of Chinese authorities – the world's most sophisticated internet censorship mechanism – at least an hour to recognise and then block.
During the period when Google was freely accessible, many internet users spread news about it on Chinese social media, such as Weibo and WeChat, with some suggesting it was a return to free speech for the nation.
"I even called many friends to have a try themselves," said Li Yue, a Shenzhen-based IT engineer. "I felt so happy and excited, although I was not sure if it was a temporary glitch or a change of policy.
"At that moment, I even believed that Google was unblocked and that free speech had come back to [mainland] China again."
Xiaohu Erin, another internet user, put up a post online at 1.16 am on Monday at Weibo.com, saying: "Now, it's blocked again. We should remember the short period of happiness."
Many Google services, such as its free Gmail email website, remain blocked in mainland China.
Other overseas online services, such as social networks Facebook and Twitter, and the Google-owned video site YouTube, have been blocked in China for years.
Google moved its online search service from mainland China to Hong Kong in 2010 after a cyberattack targeting Gmail users and a clash over censorship.