Tencent
Get more with myNEWS
A personalised news feed of stories that matter to you
Learn more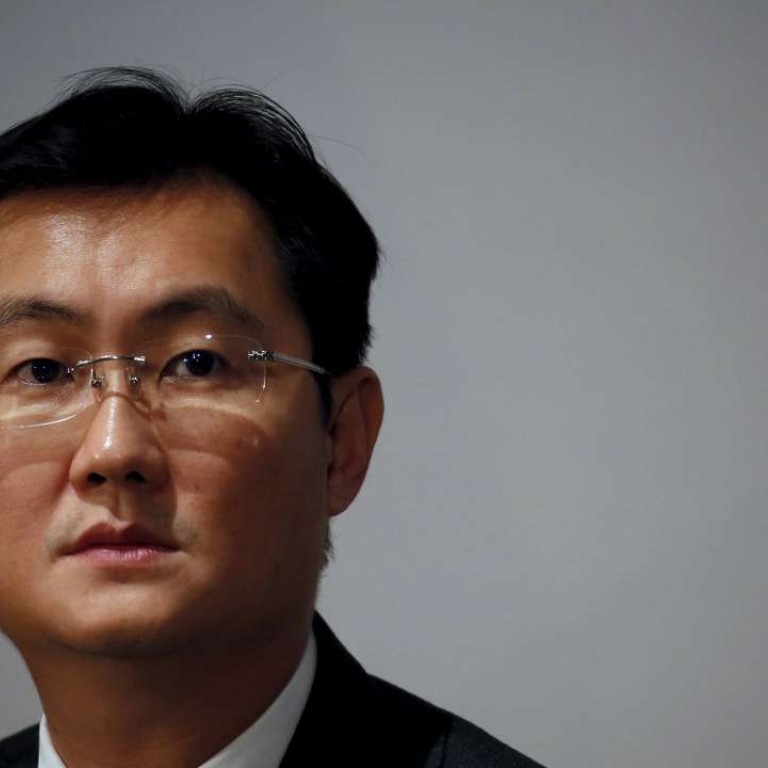 Tencent CEO Pony Ma pledges US$2.1b in shares to new charity fund
Pony Ma Huateng, the chairman and chief executive of internet giant Tencent Holdings, is poised to move up the ranks of China's most generous philanthropists with his plan to form a new personal charity fund in which he pledged 100 million shares of the Hong Kong-listed company.
The shares that Ma intends to donate would amount to US$2.1 billion, based on the closing price of Tencent's shares on Monday, when the plan was announced.
That would rival the reported US$3 billion worth of share options that Alibaba Group executive chairman Jack Ma Yun and executive vice-chairman Joseph Tsai used to establish their twin personal charitable trusts in April 2014.
A Tencent spokeswoman told the South China Morning Post on Tuesday that company founder Ma would donate his 100 million shares in tranches, which means the value of the shares would be based on the dates of transfer to the proposed charity fund.
Ma owned a total of 833.26 million shares of Shenzhen-based Tencent as of April 15, according to the company's filing with the Hong Kong stock exchange.
"After 10 years of exploration and participation in philanthropic activities, I increasingly feel a better way to continue giving back to society is to do it over a longer term and in a more organised way," Ma said on Monday.
The proposed charity fund would focus its financial support on health care, education, environmental protection and other philanthropic causes in mainland China, as well as basic science research and innovative technology projects around the world.
Tencent's Ma was ranked 14th, with donations of 100 million yuan, in the 2015 Generosity Index featuring the mainland's wealthiest individuals, according to the China Philanthropy Project study published this year by Harvard Kennedy School's Ash Center for Democratic Governance and Innovation.
Ma of Alibaba, which owns the Post, was ranked ninth with 132 million yuan in donations.
The list was topped by He Xiangjian, founder and chairman of appliance maker GD Midea Holding, with donations of 400 million yuan.
A team of professionals will be hired to run the Tencent chief's new charitable organisation, which is likely tobe headquartered in Hong Kong.
Monday's announcement said the proposed charity fund would also set up a sister foundation in mainland China, primarily to oversee the implementation of projects there.
"Getting a professional team to oversee these projects will also increase the efficiency of management," Ma said. "I can put my energies to focus on driving Tencent's strategies and enhancing product experience, as well as lead the overall direction of my philanthropic work".
In 2007, Ma set up the Tencent Foundation to promote collaborative projects with other charitable organisations. It has since grown to become one of the largest such foundations in the country.