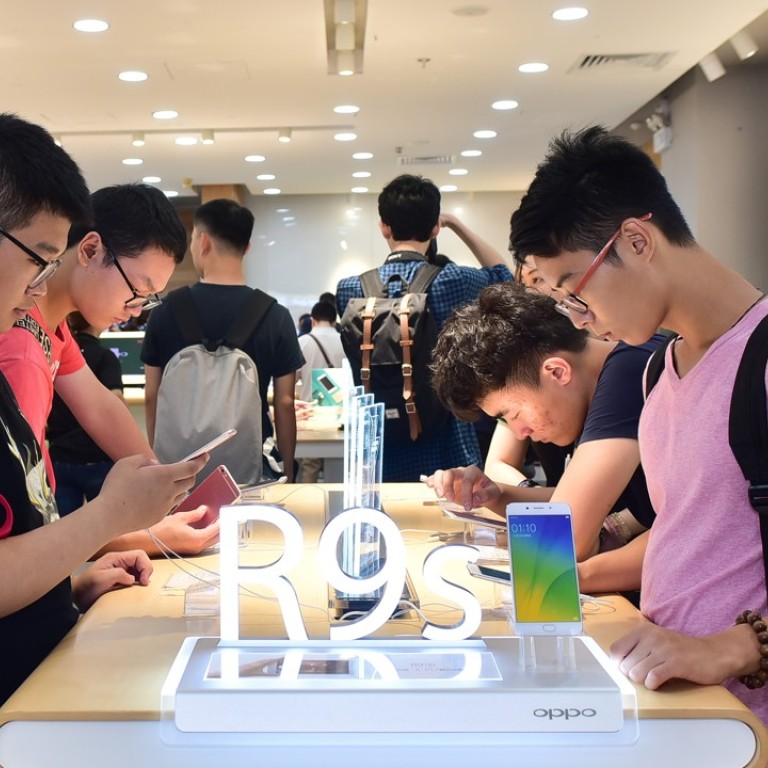 New

|
China's Oppo trumps Samsung with world's best-selling Android smartphone in first quarter
Oppo shipped 8.9 million R9s smartphones in the first quarter, squeezing among the world's five most popular models, according to Strategy Analytics.
The rapid ascent of Chinese electronics company Oppo in the global mobile phone market continued in the first quarter as its new flagship device, the R9s, became the world's best-selling Android smartphone, according to Strategy Analytics.
That made Oppo the first Chinese smartphone brand to have a device ranked among the top-five most popular models in the world, Strategy Analytics executive director Neil Mawston told the South China Morning Post.
"Oppo is growing fast and rising up the ranks," Mawston said. "Oppo's R9s shipped 8.9 million units for third place worldwide in the first quarter."
That represented a 2.5 per cent share of the 353.3 million total smartphones shipped globally in the quarter, according to Strategy Analytics.
Mawston pointed out that Oppo's previous flagship 4G model, the R9, was the world's sixth best-selling smartphone in the second quarter of last year.
The mid-range R9s, which was launched in October with a 2,799 yuan (US$405) price tag, has a 5.5-inch touch screen, 16-megapixel cameras in the front and back, and an overall design that resembles Apple's iPhone.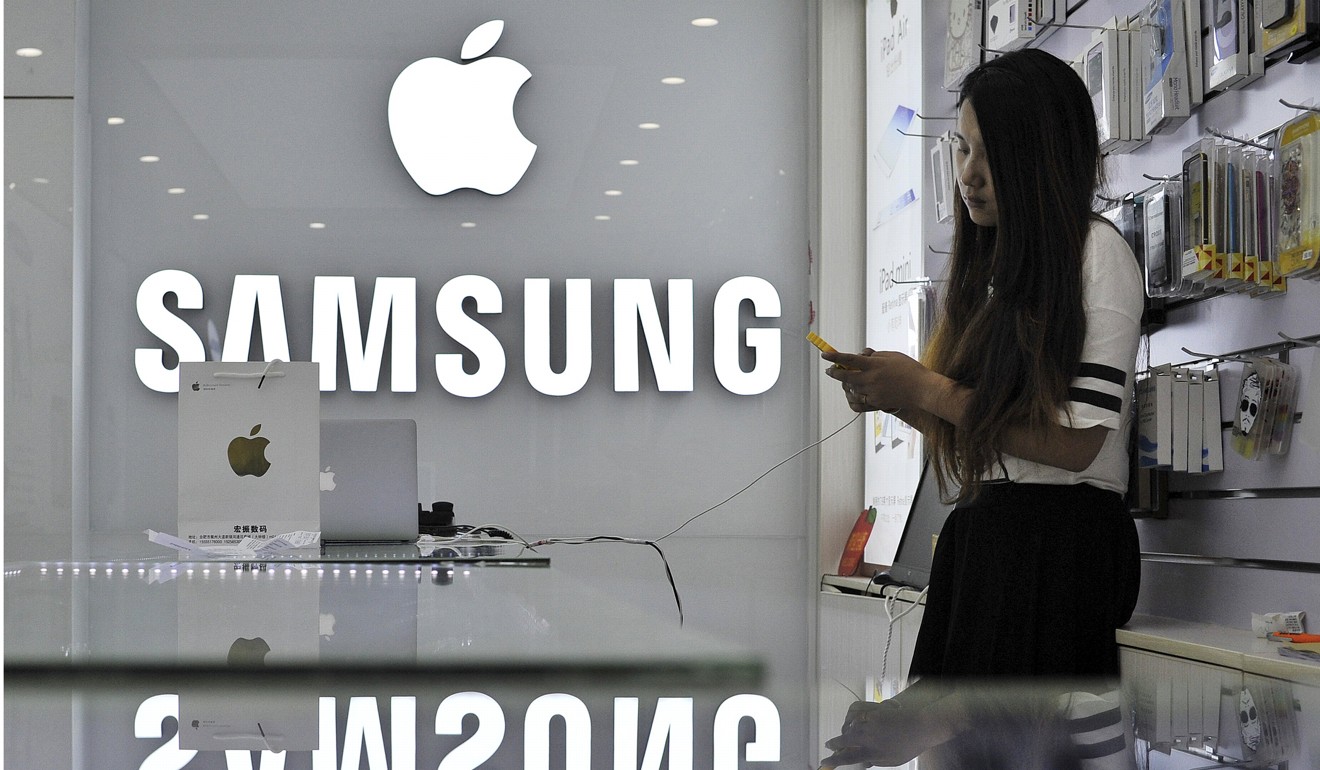 It surpassed Samsung Electronics' own mid-range J3 and J5 Android models, which were the fourth and fifth top-selling smartphones, respectively, last quarter.
Apple, the world's most valuable company, remained at the top of the overall leaderboard of smartphone models tracked by Strategy Analytics.
Its iPhone 7 and iPhone 7 Plus were ranked, respectively, as the first and second best-selling smartphone models in the world last quarter.
The top-five models accounted for one in six of all smartphones shipped worldwide in the January to March period, according to Strategy Analytics.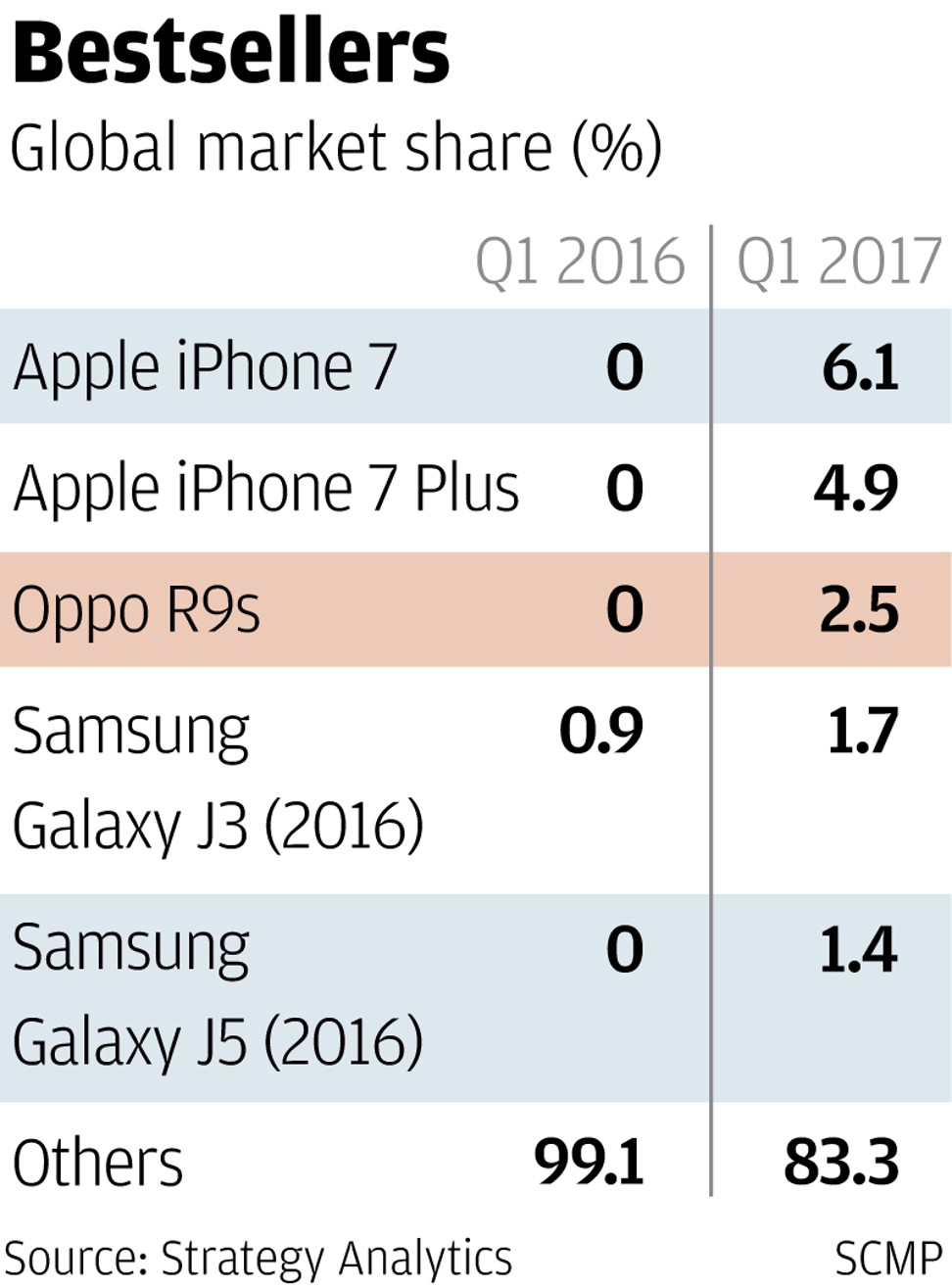 "Vivo's X9 model was in the top 10 globally in the first quarter, but all other models from Vivo, Huawei Technologies, Xiaomi and Lenovo Group were outside the top 10," Mawston said.
"Huawei and Xiaomi have occasionally snuck a model into the top ten globally from 2014 to 2016, but have not been able to sustain their momentum," he said. "Xiaomi has been fading in recent quarters, while Huawei spreads its smartphone portfolio across dozens of smaller models, similar to Samsung's strategy."
Oppo, which was founded in 2001, is a subsidiary of privately held BBK Electronics, which also controls smartphone brands Vivo and OnePlus.
Headquartered in the city of Dongguan in Guangdong province, "Oppo is largely unknown in the Western world, but its brand is wildly popular in China and growing rapidly across India", Mawston said.
In the first quarter, Oppo shipped 27.6 million smartphones to seize a record 8 per cent global market share and rank fourth behind Samsung, Apple and Huawei, and ahead of fifth-placed Vivo, according to Strategy Analytics.
This article appeared in the South China Morning Post print edition as: Oppo takes pole position in Android phone sales