LeEco
Get more with myNEWS
A personalised news feed of stories that matter to you
Learn more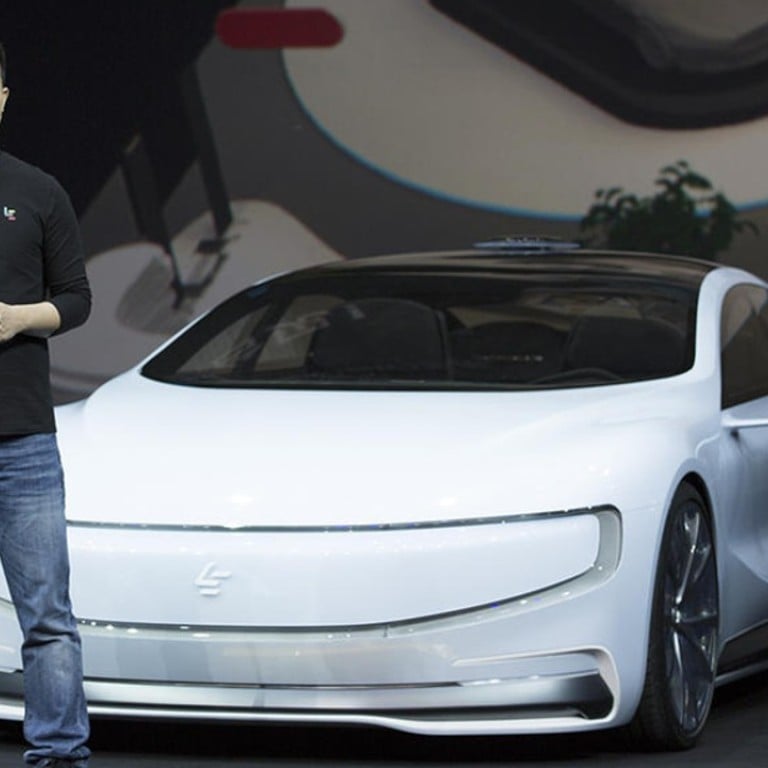 LeEco founder Jia Yueting defies order to return to China: reports
Billionaire, who once envisioned a tech empire that would challenge Netflix, Tesla and Apple, was ordered to return to China to repay debts
Despite China's stock market regulator ordering LeEco founder Jia Yueting to return to China before the end of 2017 to deal with the financial woes of his Shenzhen-listed unit, there is little indication that Jia has complied, according to mainland Chinese media reports.
The China Securities Regulatory Commission (CSRC) last week posted a notice stating that Jia, who had built a technology empire that included electric cars, smartphones and a video-streaming platform, did not make good on a promise to provide interest-free loans to debt-laden, Shenzhen-listed Leshi Internet Information & Technology Corp, whose shares have been suspended from trading since April 2017. He was ordered to return to China by December 31.
On Sunday, Jia's wife Gan Wei posted a microblog on Weibo stating that she has returned to China as ordered, and tagged her location as being in the Beijing Capital International Airport. Local media reports said Gan travelled back to the mainland alone, without Jia.
As of January 1, Jia's whereabouts were unknown and LeEco could not be immediately reached for comment.
LeEco is the latest in a string of Chinese companies whose financials have come under scrutiny as the Chinese government strives to control systemic financial risks in the country, including capital flight when mainland companies acquire overseas assets. Several of China's largest overseas deal makers, including property conglomerate Wanda Group, founded by Chinese billionaire Wang Jianlin, as well as Anbang Insurance Group, HNA Group and Fosun International, have all been affected, with the China Banking Regulatory Commission asking banks to provide information on overseas loans made to these companies.
For the past several months Jia has been based in the US and media reports said he has taken on the position as chief executive of Faraday Future, a Los Angeles-based electric car company that he backed financially.
Jia also borrowed heavily against his shares in Leshi to finance LeEco's new ventures, including its smartphone and electric car business units. In May he resigned as chief executive of Leshi Internet Information & Technology, but as of September 30 he still owned about 26 per cent of its shares, according to data compiled by Bloomberg.
In interviews with Chinese media in November, Jia admitted that once he returns to China he may be unable to go back to the US and continue raising funds for Faraday Future. In December, Jia was placed on China's national blacklist of "discredited" people – individuals facing penalties including travel bans, restrictions on staying at high-end hotels, and not being able to send their children to private schools in China.
Jia made his fortune by establishing online video platform Le.com in 2004, before expanding into smartphones, sports entertainment and even electric cars. He envisioned his tech empire as one that would rival Netflix, Tesla and Apple all at once.
In 2016, the company made a big push into the US, staging a flashy launch event in San Francisco after announcing a US$2 billion acquisition deal with US television maker Vizio. A month later, Jia wrote an internal memo to employees stating that LeEco was having trouble raising enough capital to keep up with its rapid expansion.
In early 2017, property conglomerate Sunac China threw a lifeline to LeEco by injecting more than US$2.4 billion in funding into it, but Jia later admitted that the company's financial woes were "more severe than expected", with the fresh funding failing to turn the business around.
In an official Xinhua state media news report on Monday, Shanghai-based Trend Law Firm partner Xu Feng was quoted as saying that if Jia attempts to move his assets under current circumstances, he could be "forcibly repatriated" to China based on criminal liability.
Other lawyers said in the report that there is little that can be done to force Jia to return, adding that the regulators' tactics would likely still apply pressure on him to take responsibility for his actions.
This article appeared in the South China Morning Post print edition as: LeEco boss defies regulator's order by staying in US