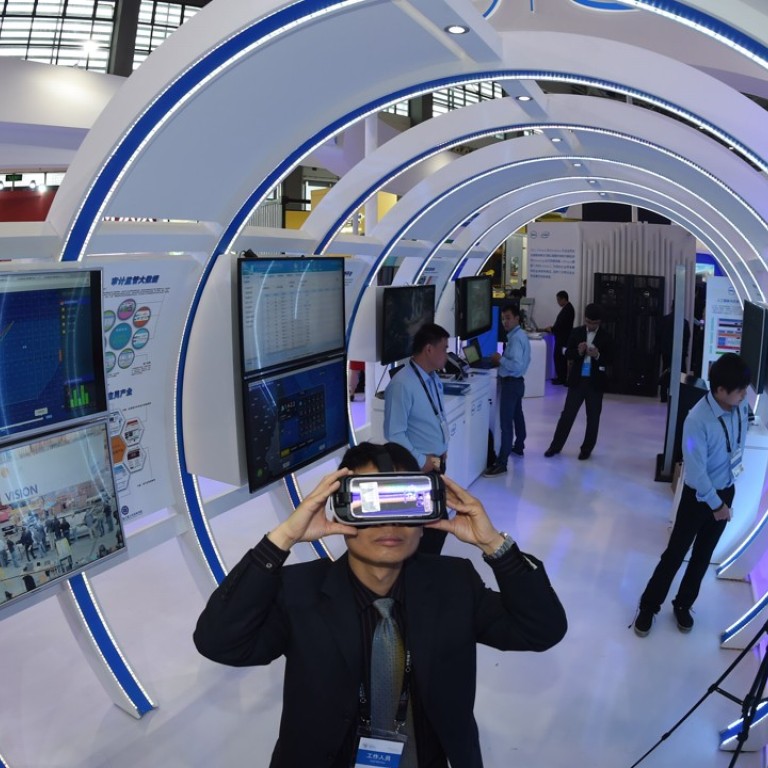 How one of China's poorest provinces is morphing into a world-class hi-tech hub
The global spotlight will be on Guizhou as operations of Apple's iCloud service in China are handed over to a data centre operator in the rural province
Guizhou province in southwestern China may be under the radar in terms of hi-tech development, but that could soon change when Apple turns over the domestic operations of its iCloud service next month to a data centre operator based in this rural area.
Apple said it will transfer on February 28 the storage and handling of photos, documents, messages and video of its iCloud customers in China to local partner Guizhou on the Cloud Big Data (GCBD), according to an emailed statement to affected users obtained by online news site 9to5Mac on Wednesday.
That followed Apple's announcement in July last year of a partnership with GCBD to establish its first data centre in China, which forms part of the US technology company's US$1 billion investment programme in Guizhou.
While that infrastructure project was drawn up to comply with China's Cybersecurity Law, it also showed how Apple and other major hi-tech companies have shown their support for Beijing's goal to turn the poor and mostly mountainous province into a world-class hi-tech location.
"For the past few years, Guizhou has put on an annual International Big Data Industry Expo to highlight its new role as a big data hub in China," said Jabez Tan, research director at Toronto-based Structure Research, in an interview.
"In just about a decade, Guizhou has taken a cluster of suburban hill towns and converted them into a new urban district, with skyscrapers that surround the convention centre where the expo is held."
Tan also said Guizhou has spearheaded the development of high-speed railways, bridges and tunnels, as well as added international flights to broaden the province's links to various domestic and foreign cities.
Guizhou's provincial government, which has been promoting itself as a leader in the big data industry since 2014, "has offered a set of incentives to attract big data and cloud services companies, as well as data centre operators", he said.
That included establishing experimental hi-tech zones and pilot programmes, and giving discounts on electricity from the province's bountiful supply of hydropower.
New York-listed Alibaba Group Holding, which owns the South China Morning Post, signed a framework agreement with the Guizhou provincial government in 2014 to set up an industrial base for its cloud computing business and big data operations.
Taiwan's Hon Hai Precision Industry, the world's largest electronics contract manufacturer and maker of Apple's iPhones, has set up a factory and 500,000 square foot data centre in an industrial zone just outside Guiyang, the provincial capital.
The data centre of Hon Hai, widely known by its trade name Foxconn Technology Group, "sits on a natural plateau, where the altitude and monsoon climate keep the average annual temperature at 15 degrees Celsius," Tan said.
"Foxconn designed a natural wind tunnel, wedged between two mountains, so that the thousands of servers installed there receive free, natural cooling, which provides a significant amount of cost savings."
Data centres are secure, temperature-controlled facilities used to house large-capacity servers and data storage systems, and equipped with multiple power sources and high-bandwidth internet connections. These facilities are used by companies to remotely store large amounts of data and host cloud computing services, which enable users to buy, lease or sell software and other digital resources online on demand, just like electricity from a power grid.
"Cool weather, plenty of energy resources, well-developed equipment manufacturing, sufficient power supply and lower electricity prices are all advantages to lure data centre operators to set up shop in the province," said Tan.
He estimated that more than 100 big data-related enterprises have already moved into Guizhou. These include Baidu, Sina Corp,
China Unicom
, Sohu and
Tencent Holdings
.
Apart from securing a data centre venture with the Guizhou provincial government, US mobile chip supplier Qualcomm also signed a strategic cooperation with the government in 2016 to design and sell server chipsets in China.
Like other provinces in China, Guizhou aims to tap into the technology sector's continued growth to help boost its economy. It has caught up fast, according to official statistics.
The province recorded a 10.5 per cent GDP growth rate in 2016, which was second highest in the country that year behind Chongqing's 10.7 per cent.
This article appeared in the South China Morning Post print edition as: Rural Guizhou morphing into world-class hi-tech hub