Bitcoin
Get more with myNEWS
A personalised news feed of stories that matter to you
Learn more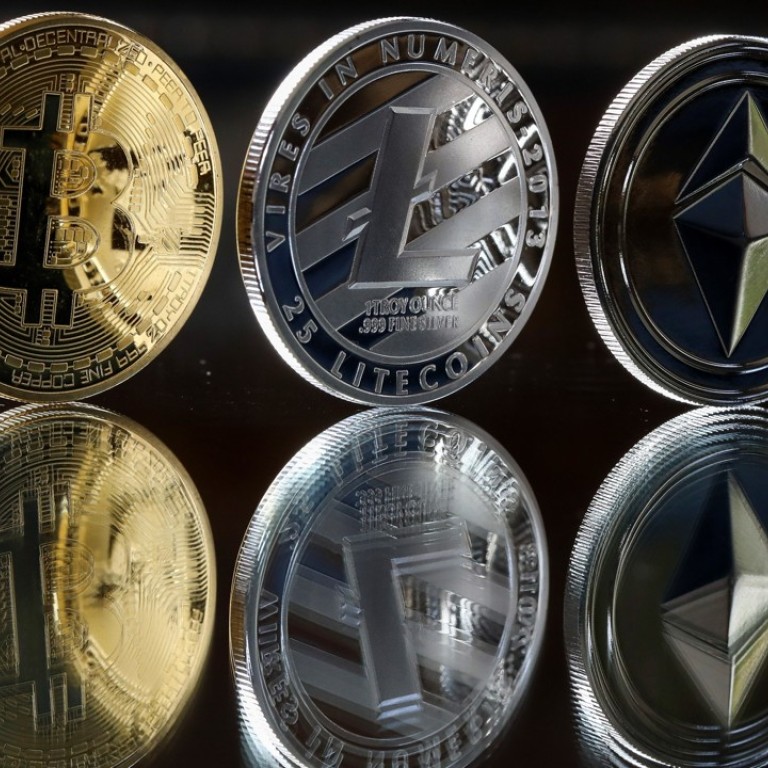 Bitcoin ads disappear from social media in China after central bank bans cryptocurrency fundraising
Growing popularity of ICOs raised concerns that organisers may prey on unwitting investors, with China and South Korea banning such fundraising 
China's major social media networks and search engines don't appear to return paid searches or advertisements on bitcoin and cryptocurrencies following a fundraising ban implemented last year by the country's central bank. 
The People's Bank of China (PBOC) last September banned fundraising through digital currencies, labelling 90 per cent of the initial coin offerings (ICOs) launched in China as fraudulent. 
Searches for the Chinese terms for "bitcoin", "cryptocurrency" and "ICO" returned news articles and links but no paid advertisements or obvious sponsored posts on China's largest search engine Baidu and on Weibo, a Chinese-language microblog loosely modelled on Twitter.  
Weibo said in an emailed reply that it currently does not allow bitcoin and cryptocurrency-related advertising. Baidu did not immediately respond to questions whether it has banned bitcoin and cryptocurrency-related advertising.   
Facebook has just banned all ads that promote cryptocurrencies, including bitcoin, to prevent advertisers from marketing "financial products and services frequently associated with misleading or deceptive promotional practices". The move shines a spotlight on the US social media giant as part of a broader debate about the role of social media in disseminating news and the fine line between vetting and censorship.
Interest in bitcoin has skyrocketed after the value of the virtual currency surged more than 10 times over the past year. The growing popularity of ICOs, a relatively new method of fundraising in which digital tokens are issued to the public, has raised concerns that organisers may prey on unwitting investors, with China and South Korea banning such fundraising practices.  
Jamie Dimon, chief executive of JPMorgan Chase & Co, referred to the cryptocurrency as a "fraud" in comments made last September, although earlier this month he told Fox Business Network he regretted dismissing bitcoin in such broad terms. 
Also used by criminals to launder money, cryptocurrencies have never managed to shake off their shady past despite increased regulatory scrutiny from some countries such as China and South Korea. Japan, which accounts for about half of the global trade volume in bitcoin, now recognises the virtual asset as a legal form of currency.
Tokyo-based social messaging app Line, which has more than 200 million monthly active users worldwide, said this week it was planning to start a cryptocurrency exchange.
Even without Facebook, there are plenty of ways to reach both the mass market and virtual currency enthusiasts. 
Bitmain, the world's largest bitcoin miner, said it mainly promotes its brand name on popular digital asset news sites such as 8tc.com and jinse.com. 
"We usually post ads on cryptocurrency or blockchain media. There are a lot of professional choices," said Sandy Liang, operations manager at Bitkan, a Shenzhen-based firm specialising in bitcoin trading and services which has been expanding its business overseas. "Facebook is good for letting newbies know about us. But it's only one channel. If we can't use this one in the future, we can use others."
Liang said Reddit and Twitter are good alternatives when it comes to reaching the mass market. 
Terence Tsang, chief operating officer at Hong Kong-based tech firm TideiSun, which also has been expanding its bitcoin trading operations overseas, said the firm doesn't advertise on Facebook, although it maintains a community presence on the social media platform for communication purposes. 
Additional reporting by Meng Jing