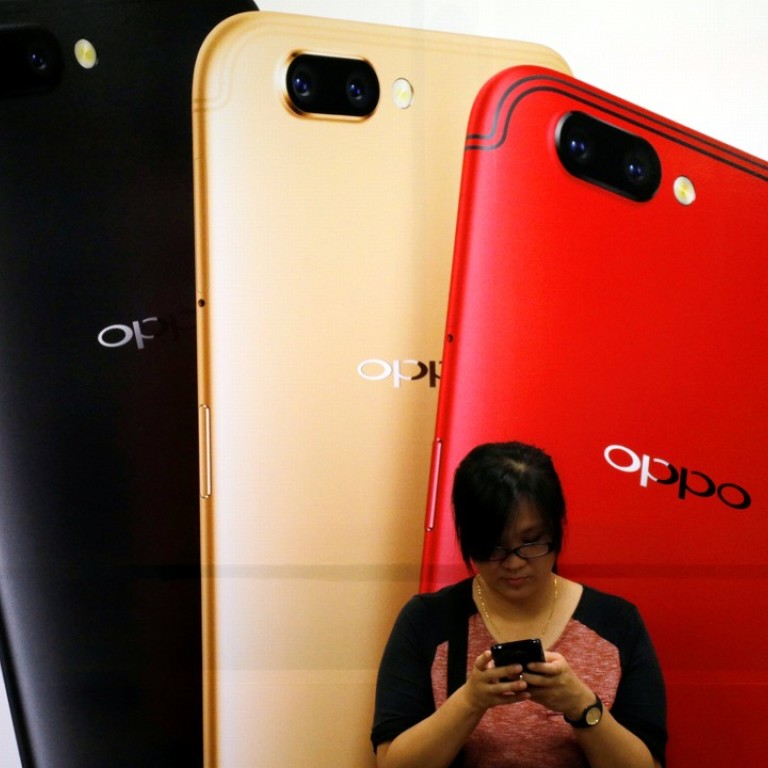 China's top smartphone brands narrow the gap with Samsung in Southeast Asia
Chinese Android smartphone suppliers Oppo, Vivo and Huawei have ramped up expansion efforts overseas amid stiff competition and sluggish growth in their home market.
If there seems to be more people using Chinese smartphones in the streets of Kuala Lumpur, Jakarta or Manila, that is because these brands now collectively outsell Samsung Electronics, the long-standing market leader in Southeast Asia.
Oppo, Vivo and Huawei Technologies shipped a total of 29.8 million smartphones across the emerging markets of Southeast Asia last year to corner a combined 29.6 per cent market share, according to data from research firm IDC.
That was enough to edge out Samsung, which shipped 29.3 million smartphones in the region last year for a 29.1 per cent share.
Those emerging markets tracked by IDC included Indonesia, Myanmar, Malaysia, the Philippines, Thailand and Vietnam.
The overseas expansion of Chinese Android smartphone suppliers have intensified in the past few years amid stiff competition and sluggish growth in their home market.
Smartphone sales in China fell by 4.9 per cent last year, the first time growth has slowed in eight years, according to IDC.
Samsung, once the dominant mobile phone player in China, ranked dead last among the major brands with just over 2 per cent share in the world's largest smartphone market.
In contrast, the emerging markets in Asia are shaping up as the future growth engines for the mainland's top smartphone companies.
"China's smartphone market is a saturated space, and these brands are looking to overseas markets for more profitable growth," said Jensen Ooi, a senior market analyst at IDC's Asia-Pacific devices research team. "Southeast Asia is important to the Chinese brands for the sheer size of its population."
There is also plenty of room for growth. The region consists of 11 countries with a total population of 653.4 million, about 49 per cent of which are located in urban areas, according to the latest United Nations estimates.
While its Chinese competitors have narrowed the gap in Southeast Asia's emerging markets, Samsung was still ranked by IDC as the top smartphone brand by total shipments in the region last year.
Total smartphone shipments in the region reached 100.7 million units, which slipped from 101.3 million in 2016.
While low-end devices made up 37 per cent of total shipments in the region, IDC said demand was growing for midrange-priced handsets, which contributed to 27 per cent of total shipments last year.
Dongguan-based Oppo and Vivo, which are subsidiaries of Chinese consumer electronics firm BBK Electronics, were the next two largest smartphone suppliers in the region with shares of 17 per cent and 7.2 per cent, respectively.
The two sibling smartphone brands expanded their brand presence in the region with a string of marketing campaigns centred on their mid-range F and V series models, respectively, according to IDC.
Southeast Asia has been the focus of Oppo over the past several years since entering Thailand's smartphone market in 2009, a year after making the company made its debut in China.
Oppo had established a network of 300 retail shops in the region as well as a larger number of third-party distributors, Oppo vice-president Alen Wu said last year.
Vivo entered Southeast Asian in 2014 on the back of strong demand for its large-sized smartphone models, which belong to a product category known as phablets.
Both Oppo and Vivo have brought their strategy of using celebrity endorsements to help build up their branding in the region. Last year, Oppo sponsored Indonesian variety show X Factor.
Huawei, China's biggest smartphone brand and the world's third-largest supplier last year, was ranked fourth in the region with its 5.4 per cent share last year, according to IDC. The company competed against Oppo and Vivo in the midrange smartphone segment with its Nova model.
Apple, the No 2 global smartphone brand, was ranked fifth in Southeast Asia's emerging markets, with shipments of 4.5 million units for a 4.4 per cent share.
IDC said Apple's presence in the midrange smartphone segment was represented by its older models, mainly the iPhone 5, iPhone SE and iPhone 6.
This article appeared in the South China Morning Post print edition as: Chinese smartphone brands corner emerging markets