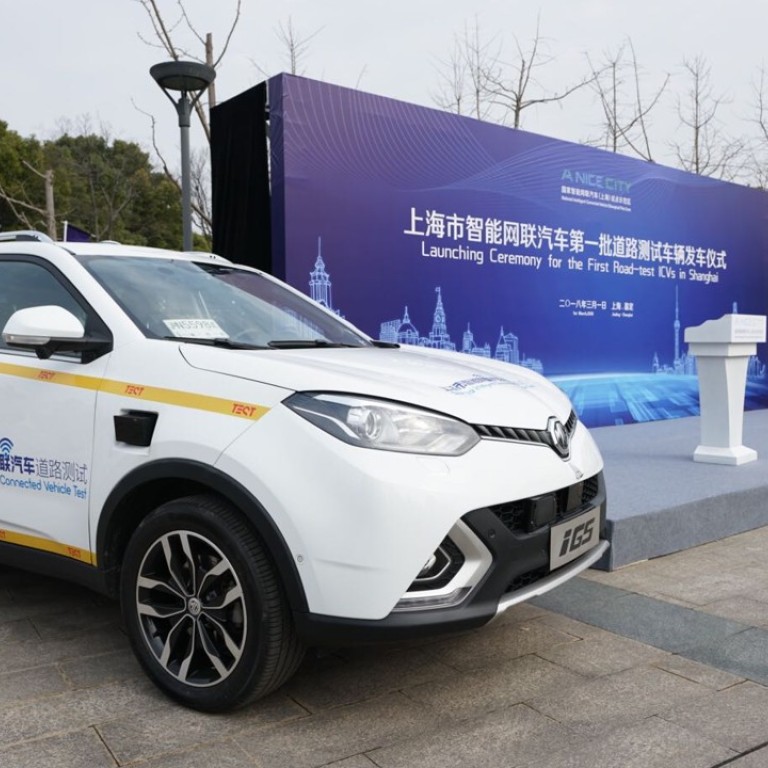 Alibaba confirms self-driving car tests, joining Baidu and Tencent in China's autonomous car race
The autonomous driving market in China now has a major new player after Alibaba Group confirmed it has been conducting self-driving vehicle tests.
Alibaba joins its rival internet giants Baidu and Tencent – which are collectively known as BAT – in the artificial intelligence-driven industry. The company is looking to hire 50 more self-driving specialists for its AI research lab, said an Alibaba spokeswoman, confirming an earlier report by Caixin.
It is understood that Alibaba is now running road tests of autonomous cars on a regular basis and has the capabilities for open road trials, and that its goal is to achieve Level 4 autonomous capability, which means cars can self-drive in most conditions without human intervention.
Baidu, which last November was identified by China's Ministry of Science and Technology as national champion in China's efforts in self-driving cars, is also working on Level 4 capability.
Self-driving cars are increasingly seen as an amalgamation of the latest technologies, including 5G, manufacturing and new energy, and the holy grail of the next-generation of technologies that are set to revolutionise the way people live, work and play. China is likely to emerge as the world's largest market for autonomous vehicles and mobility services, worth more than US$500 billion by 2030, according to a McKinsey report released on Monday.
Alibaba's research into the technology dates back to March last year when Wang Gang, a former associate professor of Singapore's Nanyang Technological University and specialist in computer vision and autonomous driving, was recruited as chief scientist of Alibaba AI Labs to lead the project.
The move is seen as an extension of Alibaba's ambitions to connect devices and manage city traffic via "smart brains".
"Our vision is to build an intelligently connected world through transformative [internet of things] technologies," Simon Hu Xiaoming, the president of Alibaba Cloud, said on the sidelines of a cloud computing conference last month, adding that the plan was to build a network of 10 billion connected devices within the next five years.
The e-commerce giant, parent company of the South China Morning Post, also formed a partnership with SAIC Motor, the country's largest carmaker, to launch internet-connected cars powered by Alibaba's AliOS in-car operating system. Another venture to have a car model equipped with AliOS will begin this year in cooperation with Dongfeng Peugot Citroen Automobile Company.
Separately, Tencent and Baidu have also been recruiting traditional carmakers to their own alliances. On Sunday, Tencent signed a partnership agreement with FAW Group to develop internet connected cars, the sixth carmaker in the alliance after Changan, GAC Group, Geely, BYD and Dongfeng Liuzhou Motor.
Baidu, which ventured into autonomous cars before its two big rivals, has pulled in more than a dozen auto partners for its self-driving platform Apollo. The company has also teamed up with bus maker King Long United Automotive Industry to produce the country's first fully autonomous bus.
Tencent tested an autonomous vehicle on the outskirt of Beijing earlier this month, according to Chinese media reports.
Representatives of Tencent did not immediately respond to an inquiry.
The McKinsey report said autonomous vehicles will account for 13 per cent of passenger kilometres travelled in the country by 2030, and 66 per cent by 2040, while the number of self-driving cars is expected to reach 8 million and 13.5 million respectively.
The consultancy expects the crossover point where the cost of autonomous cars will match manned taxis will be between 2025 to 2030.
Ninety eight per cent of Chinese interviewed in a recent survey showed a preference for autonomous driving, higher than Germany's 69 per cent or the 70 per cent for the US, McKinsey said. Chinese consumers were also willing to pay an average of a US$4,600 premium for the technology, the highest among the three.
However, it remains unclear whether major carmakers, tech companies or mobility service providers will emerge as the leaders in the autonomous driving landscape.
"It's still too early to tell who will be the winners in the trillion yuan market," said Christopher Thomas, a McKinsey partner. "No one company will have all the pieces to deliver the solution."
This article appeared in the South China Morning Post print edition as: Alibaba joins rivals in running road tests in self-driving car market