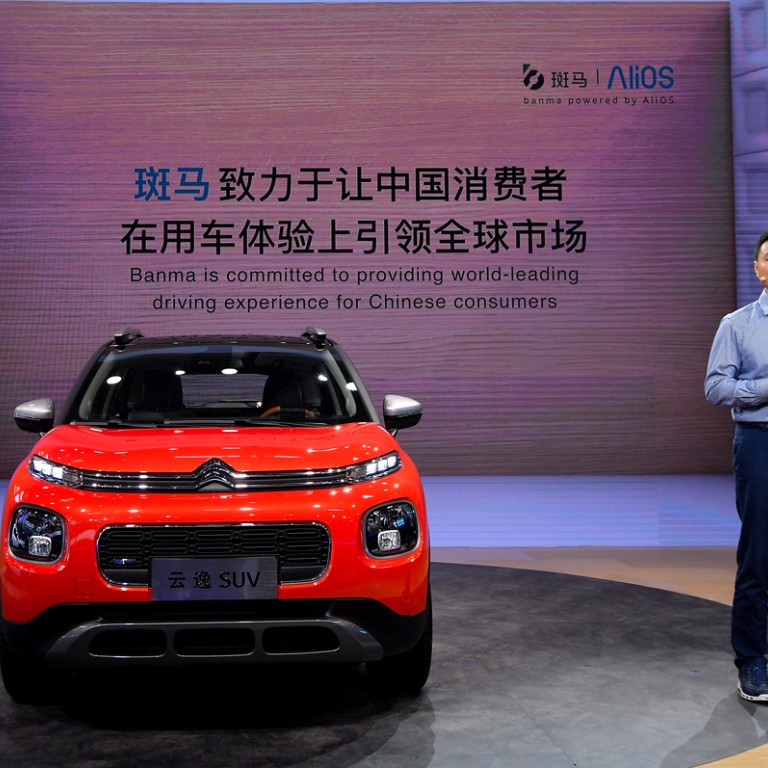 This Citroen crossover responds to voice commands as tech firms vie for control of `brains' of cars
Intelligent and connected vehicles have become the new battleground for China's tech giants.
Windshield wipers that activate when you observe that "it's raining" and air conditioning that turns up automatically when you complain "it's hot".
Dongfeng Peugeot Citroen on Wednesday unveiled a new C4 Aircross equipped with Alibaba Group's AliOS operating system that will feature such voice-activated controls, augmented reality navigation and route planning. The model is expected to go on sale in the third quarter.
It is the second time AliOS has been plugged into a car brand since the system, developed in-house by the e-commerce juggernaut, made its first in-car appearance in the Roewe RX5 by SAIC Motor in 2016.
"Projecting a bunch of apps onto cars is not the internet-connected solution for the future," Hao Fei, chief executive of Banma, a joint venture between Alibaba and Shanghai carmaker SAIC, said on the sidelines of the Beijing auto show on Wednesday. "A smart car needs a bottom-up operating system, linking from the controller area network to cloud-based data."
Intelligent and connected vehicles have become the new battleground for China's tech giants. Last week, Tencent Holdings signed a partnership agreement with FAW Group to develop internet connected cars, the sixth carmaker to do so after Changan, GAC Group, Geely, BYD and Dongfeng Liuzhou Motor.
In similar fashion, Dongfeng Motor Group, Baidu and car software provider Pateo announced a smart car system called WindLink 3.0 on Monday. Hand-picked by the central government to spearhead autonomous driving technologies, Baidu has lined up about 100 industry players including carmakers like Chery, JAC Motors and BYD, to participate in its Apollo self-driving car programme.
The jostling for tech leadership in the car industry also comes amid a renewed debate in China on how the country can remain independent in so-called core technologies in the wake of US sanctions on telecoms maker ZTE Corp, according to Hao.
"ZTE's predicament is in part because we didn't develop an independent operating system in the smartphone era," he said.
"So far, Android hasn't provided an operating system designated specifically for cars. The operating solution we offer, with safety, reliability and internal control linkages, is in a leading position [in terms of technical specifications]."
Banma is in talks with several luxury car brands regarding the launch of AliOS-fitted new models, said Hao, adding that the Chinese market, with 250 million cars on the road by the end of this year, is big enough for "several Benmas".
Alibaba is the parent company of the South China Morning Post.
This article appeared in the South China Morning Post print edition as: Dongfeng smartens up with AliOS