Apple
Get more with myNEWS
A personalised news feed of stories that matter to you
Learn more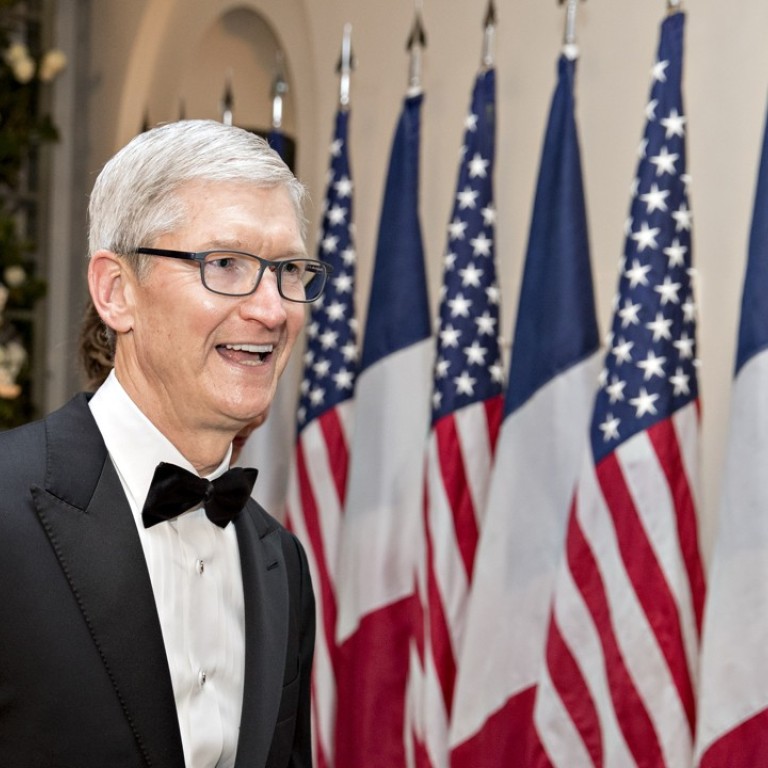 What's at stake for Apple if it gets dragged into US-China trade war
Apple chief executive Tim Cook is hoping "calm heads" will prevail as tensions rise between the US and China
Apple chief executive Tim Cook met with US President Donald Trump on Wednesday to discuss US-China trade issues amid rising tensions between the two countries. 
The meeting took place ahead of a planned trip by Trump administration officials to Beijing in the next several days.
Apple, the world's most valuable company, has much at stake if the world's two largest economies engage in a trade war.
China not only constitues one of the company's biggest markets, the country is also the prime manufacturing base of primary Apple products like the iPhone, MacBook and iPad.
So Cook's unofficial input could help guide how the US can ease tensions with China. Apple has remained silent on what was specifically discussed during Cook's meeting with Trump.
Here are some of the things that are at stake for Apple as the trade dispute between the US and China continue to heat up.
How large is Apple's business in China?
Revenue from the Greater China market, which includes Hong Kong and Taiwan, made up 20 per cent of Apple's total revenue of US$229.2 billion in its financial year ended September 30, according to the company's latest annual report. 
That made Greater China the company's third-largest market after the Americas and Europe.
That contribution, however, was down from 25 per cent in Apple's financial year 2015, when Greater China was the company's second-biggest market after the Americas.
In terms of operating profit, Greater China accounted for 21.9 per cent of Apple's total operating profit in its last financial year, which was equal to Europe and twice the size of Japan.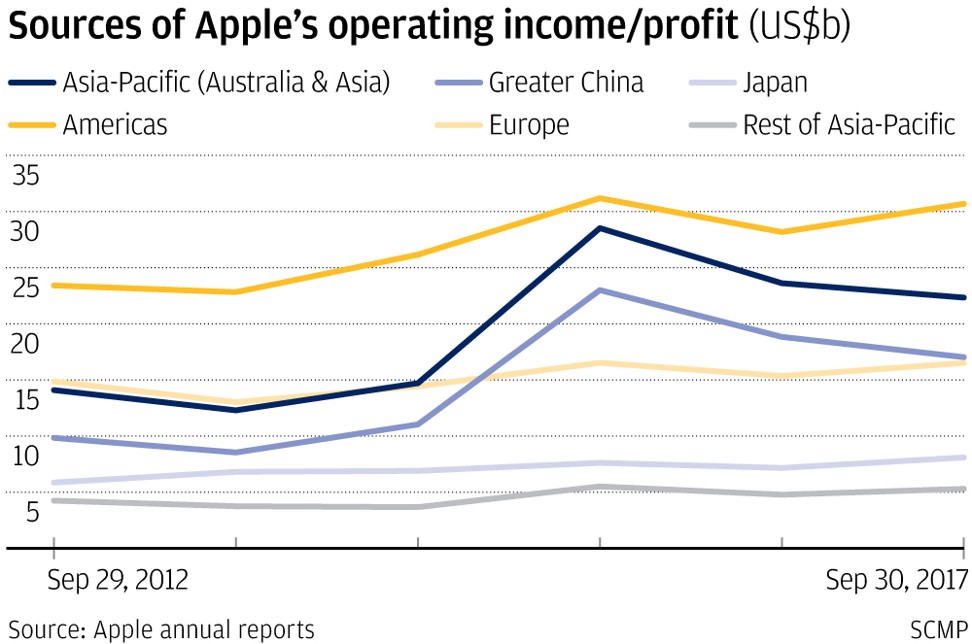 The Chinese mainland alone is the world's largest market for the iPhone, Apple's flagship product that made up 62 per cent of the company's total revenue in its past financial year.
Of the estimated 730 million iPhones that were in use worldwide as of July last year, the mainland accounted for 243 million units, or a third of that total, according to research firm Newzoo. 
The US, where Apple is headquartered, had 134 million of total iPhone users in the same period.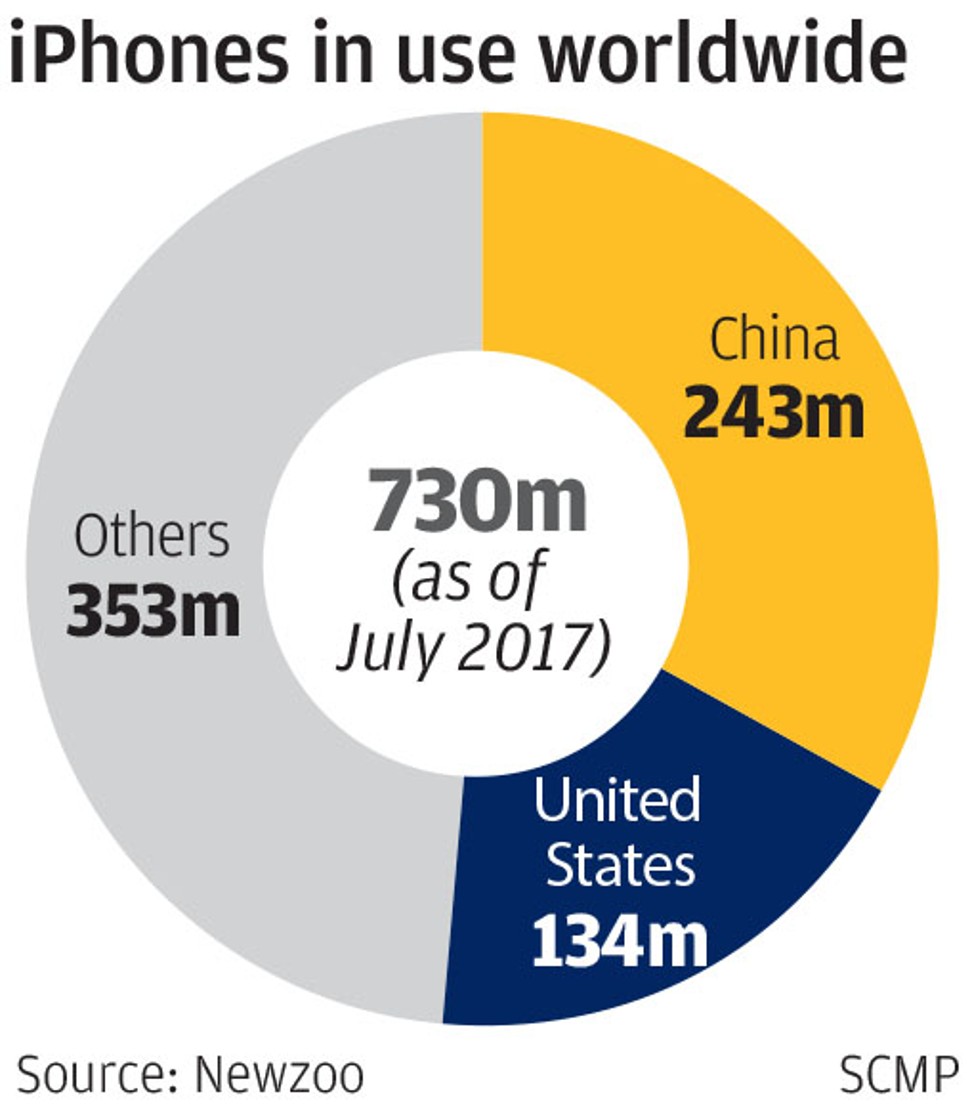 Are all Apple products made in China?
In its latest annual report, Apple said that substantially all of its hardware products "are currently manufactured by outsourcing partners that are located primarily in Asia, with some Mac computers manufactured in the US and Ireland". 
Still, an inspection of products like the iPhone and the iPad will show this branding embossed somewhere on the back: "Designed by Apple in California. Assembled in China". 
That offers further proof of how important China has become to Apple, as the country's vast chain of component suppliers and contract manufacturers support the technology giant's global activities. 
China accounted for 30.2 per cent of the company's total long-term assets as of September 2017, according to its annual report. The US, by comparison, made up 61.1 per cent.
These long-term assets include product tooling and manufacturing process equipment, as well as assets related to retail stores and related infrastructure.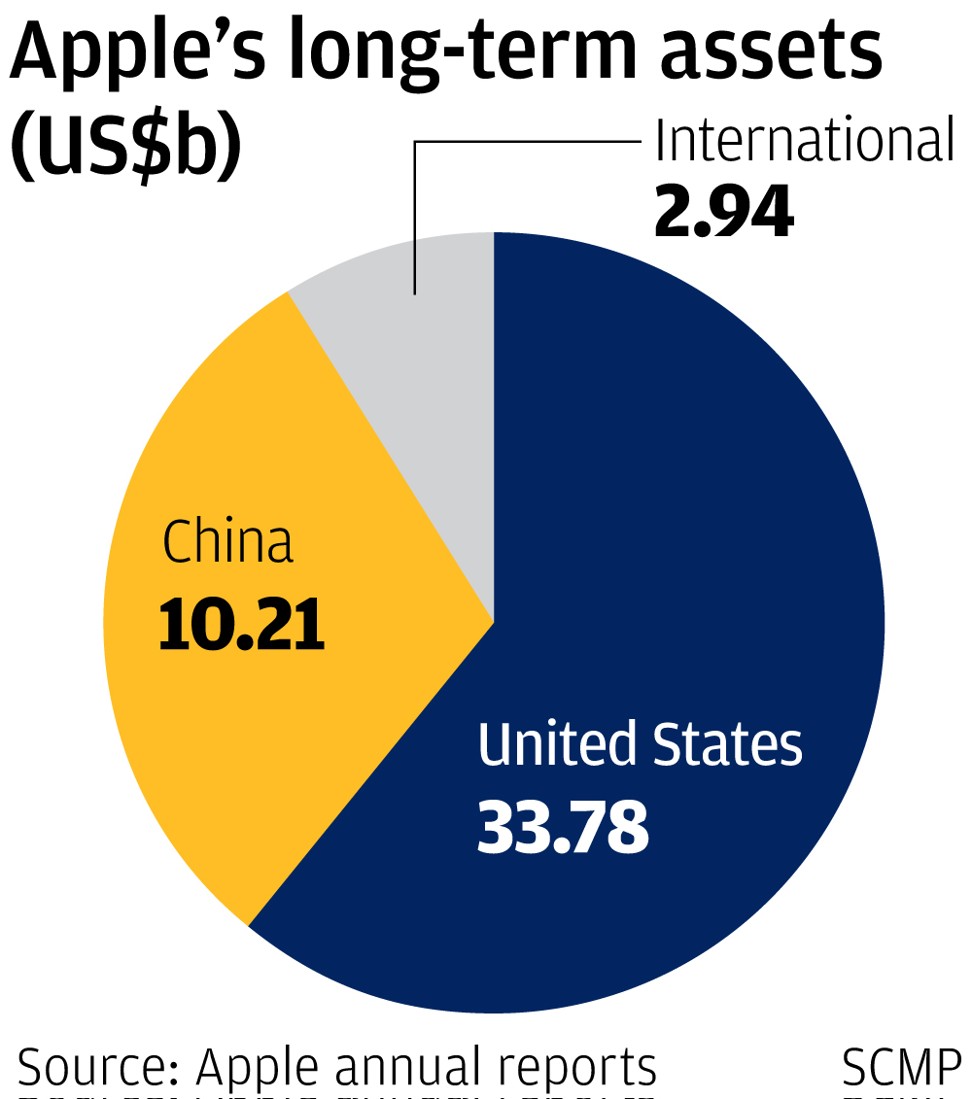 Which Apple suppliers in China could be most affected by a trade war?
Here are seven publicly listed suppliers in mainland China and Hong Kong that each have more than 10 per cent of their revenues tied to providing components to Apple, according to Bloomberg Supply Chain Analysis. 
1. Battery maker Shenzhen Desay Battery Technology. 
2. Hong Kong-listed AAC Technologies, which supplies miniature acoustic components including speakers, receivers and microphones, as well as non-acoustic devices like radio-frequency mechanical products that combine antennas with metal casing.
3. Hunan-based Lens Technology, which produces touch-panel cover glass and touch-sensor modules. 
4. GoerTek, based in Shandong province, supplies acoustic components.
5. Zhejiang Crystal-Optech, a Hangzhou-based firm that produces optical imaging, micro display and reflective materials. 
6. Suzhou Anjie Technology, a Jiangsu-based company that makes insulating functional components, buffering materials and backlight materials. 
7. Hunan Tianrun Digital Entertainment and Cultural Media, a Yueyang-based company that manufactures plastic packaging products.
Taiwan-listed Hon Hai Precision Industry, the world's largest contract electronics manufacturer known under its Foxconn Technology Group trade name, may have the biggest exposure to Apple.
Founded by Taiwanese entrepreneur Terry Gou in 1974, Hon Hai has been the main supplier of the iPhone and iPad for Apple since the devices were introduced in 2007 and 2010, respectively. 
What is the Apple chief's stance in the US-China trade dispute?
Speaking at the annual China Development Forum in Beijing last month, Cook hoped for "calm heads" to prevail amid rising tensions between the US and China.
"I'm cognisant that in both the US and China, there have been cases where everyone hasn't benefited, where the benefit hasn't been balanced," Cook said.
Apple, along with other multinational companies, have worked to comply with new regulatory requirements imposed by the Chinese government, including requiring foreign firms to house all their data in China in mainland data centres.
The technology giant established a data centre in Guizhou province to comply with the country's rigid cybersecurity laws.
"My belief is that one plus one equals three. The pie gets larger, working together," Cook said.