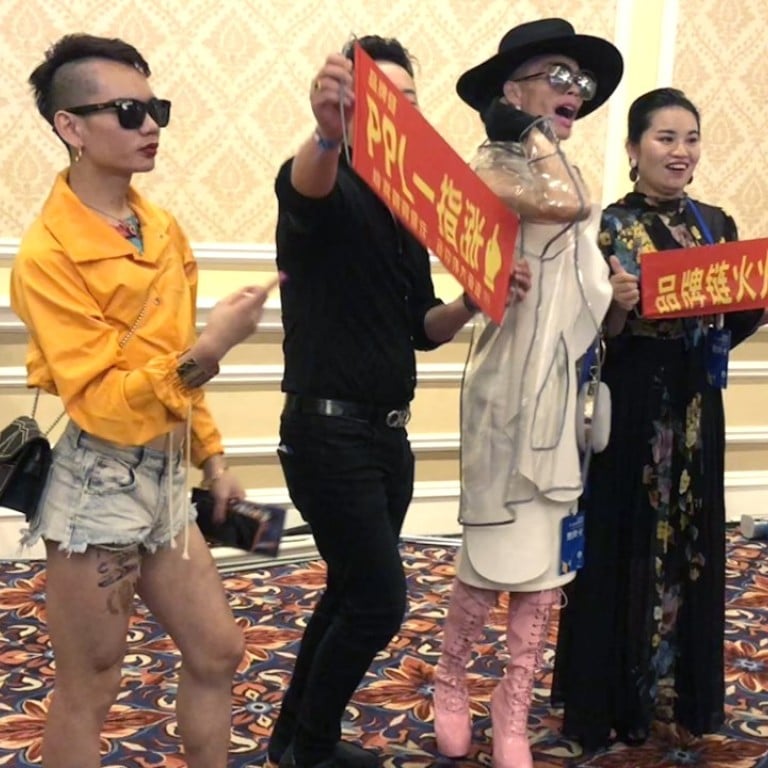 Welcome to China's wild, wild world of blockchain investment
Businesses of all kinds are hitching their marketing to the technology bandwagon but it's not always clear what they're offering
The room was only a third full but the two cross-dressing cheerleaders touted their product as if they were playing to a capacity crowd.
"Brand-Chain, hot, hot, hot!" they shouted, holding up banners at a Macau casino hosting a three-day conference on the tech phenomena that is blockchain.
Nearby, a group of older Chinese women snapped photos of the two men – one dressed in hot pants and gold high-heeled shoes, and the other in a plastic dress and pink boots – before the cheerleaders were sent packing by security.
The performers were helping promote a food company looking for retail investors in its blockchain product.
The company was one of dozens trying to attract backers for their offerings at the World Blockchain Conference 3 AM Summit last week.
The conference lured exhibitors not only from tech firms but also from vineyards, car-leasing companies and food distributors, all seeking to capitalise on a much-hyped technology.
Blockchain is a secure way of maintaining a public database and its best known application is in cryptocurrencies.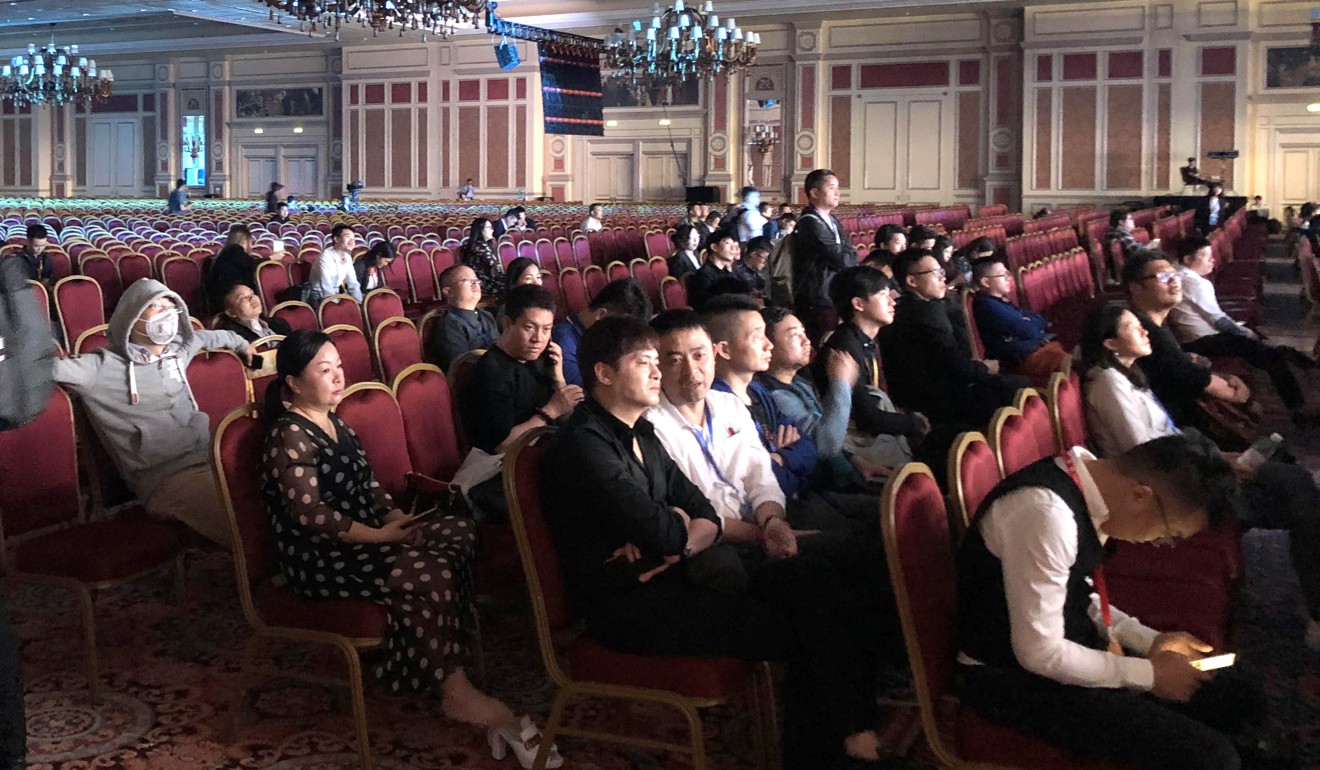 The central government has clamped down on digital currencies on the mainland, banning initial coin offerings and Bitcoin exchanges and forcing formerly China-based exchanges to move offshore.  
But the authorities have not banned the use of the digital decentralisation technology behind them – and in some cases is embracing it.
For example, the National Audit Office is considering using blockchain to improve its data infrastructure and the Ministry of Industry and Information Technology plans to set up a national blockchain standardisation committee.
Various companies have also hitched their promotional campaigns to the blockchain bandwagon, using it in their marketing. But it can be hard for investors to work out just what role the technology plays in each company's operations.
"Our ecosystem is based on IBM, Ethereum, Ripple, Big Data, cloud computing, IoT … it's a combination of blockchain infrastructure and artificial intelligence," a representative of a company called the Shile Group, said at the conference.
He said the company's main asset was a 3,333-hectare vineyard in Fuan, Fujian province, and he was offering investors a piece of a product called "Fu-chain", or "the chain to get good fortune".
Elsewhere a car rental company called "Car-Chain-Coin" promoted its offering but the elements of its blockchain business were equally hard to decipher. 
The waters were further muddied by a warning from 3 AM, a Chinese blockchain community and one of the conference's organisers.
"This conference is only a platform. The roadshows are mixed with good and bad, true and false. Please be careful," Yu Hong, co-initiator of 3 AM, said in his opening speech to the conference.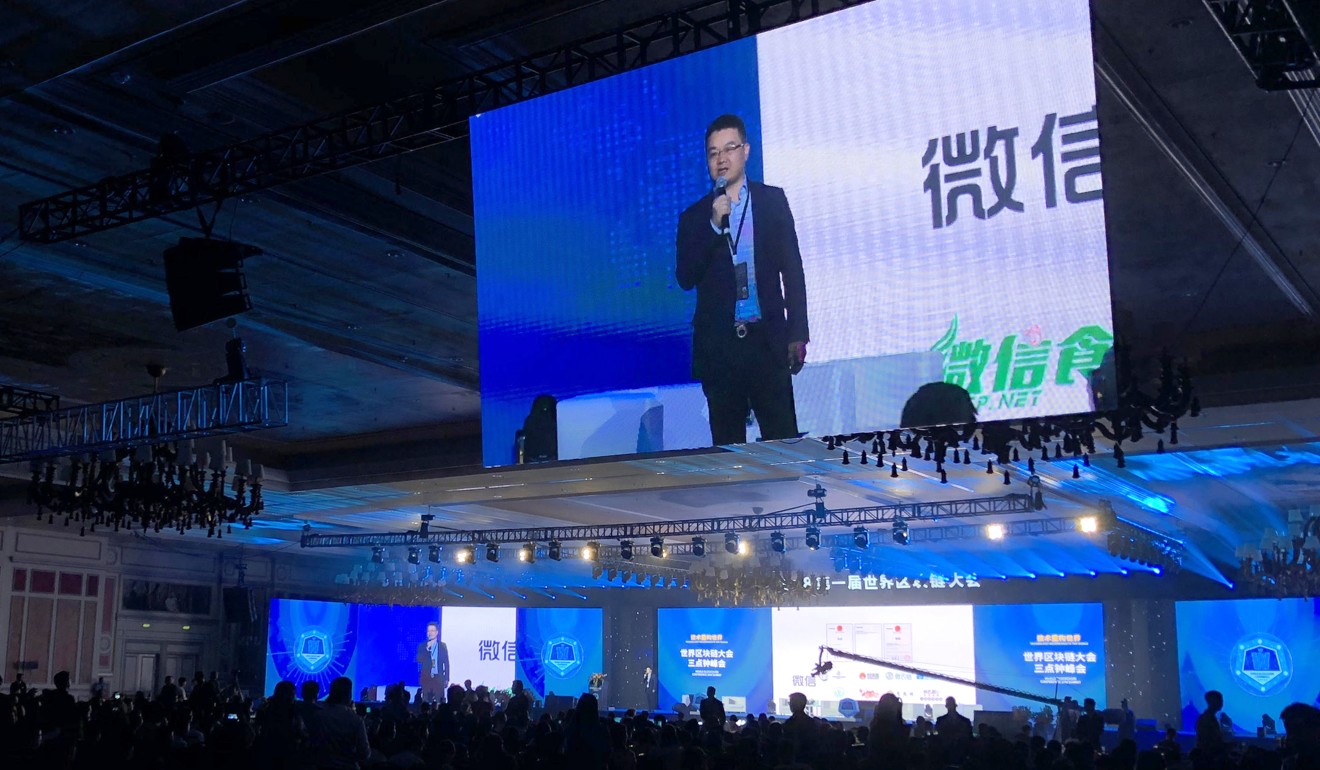 Wang Zhiyong, a high-profile commentator, suggested that the presence of older Chinese women, known as dama in China, was a sign of a bubble in the blockchain market.
"I still have not made clear what blockchain is yet, but damas have already attended a world-class meeting. It seems the time for me to stay far away from blockchain," Wang wrote on his microblog.
A sales manager for a Shenzhen-based IT outsourcing company said most of the clients approaching her firm for help with blockchain products were from more traditional industries.
"Most of our clients have no technical background, but merely want to leverage the name of blockchain for faster financing," she said.
But some of the industry's first movers were keen to distance themselves from latecomers at the conference.
Wu Xing, senior director of cryptocurrency exchange Huobi Global, defended the company's interest in blockchain, drawing a line between tech-oriented companies and speculators.
"We sincerely love this [blockchain] technology," Wu said.
Zhao Wei, CEO and co-founder of OracleCoin, a Beijing-based blockchain project providing technical support for other entrepreneurs, questioned why companies in non-tech sectors would want to develop blockchain products.
"For the companies in traditional industries that only use blockchain as a tool, I cannot see any need for them to develop ICOs or token systems," Zhao said. 
This article appeared in the South China Morning Post print edition as: blockchain fever cops criticism at summit