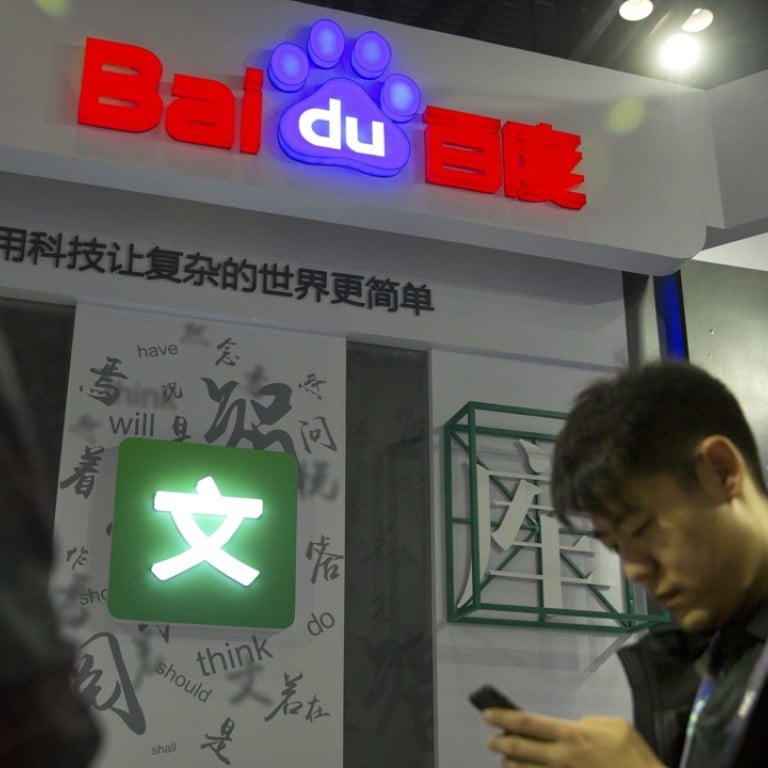 True dominance of China's Baidu, Alibaba and Tencent revealed – and how their influence extends worldwide
China Internet Report offers insights into country's internet landscape, including its unicorns, top internet companies, and most active investors
China's internet giants are competing with each other on multiple fronts either by nurturing their in-house products and services, or by investing in external players for access to technology and users in artificial intelligence, e-commerce, and media and content, according to a report by the South China Morning Post in conjunction with a US venture capital firm.
The China Internet Report, launched at Hong Kong's RISE conference on Tuesday, also highlights the role of Chinese internet companies in empowering the country's next wave of development in rural areas, where around 490,000 online shops are run by rural households, and 55 million rural students are connected to live-streaming classes.
Meanwhile, the US-China trade dispute loomed large at the opening of the RISE conference itself, as major hi-tech companies, start-ups and various industry experts discussed developments in blockchain, artificial intelligence, the internet, e-commerce and other related fields. While Hong Kong is more than 13,000 kilometres away from Washington, recent policy decisions made by the administration of US President Donald Trump hit close to home for a number of conference participants.
"We should all realise that we benefit so much from the openness of the vast technology community," said Wayne Xu, the president of ZhongAn Information Technology Service, a subsidiary of Hong Kong-listed ZhongAn Online Property & Casualty Insurance. "If barriers are put up today, it will destroy what we have achieved," said Xu at the conference.
The China Internet Report was jointly published by the Post, its tech news site Abacus and the US venture capital firm 500 Startups. Other key trends discussed include the embrace of the Social+ business model by Chinese internet companies, and the government's hand in the development of the country's internet industry.
"The China Internet Report provoked a massive response last year among the international business and technology communities. This year, I am excited to partner with the Abacus and SCMP tech team in our mission to help the world better understand China's internet landscape," said Edith Yeung, partner and head of China at 500 Startups.
The China Internet Report, an in-depth look at China's internet landscape with its 772 million internet users, is the second such report after its introduction by 500 Startups in 2017. It aims to offer insights about China's internet landscape, including Chinese unicorns, the country's top internet companies and most active investors, and a side by side comparison of the internet population in China and the US.
"China's internet population is huge and its tech sector is vast, but this report helps to break it down by giving you a curated look at key trends and companies that you need to know," said Ravi Hiranand, executive producer of Abacus. "Abacus is all about unboxing China tech for the rest of the world, and this report fits that mission."
Baidu, Alibaba Group Holding and Tencent Holdings – collectively known as BAT in the industry – have grown so large, with combined revenues of 550 billion yuan (US$87.3 billion), that they dominate nearly every aspect of the Chinese internet, with core businesses ranging from web search and social media to e-commerce and entertainment. Alibaba is the parent company of the Post.
At the same time, the big three have had their hands in various industries through investments in key players. Among all of China's 124 unicorns – private companies with a valuation of US$1 billion or above – 50.8 per cent are controlled or backed by BAT, according to a February report by information service provider ITJUZI. The triumvirate is also looking beyond China for investment opportunities with a total of 150 companies outside of China receiving money from BAT, according to the China Internet Report.
Even with an internet penetration of only 55 per cent, the sheer scale of China's internet population means that the number of smartphone users in the country is three times bigger than that of the US, and the number of mobile payment users 11 times larger.
More than 600 million people in China regularly use social media apps, according to data by eMarketer, which provides a solid base for a new type of business model that could be referred to as Social+, where different industries such as education, news and e-commerce are anchored by a social pillar that drives user engagement and growth.
Social commerce app operators Pinduoduo and Xiaohongshu, two pioneering companies using this new model, represents different approaches. While Pinduoduo leverages WeChat, China's largest messaging and social networking app with one billion users, to grow its user base, Xiaohongshu started a small community of its own, attracting users to be a part of it and contribute content.
The role of the Chinese government is cited as one of the most prominent characteristics of China's internet scene, in which success or failure – especially for media or fintech companies – is contingent upon government approval.  While the Chinese government wants to be a front-runner in blockchain technology, it has banned the trading of cryptocurrencies despite the fact that some Chinese-developed cryptocurrencies have reached over US$1 billion in market cap, the report points out.
"The China Internet Report is the most in-depth and visually accessible deep-dive available to the global audience," said Chua Kong Ho, the Post's technology editor. "What sets it apart is that we are marrying the first-hand industry knowledge of 500 Startups with original, on-the-ground reporting from the South China Morning Post and Abacus."
This article appeared in the South China Morning Post print edition as: China's net landscapeunder the microscope