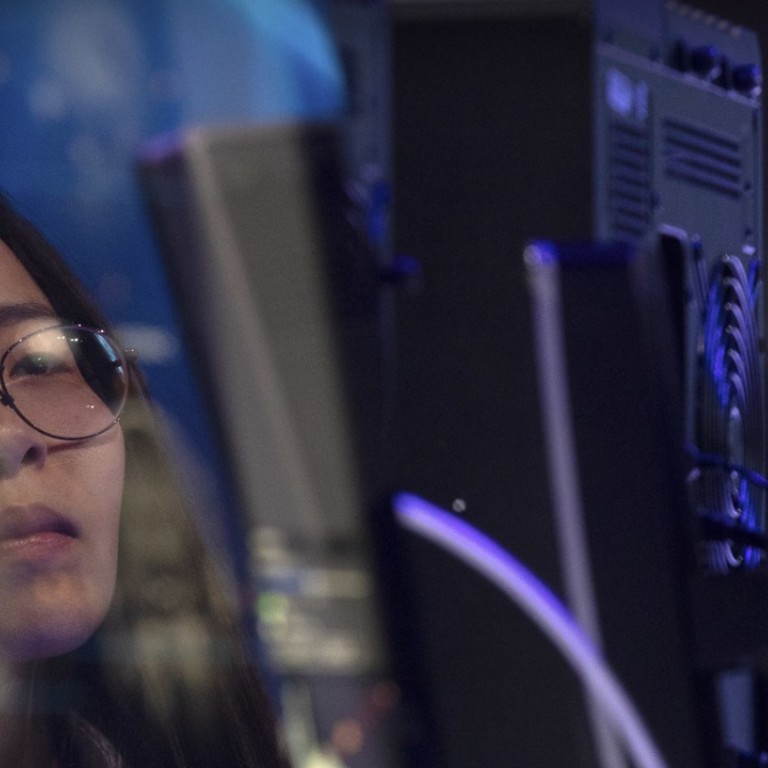 China's AI industry gets the most funding, but lags the US in key talent, says Tsinghua
China's artificial intelligence industry has attracted the most funding, accounting for 60 per cent of all global investment from 2013 to the first quarter of 2018, but still lags behind the US in terms of AI talent, according to a new study.
By the end of 2017, China had amassed an AI talent pool of 18,232 people, accounting for 8.9 per cent of the world's total talent and well behind the 13.9 per cent share held by the US. The top 10 countries accounted for 60 per cent of AI talent.
The report also said the country's shortage of high-level AI talent – those who produce research of high quality – with China only having one-fifth the number of the US in this category, according to a report released on Friday by Tsinghua University, China's top research university.
In terms of AI research, China ranks first in the quantity and citation of research papers, and holds the most AI patents, edging out the US and Japan, the report said.
China's AI market was worth 23.74 billion (US$3.55 billion) yuan in 2017, up 67 per cent from the year before, with computer vision, voice, and natural language processing accounting for most the market. The report estimated China's AI market will grow 75 per cent in 2018.
China has not been shy about its ambitions for AI dominance, with the State Council releasing a road map in July 2017 with a goal of creating a domestic industry worth 1 trillion yuan and becoming a global AI powerhouse by 2030. Last November, China's Ministry of Science and Technology identified internet giants Baidu, Alibaba Group Holding and Tencent Holdings – collectively known as BAT – and voice intelligence specialist iFlyTek, as the first group of "national champions" to spur development of next generation AI technologies that are vital to everything from voice activated digital assistants to self-driving cars.
The central government's recent initiatives included the announcement in January of a US$2.1 billion blueprint to build an AI industrial park in the suburbs of Beijing, and the Ministry of Education's launch in April of a five-year AI talent training programme.
In terms of AI investment, Beijing is far ahead of other Chinese cities with more than 250 billion yuan raised from over 450 deals from 2015 to the first quarter of 2018, followed by Shanghai with 50 billion yuan raised, according to the Tsinghua report. SenseTime, a Beijing-based start-up known for providing AI-powered surveillance software for China's police, is the world's most valuable AI start-up with a valuation of more than US$4.5 billion, after raising US$600 million from Alibaba in April.
Facial recognition has become a leading application of AI in China, with many of the country's cities employing the technology to improve transport and security, according to the China Internet Report jointly published this month by the South China Morning Post, its tech news site Abacus and venture capital firm 500 Startups.
While China pushes ahead with its AI ambitions, officials openly admit the country's weakness in core technology for manufacturing. "We are still decades behind the developed countries, and the road to building a strong manufacturing country is long," Xin Guobin, vice-minister of the Ministry of Industry and Information Technology, said at a forum on Friday.
Xin's comments come after reports that Chinese state media have been asked to play down coverage of the Made in China 2025 programme, an ambitious plan to give the country a leading edge in several technologies, including AI. It has also become a thorny issue between China and its trading partners, including the US and the European Union.
New York-listed Alibaba is the parent company of the Post.
This article appeared in the South China Morning Post print edition as: A.I. lures huge funding but lags U.S. in talent