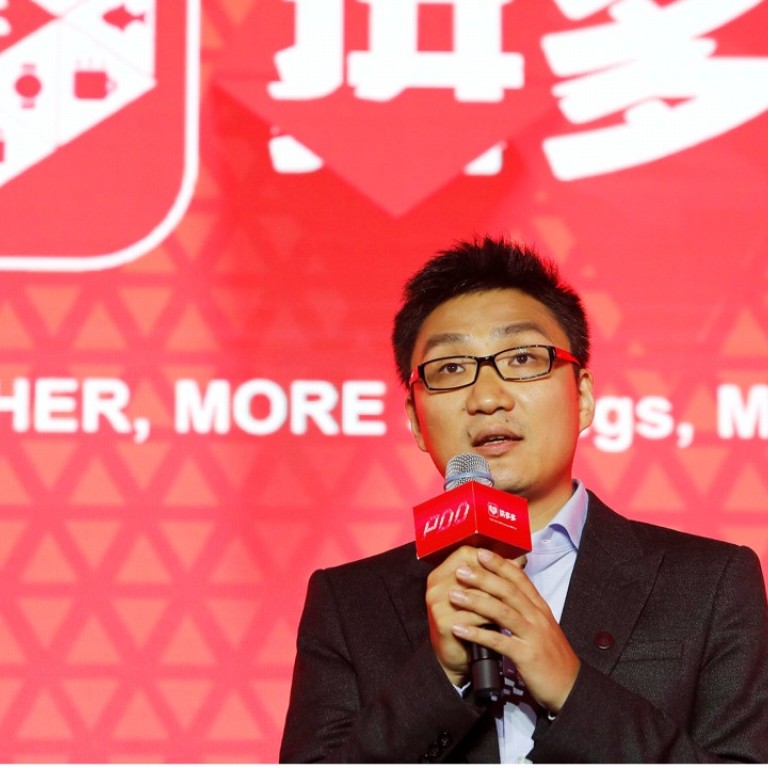 Fighting fakes unavoidable in developing China's online retail market, says Pinduoduo CEO
Comments made by Pinduoduo's Colin Huang Zheng have come at a time when China's lawmakers are looking to make online retail operators directly liable for the sale of fake goods on their platforms
Serial entrepreneur Colin Huang Zheng, the founder and chief executive of social commerce company Pinduoduo, said counterfeit goods remain an unavoidable problem in China amid the steady development of the country's online retail market.
Huang, who recently became one of China's richest people after his company's public listing in the United States, credited the efforts by Alibaba Group Holding in fighting fakes for helping other companies learn how to deal with the same issue, he said in a video interview with Tencent News last week, in response to a question about Pinduoduo's stand against counterfeit goods sold on its platform.
"We have to go through the [same] road that other (e-commerce platforms) had gone through and the suffering they had suffered," said Huang, who became China's 12th richest person with an estimated US$13.8 billion fortune after Pinduoduo went public.
Alibaba is the parent company of the South China Morning Post.
Huang predicted that Pinduoduo may develop its business faster than its predecessors, but said it was impossible to entirely skip the problem of knock-offs in the online retail platform's development.
On Tuesday, Pinduoduo said it has been maliciously targeted based on plenty of negative media coverage it has received. That has prompted the company to lodge a complaint to the country's media watchdog, the China Internet Network Information Centre.
In a press conference held on the same day, Pinduoduo addressed several issues, including speculation that some infant milk powder sold at 7.5 yuan (US$1.10) a container were counterfeit. It said the products are safe to consume and were sold at a hefty discount because these were close to its use-by date.
Pinduoduo said it had already taken down more than 10 million product listings on its platform, as well as more than 40 million listings recently deemed to be infringing on copyrights. In addition, Pinduoduo said it was working with more than 400 brands to fight counterfeits, and has established a 150 million yuan fund, which enables the firm to immediately provide refunds to affected customers as it investigates reports of knock-offs sold on its platform.
Founded in 2015, Shanghai-based Pinduoduo is now China's No 3 e-commerce services provider – behind Alibaba and JD.com – on the back of its success in implementing China's unique Social+ business model, which has helped attract more than three million active buyers and more than 1 million merchants to its platform.
Pinduoduo, whose name loosely translates to mean "buy more together", exists as a mobile app and a mini-program on Tencent Holdings' WeChat, China's largest social networking platform and mobile messaging service with more than one billion users. Pinduoduo offers users generous discounts if they and at least one of their WeChat friends bought an item together.
Chinese internet companies like Pinduoduo have been embedding social networking on their platforms as an anchor to drive increased user engagement, according to the China Internet Report, co-authored by the Post, its tech news site Abacus and the San Francisco-based venture capital firm 500 Startups.
Many of Pinduoduo's items are offered under 10 yuan after discounts, making it especially appealing to users from China's less-developed areas where incomes are lower. These users tend to view e-commerce shopping with friends as a form of cheap and fun entertainment in the world's biggest smartphone market.
Pinduoduo is known for running large campaigns with extremely low-priced products to lure consumers – and has faced criticism for allowing misleading goods to be sold to consumers in some instances, mostly in China's countryside.
On WeChat, Pinduoduo has been advertising a mini-refrigerator that costs only 9.9 yuan in an apparent campaign to attract new users to download its app. It is also selling television sets with the Chinese name of "Xiaomi" – but this company has nothing to do with the Beijing-based smartphone giant Xiaomi, which wrapped up a US$5 billion dollar initial public offering in Hong Kong earlier this month.
Other lower priced products sold by Pinduoduo have also been criticised by consumers for their inferior quality. A pair of black slippers that are priced at 9.9 yuan inclusive of delivery fees on Pinduoduo has been criticised in social media posts by some users for turning their feet black with the dye.
Meanwhile, an electric shaver under the "Phelipos" brand had its razor heads fly out, according to photographs posted by Pinduoduo users on various social media platforms.
In his interview with Tencent's news site, Huang said the issue of counterfeit goods in Taobao Marketplace, Alibaba's consumer-to-consumer online retail business, was a criticism levelled against the Hangzhou-based e-commerce giant before its initial public offering in the US in 2014.
What has made Alibaba a success is that it faced the counterfeit issue squarely and pursued a strategy to remove fake products on its retail platforms, according to Huang.
Pinduoduo did not respond to inquiries about Huang's interview.
New York-listed Alibaba declined to comment on Huang's interview. Instead, it referred to a recently published interview of its chief executive, Daniel Zhang Yong.
"Special prices only work for products whose qualities are maintained at certain levels," Zhang said in an interview with China Entrepreneur Magazine in June, when he was asked whether Taobao's new app for discount products was in response to competition with Pinduoduo.
"Low prices should never be equivalent to inferior-quality products," Zhang said.
The comments made by Huang have come at a time when China's lawmakers are looking to make online retail operators directly liable for the sale of fake goods on their platforms.
Part of the proposed e-commerce law, the latest draft of which was reviewed by China's parliament last month, would make domestic online retail platform operators jointly accountable with merchants for selling any counterfeit goods online. Online merchants are currently solely liable when caught selling fake products.
Once passed, the e-commerce law looks to rid online sales platforms of fake goods and clean up the country's reputation as a major source of knock-off merchandise.
It could also pose a greater risk of sanctions for the country's smaller online shopping platform operators, which may not have the same capabilities as China's bigger players when it comes to identifying and removing counterfeit products, according to Paul Haswell, a partner who advises technology companies at international law firm Pinsent Masons, in a report by the Post last month.
A spokeswoman for Pinduoduo said in the same report that the company has the same mechanisms to track and identify counterfeit goods online used by bigger platforms like Taobao Marketplace.
On Saturday, television manufacturer Shenzhen Skyworth Digital Technology said on its official Sina Weibo account that a large number of counterfeit Skyworth-branded TV products had been seen on the Pinduoduo platform recently. These included eight television brands, each of which include the word "Skyworth" in their Chinese names.
Skyworth asked Pinduoduo to take down all the fake product listings from its platform, and said it reserves the right to sue the company and the merchants involved for infringement of its intellectual property.
Amid all the criticisms against Pinduoduo, some industry executives see the company trying to make its way in the market like others before it.
"While a bunch of people question Pinduoduo, instead of how Taobao started its business, this shows how forgetful our society is," said Wang Xing, the chief executive of Tencent-backed Meituan-Dianping in a post on microblogging site Fanfou on Sunday.
With additional reporting from Yingzhi Yang and Zen Soo
This article appeared in the South China Morning Post print edition as: Fight against fakes unavoidable, tech entrepreneur says