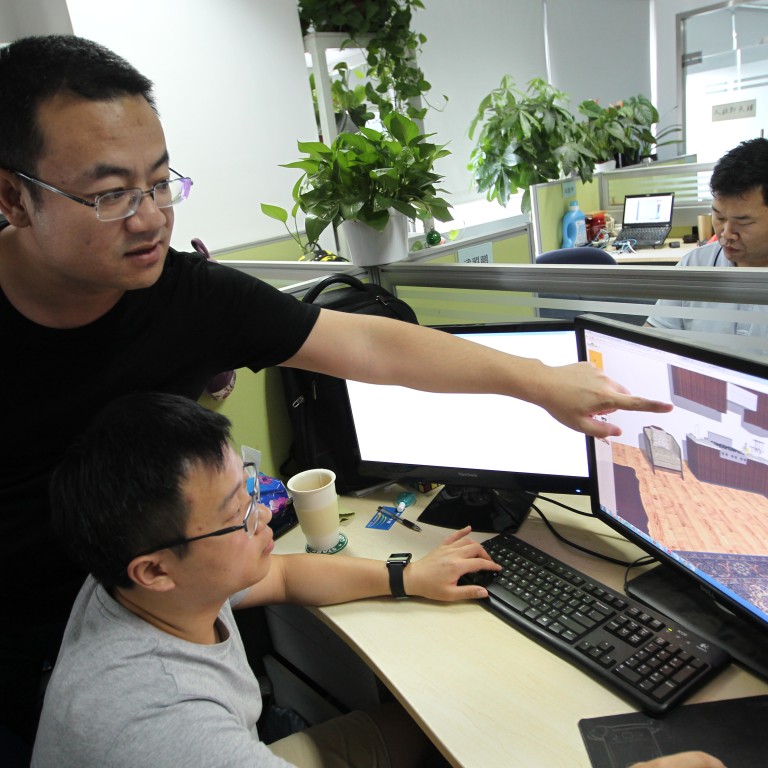 Chinese e-commerce site Biyao vows to make luxury cheaper with new manufacturing model
A Chinese entrepreneur who courted controversy four years ago by calling e-commerce operations "a scam" is bidding to revolutionise the industry by trimming the fat from the supply chain so that shoppers can buy products from suppliers of luxury brands like Prada at cheaper prices.
"This is going to shake up many industries around the world, especially as most of the products [we sell] are made in China," said Bi Sheng, who launched online shopping website Biyao.com two months ago.
"If China's best manufacturers start to make things differently, the effect will have a global impact," he added.
The site cuts out intermediaries so that customers can buy customised products directly from top manufacturers at a significantly reduced cost. However, they will lack the logos that are still prized as trophies and status symbols in much of mainland China. The site currently sells glasses, sports shoes, high heels, and jewellery, and has been growing quickly. 
"By the time you buy a Prada handbag in China, it has already been marked up 100 times from the cost of production," Bi, a former chief marketing officer and assistant to the president of Baidu, China's top online search engine, told the South China Morning Post earlier this month from his office in Beijing.
"A pair of glasses is marked up about 150 times," he added, before pointing to a white Uniqlo T-shirt.
"That garment costs about 10 yuan to make," he said.
In China's rapidly changing commercial environment, Bi thinks the days where middlemen carve out huge margins are drawing to a close.
His solution is to turn the traditional mode of manufacturing - where unsold goods are kept in storage, thus increasing inventory and other costs -on its head.
"Biyao adopts what I call a customer-to-manufacturer [C2M] business model," he said. 
"The products are made only when there is demand for them. This means there are no inventory costs. It also cuts out many tiers of intermediaries, so people can buy luxury products at much lower prices," he said.
The 40-year-old learned from his experience of running Letao.com, China's most popular shoe retailing website, which once generated annual sales of 1 billion yuan (US$161.2 million). But despite its huge revenues, it failed to turn a profit.
He founded the site in 2008 and sold it at a huge discount last year. Later, he said he had felt as though he was cheating his investors by not giving them any real value. 
While still in charge of Letao, he also called out e-commerce players for collaborating on what he described as sham businesses because of the way in which the intermediaries bred huge mark-ups, especially in the clothing industry.
But when he decided to push for change, he met resistance and ended up spending US$10 million of his own money on his latest website. 
"At first, it was difficult to find investors who were willing to support me, because no one was prepared to wait two years while the manufacturers changed their supply chains," he said. 
"But now that we've been up and running for about two months, we're starting to get some attention, and investors are knocking on my door every day. I've had to refuse dozens of them recently," he said. 
It also took a long time to get Chinese manufacturers on board, especially those that supply top luxury brands. 
"I suppose I'm quite well-known in some internet circles, thanks to my background at Baidu and Letao, but in the manufacturing industry, I'm an unknown, so I got kicked out of a lot of factories [in Guangdong province]," he said. 
"But once the bosses listened to my idea, they knew it was something they had to do, or someone else would do it and leave them behind," he said, adding that altering their supply chain cost each manufacturer 30 million to 50 million yuan.
He now counts suppliers for brands like Burberry, Prada, Cartier, Under Armour and Nike among his partners. The site expects to add men's shoes, furniture and other product categories in a few months, quickly taking the total past 10.
Customers can play with software-based configurations to customise their purchases using 3-D models, a niche that has yet to take off in China, where the public is still not used to designing its own products like in the United States.
Shoppers on Bi's site can, for example, play with the colour, material, size and height of the heels on a pair of stilettos. Women's shoes cost upwards of 299 yuan on Biyao, but entail a three-week wait.
The site got a soft launch in April and is already attracting 300,000 monthly unique visitors, Bi said, adding that revenue in May reached millions of yuan.
The company turns a profit by charging commission fees of about 5 per cent. Nearly 50 of its 60 employees are programmers. 
Bi said he plans to expand overseas within a year and is initially targeting Hong Kong, Taiwan and the United States. 
Yet questions remain as to how consumers will respond to having a pair of shoes made by the same factory that churns out Prada footwear, but without the coveted logo.
Analysts have also expressed concern that the business model, particularly at this stage, could see operating costs rise for manufacturers.
"There has been much talk about how Chinese factories must move up the value chain, but before that can happen, our manufacturers must upgrade, too," said Bi. 
"I think having a very flexible supply chain is one of the answers to satisfying consumers in the present internet age."