JD.com
Get more with myNEWS
A personalised news feed of stories that matter to you
Learn more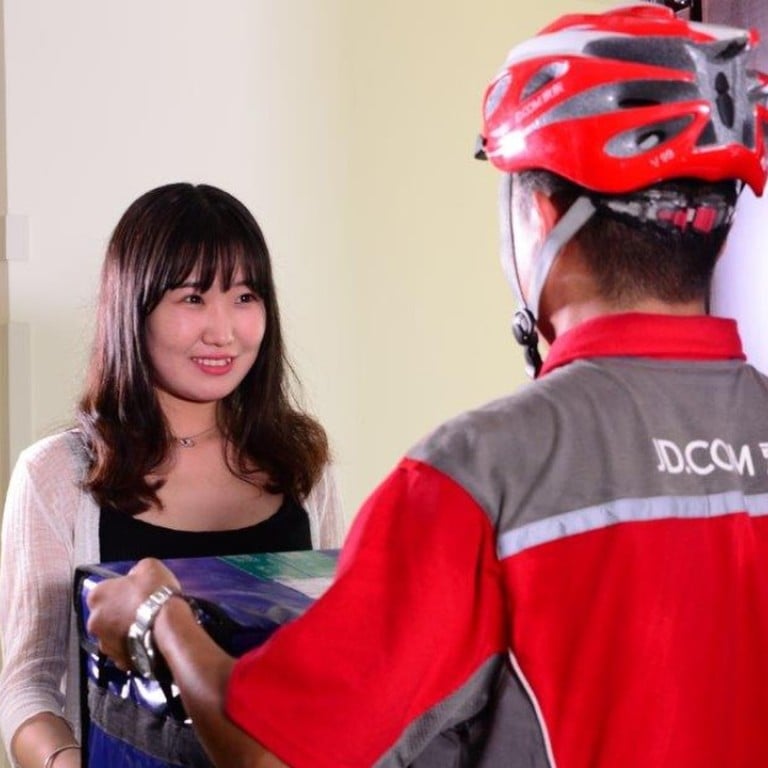 Online retailer JD.com opens offline fresh-food store, heating up its rivalry with Alibaba
The new 7Fresh store of JD.com makes use of smart logistics technology to serve consumers in a similar way as those shopping at Alibaba's own Hema Supermarket chain
JD.com, China's second largest e-commerce company, will launch its first offline fresh-food supermarket, called 7Fresh, in Beijing this Thursday, ratcheting up its rivalry with Alibaba Group Holding in this growing segment of the domestic retail market.
The new store, located near JD.com's headquarters in Beijing's Yizhuang district, has 4,000-square metres of floor space and equipped with smart carts which can help guide shoppers to their desired aisles.
7Fresh, which also has cooked-food stalls, offers different categories of fresh food, such as fruits imported from New Zealand and beef from Australia. It provides delivery services within a five-kilometre radius, so shoppers can get their groceries in about 30 minutes.
"Transactions have surpassed 10,000 a day even during the trial operating period," said Richard Liu Qiangdong, the founder and chief executive of JD.com on social media platform Wei Toutiao. "Based on JD's smart logistics system, 7Fresh supermarket will know your demand better [the more frequent a shopper visits]."
The combination of cooked and fresh-food offerings, as well as use of smart logistics technology at 7Fresh represent a similar approach to what Alibaba has done at the Hangzhou-based company's own Hema Supermarket chain.
Over the past two years, Alibaba has opened 13 Hema stores in major cities like Beijing and Shanghai, where company founder and executive chairman Jack Ma Yun's "new retail experience" is accomplished by the seamless integration of online and offline shopping systems.
Users can shop from the comfort of their homes with direct delivery, by linking the Hema app on their smartphones to Alipay, the online payment system run by Alibaba affiliate Ant Financial Services Group.
Consumers can also choose to dine directly at Hema by picking out fresh groceries or seafood and have the in-house chefs prepare meals for them.
"Physical stores serve an indispensable role during the consumer journey, and should be enhanced through data-driven technology and personalised services in the digital economy," Alibaba chief executive Daniel Zhang Yong said at a press conference in Hong Kong in November.
Grocery retailing, unlike other categories, has put up greater barriers to the shift online by consumers, with online sales in the low single digits in terms of market share, according to Steven Kwok, associate partner at OC&C Strategy Consultants.
"This is apparent … globally, but perhaps even more pronounced in China," said Kwok, adding that consumers want to touch and pick the produce they are buying.
Both New York-listed Alibaba, which owns the South China Morning Post, and Nasdaq-traded rival JD.com, through its alliance with Wal-Mart Stores, have been making inroads into bricks-and-mortar retail operations on the mainland.
Tencent Holdings
, which also has a significant shareholding in JD.com, bought last month a 5 per cent stake in Shanghai-listed Yonghui Superstores, one of China's largest supermarket chains, which further intensified competition in the "new retail" arena of integrated online and offline shopping.