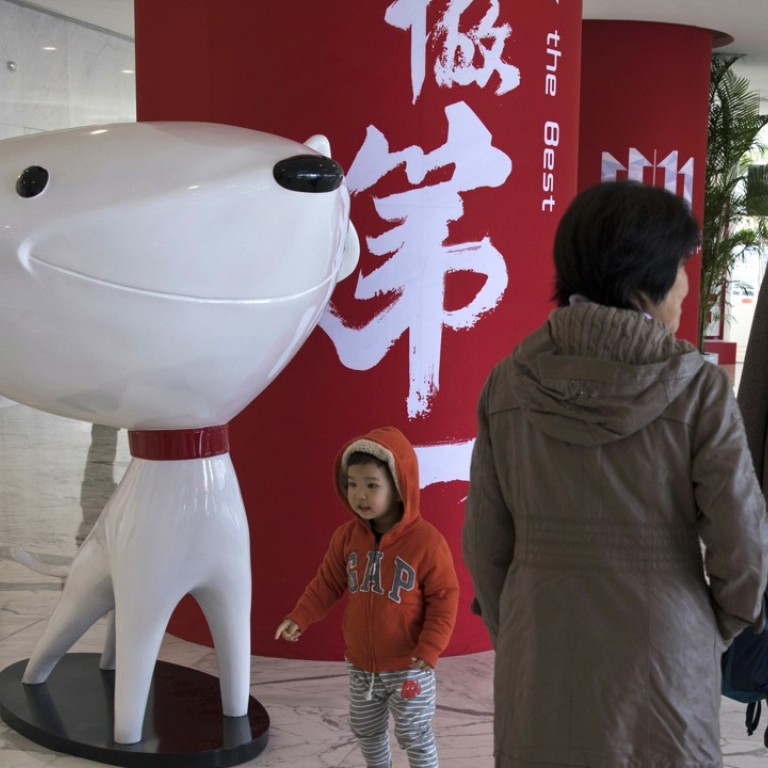 Chinese luxury retailer Secoo drives expansion via US$175m deal with JD.com, L Catterton
JD.com's investment in Secoo marks the latest move to build up its presence in the luxury fashion retail sector, in which Chinese consumers are forecast to make up 40 per cent of the global market by 2024
Chinese online luxury fashion retailer Secoo Holding is looking to ramp up its international business expansion after landing a US$175 million investment from e-commerce giant JD.com and private equity firm L Catterton Asia.
Secoo, which is listed on the Nasdaq stock market, announced that deal on Monday as part of its strategic partnership with JD.com and the Asian branch of US-based L Catterton, the world's largest consumer-focused investment management company.
"Through this partnership, Secoo will be able to leverage L Catterton and JD's operational expertise and vast resources to expand and deepen our market presence not only in China, but across the globe," said Richard Li Rixue, the chairman and chief executive of Secoo, in a statement.
With JD.com, Secoo has a strong domestic online retail partner with 301.8 million annual active users as of March 31. JD.com also operates 515 warehouses across mainland China.
L Catterton Asia, previously known as L Capital Asia, will provide industry expertise based on its more than 200 investments in leading consumer brands. L Catterton was formed through the partnership of venture capital firm Catterton Partners, luxury goods conglomerate LVMH's private equity arm and Groupe Arnault, the holding company of French businessman and LVMH owner Bernard Arnault.
"By establishing relationships with leading partners in the consumer, luxury goods and e-commerce spaces, Secoo is poised to gain invaluable name recognition and further boost the company's reputation in the international luxury consumer space," Li said.
The investment made by JD.com in Secoo marked the Chinese online shopping giant's first luxury market-related deal after it sold Google a US$550 million stake in the company last month. The Secoo deal also represented JD.com's latest push into that sector after it paid US$397 million in June last year for a stake in Farfetch, the London-based luxury fashion e-commerce service provider.
Both Nasdaq-traded JD.com and Alibaba Group Holding have been investing heavily to compete for premium shoppers as Chinese consumers already make up 32 per cent of the global luxury market, a number that is predicted to rise to 40 per cent by 2024, according to a report published in May by the Boston Consulting Group and Altagamma, the trade association for the Italian luxury industry.
"Chinese consumers are increasingly discerning about their luxury purchases, demanding more variety and choice than ever," said Hu Shengli, the president of JD.com's fashion and lifestyle division. "As we look to continue to meet this demand, we see many potential areas for future collaboration with Secoo."
Beijing-based Secoo runs an integrated online and offline shopping platform, which consists of Secoo.com, mobile applications and so-called offline experience centres. Across that platform, the company offers more than 300,000 different merchandise or stock keeping units, which cover more than 3,000 global and Chinese brands.
Secoo's gross merchandise volume reached 1.1 billion yuan (US$165 million) in the first quarter, up 43.2 per cent from the same period last year. Its net income increased 10.2 per cent to 25.9 million yuan in the first three months of this year, according to the company.
Secoo and JD.com, however, will continue to face stiff competition in mainland China's luxury goods retail market.
New York-listed Alibaba, the parent company of the South China Morning Post, launched in April an enhanced loyalty programme under its New Retail business model, in which it aims to connect offline and online commerce through the use of big data and artificial intelligence.
The programme will enable brands to create a more personalised and seamless online-to-offline experience for its top customers, which includes access to exclusive offers, celebrity events, flexible payment options, priority purchases and door-to-door returns.
That would directly support the so-called Luxury Pavilion at Alibaba's Tmall business-to-consumer online shopping platform, which was introduced in August last year to deliver brand exclusivity and tailored shopping experience that consumers typically receive in bricks-and-mortar stores.
Still, L Catterton Asia remained optimistic about Secoo's online retail growth prospects.
"E-commerce continues to play an increasingly important role for consumers across all demographics," said Ravi Thakran, the chairman and managing partner of L Catterton Asia. "As evidenced by our investment, we believe that Secoo is one of the strongest high-end platforms for Chinese consumers."