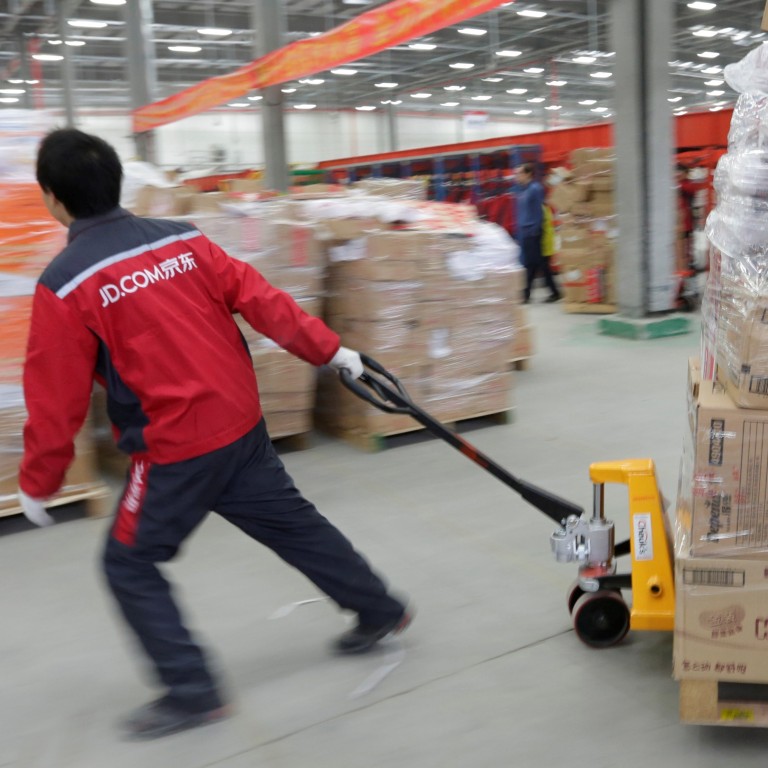 China's JD.com adds more bricks-and-mortar stores to supply chain to speed up deliveries
This programme currently includes 20,000 offline retail stores in 54 cities, including 175 Walmart hypermarkets
Online shopping giant JD.com is targeting delivery times of as little as 30 minutes across China by using various offline retail outlets, including Walmart, to directly get products to customers.
Beijing-based JD.com's latest initiative forms part of efforts to improve the overall efficiency of its supply chain, according to Carol Fung, president of the company's fast-moving consumer goods business.
"This programme cuts out unnecessary steps, improving efficiency for retailers, maximising resources, reducing costs and improving the customer experience," Fung said in a statement on Tuesday.
Instead of having every product pass through traditional warehouses, distribution centres and delivery stations before reaching the customer, the new programme has offline channels directly make deliveries of orders processed on
JD.com
's online platform.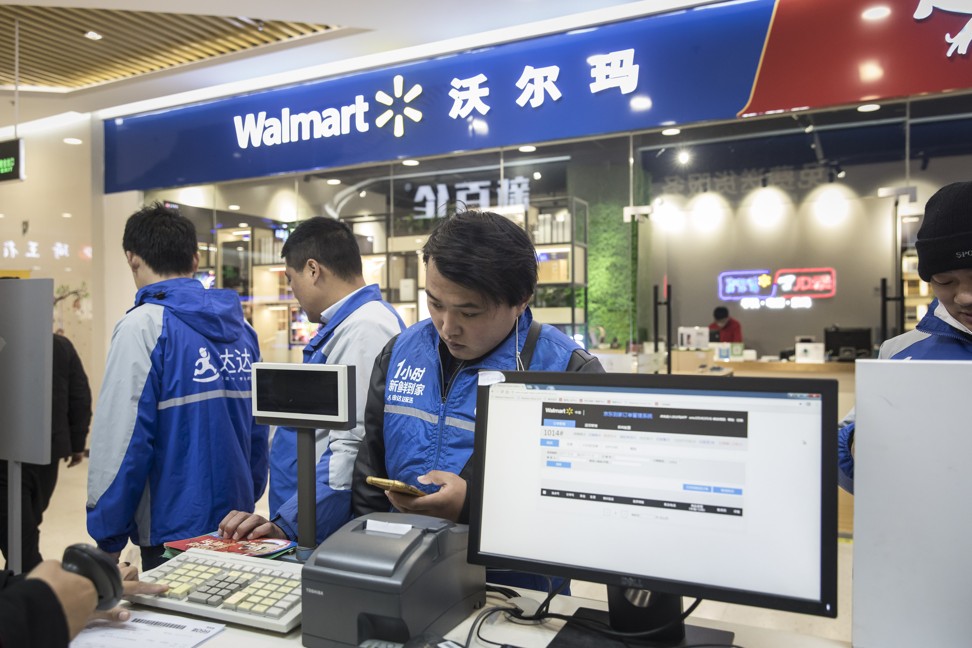 The programme uses an artificial intelligence algorithm to determine the proximity of offline retail outlets as well as JD.com's warehouses and distribution centres to a customer. If an offline store with the goods on order is closer,
the AI system
will ask that shop to make a direct delivery.
These offline channels include supermarkets, convenience stores, some major brands' own bricks-and-mortar shops and crowdsourced delivery platform Dada-JD Daojia. The programme initially covers items such as non-alcoholic beverages, beer, wine, rice and flour.
It currently includes 20,000 offline stores in 54 cities, including 175
Walmart
hypermarkets, 198 Nongfu Spring offline water stations in Beijing, and 166 9bianli liquor stores throughout China. Walmart has been working with JD.com since 2016.
Average delivery time with the programme is two hours, but customers can receive orders as fast as 30 minutes, according to JD.com. The Nasdaq-traded company said brands taking part in the programme are likely to see improved store traffic and turnover rates.
That programme would intensify JD.com's rivalry with
Alibaba Group Holding
, which has pushed its "new retail" strategy to integrate online and offline shopping in the world's second largest economy.
New York-listed Alibaba, the parent company of the South China Morning Post, has already invested billions in various logistics services providers as well as bricks-and-mortar retail enterprises – including Sun Art Retail Group, Intime department stores and Hema supermarkets – so that it can get closer to consumers and deliver goods as fast as possible.
Watch: When JD.com launched a white-glove premium delivery service
At the more than 30 Hema supermarkets across China, for example, users can place grocery orders online, or shop offline and have their groceries delivered directly to their homes afterwards. Customers can also pick out fresh seafood at Hema and have chefs prepare them on the spot for a meal.
Alibaba has a logistics subsidiary, Cainiao Network, which runs a platform that does everything from digitising and standardising waybills to route optimisation for couriers. JD.com, which has
also invested in logistics services providers
, operates its own network of warehouses and automated fulfilment centres.
For Chinese beverage brand Nongfu Spring, an early partner in JD.com's new supply chain innovation, the programme enabled 90 per cent of orders it received on June 18 – the final day of JD.com's 18th anniversary shopping festival in China – to be delivered within two hours without adding staff at its Nongfu stations.
Its daily orders have also increased about 20 per cent overall, according to Li Zhou, chief secretary of the board at Nongfu Spring.
"We see enormous potential to deliver more orders from offline channels in the future, and will roll out the programme in more cities around China soon," Li said.
Achieving faster delivery times would augur well for China's e-commerce providers to
expand their business in the country's smaller cities
. The online shopping penetration rate in China's first- and second-tier cities is 36.4 per cent, compared with 13.8 per cent in the smaller cities, according to a Nielsen report in August.