Alibaba
Get more with myNEWS
A personalised news feed of stories that matter to you
Learn more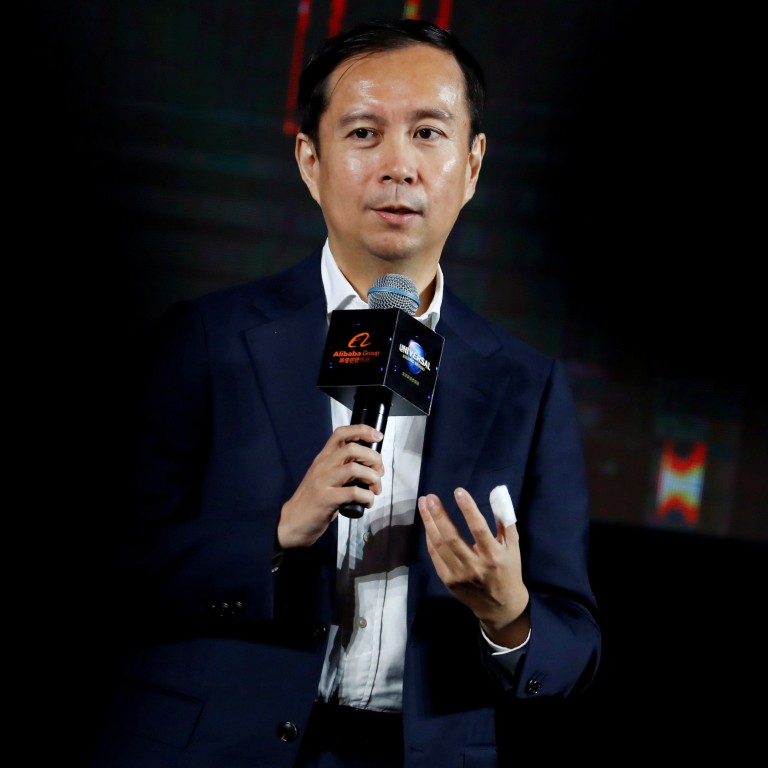 Alibaba quarterly revenue jumps 40 per cent ahead of Singles' Day shopping festival
The e-commerce giant's revenue for the quarter ended September 30 reached US$16.6 billion, beating estimates
New York-listed Alibaba on Friday posted better-than-expected revenue of 119 billion yuan (US$16.6 billion) in its fiscal second quarter, up from 85.1 billion yuan a year ago. That improvement was made on the back of strong sales at its China retail platforms and growth in annual active consumers, despite a slowdown in the domestic economy and a protracted trade war with the United States.
Net income jumped 262 per cent to 72.5 billion yuan in the same quarter, beating analysts' estimates as it recognised a one-time gain of 69.2 billion yuan from becoming a 33 per cent equity stakeholder in Ant Financial Services.
"Our digital economy continues to thrive and prosper," said Daniel Zhang Yong, executive chairman and chief executive of Alibaba, in a statement. "We aim to serve over one billion annual active consumers and help our merchants achieve over 10 trillion yuan in annual gross merchandise volume by end of fiscal 2024."
Alibaba's financial results are seen as a bellwether of consumer spending in the world's most populous country and important barometer of its economic health.
The company's share price has jumped 29 per cent since the start of the year, closing at US$176.67 on Thursday, before is latest quarterly results were announced.
While geopolitical uncertainties have placed more pressure on global growth, Alibaba's efforts to find "more opportunities in such an uncertain environment is the key to our business and strategy", said Zhang in a conference call with analysts on Friday.
"We see great potential in domestic consumption as an important driver for [the] Chinese economy," he said. "China retail sales reached around 30 trillion yuan in the first nine months of 2019, growing at 8.2 per cent year over year, to outpace the [country's] overall GDP growth of 6.2 per cent." He indicated that e-commerce remains "the key driver of China consumption".
Alibaba, the parent company of the South China Morning Post, will hold its annual 11.11 Global Shopping Festival – an event that co-opts the Singles' Day celebration across the country on November 11 – with more than 200,000 domestic and foreign brands. More than 1 million new products will be on sale this year, according to Alibaba.
Zhang described the company's Singles' Day festival as the "commercial Olympic Games", which enables more brands to market their products and engage more consumers in China and around the world.
Hangzhou-based Alibaba tallied a record US$30.8 billion in transactions over the 24-hour shopping event last year. That amount was nearly 4,000 times larger than the US$7.8 million that its first ever Singles' Day promotion generated in 2009.
"Alibaba has been seeing accelerated growth in daily active users on top of its huge user base," said Jefferies equity analysts Thomas Chong and Ken Chong in their Alibaba earnings preview published last month. "Alibaba has about 860 million global annual active consumers."
"The success of our focus on less-developed markets in China is reflected in our new customer acquisition growth," said Alibaba chief marketing officer Chris Tung in a statement early last month, when the company kicked off this year's edition of Singles' Day at an event in the northeastern city of Harbin.
"We are equally driven to help local enterprises and factories digitise, which will improve their operational efficiency and ability to engage with customers across the country."
In the 12 months to September, Alibaba's China retail platforms – led by Taobao Marketplace and Tmall – had 693 million annual active users. That fuelled a 40 per cent increase in the company's total core commerce revenue to 101.2 billion yuan in the quarter ended September 30.
Cloud computing was the second major growth driver for Alibaba during the period, rising 64 per cent to 9.3 billion yuan. Alibaba said 59 per cent of companies listed in China are customers of its Alibaba Cloud unit as of August this year.
Revenue from Alibaba's digital media and entertainment business rose 23 per cent to 7.3 billion yuan, following its consolidation of film company Alibaba Pictures in March this year.
This article appeared in the South China Morning Post print edition as: Alibaba rides boom on retail platforms