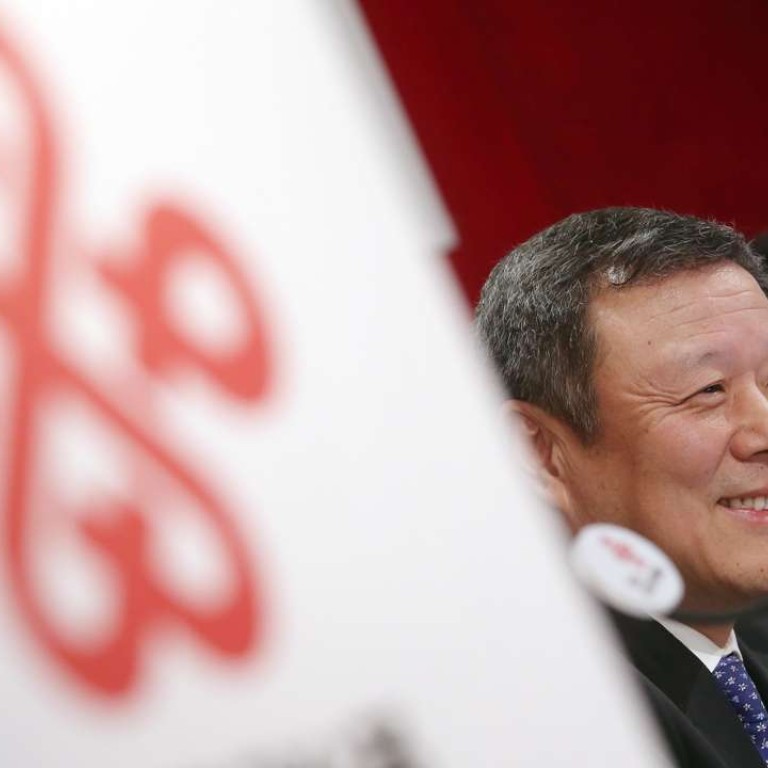 China Unicom backs Hong Kong's mobile spectrum reassignment plan despite industry concerns
Public consultation exercise under way
China Unicom, the country's second-largest wireless network operator, has expressed its support for the Hong Kong government's latest proposal to reassign the city's mobile spectrum, despite local industry concerns.
Unicom chairman and chief executive Wang Xiaochu said that based on the city's successful reassignment of 3G spectrum in 2014, Hong Kong consumers would ultimately benefit from the government's plan.
Speaking after the company's annual general meeting on Thursday, Wang did not say whether Unicom was interested in participating in Hong Kong's public auction of spectrum, the radio frequency bands over which wireless network services are provided.
Industry regulator the Communications Authority (CA) is conducting a public consultation exercise on what the government should do when the licences of the city's incumbent mobile network operators in the 900-megahertz and 1800MHz bands expirebetween November 2020 and September 2021, according to the CA.
Its three options include: renewing the licences of the incumbent mobile network operators; taking back the entire assigned spectrum and auction it off; and retaining 20 per cent of the spectrum for the incumbent operators and auctioning off 80 per cent.
Submissions to the CA's first public consultation will close on Wednesday. A second round of consultation is planned in the third quarter of the year.
The CA will announce its final decision in November next year. If it decides on spectrum reassignment, an auction will be held in 2018.
Hutchison Telecommunications Hong Kong, the city's second-biggest wireless network operator, warned on Wednesday that pursuing either of the regulator's two spectrum reassignment options would have negative consequences for both mobile network operators and users.
Chief executive Peter Wong King-fai said the operating expenses for the incumbent operators would increase based on the higher spectrum fees proposed by the government.
"We don't have an exact figure, but the increase in operating cost will be huge," Wong said.
He said the best option would be automatic renewal for the spectrum licence-holders since that would "maintain business continuity" and ensure that customers were provided with "quality mobile services at reasonable prices".
In February, Wong said Hutchison Telecom had started to "re-farm part of its 900-megahertz spectrum for 4G long-term evolution service". That spectrum band was originally for 2G services, while 1800MHz is for 4G.
Incumbent operators HKT, Hutchison Telecom, SmarTone Telecommunications and China Mobile Hong Kong are all expected to make their submissions to the CA consultation next week.
An industry source said it might be tougher to convince the government to decide in favour of automatic licence renewal following its public auction of 3G spectrum taken from operators in 2014.
SmarTone, China Mobile and Hutchison Telecom were the winning bidders at that auction, paying a combined HK$2.42 billion in spectrum utilisation fees. Unicom had participated, but later withdrew, the source said.