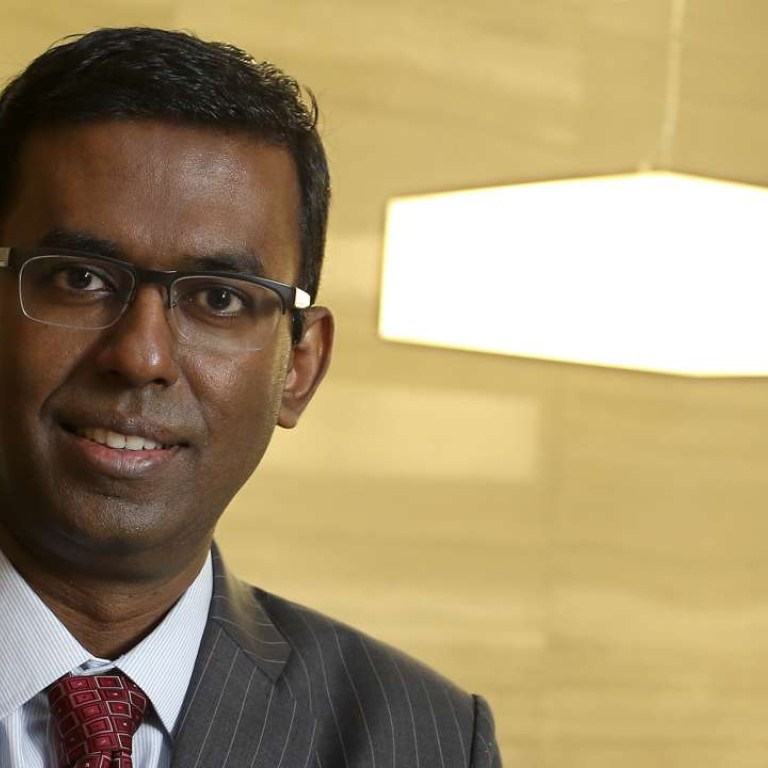 MasterCard looks to boost adoption of in-app mobile payment services in Hong Kong
Financial technology services giant MasterCard is looking to energise Hong Kong's tepid adoption of advanced digital wallet services with a range of solutions, including taxi-ride booking and heartbeat-authenticated mobile payments.
"We're already working with a number of players in the market," Raj Dhamodharan, the group head for digital payments and labs at MasterCard Asia-Pacific, told The Post.
"We're after high-frequency transactions in market segments such as transportation, ticketing, and food and beverage."
New York-based MasterCard has initiated an aggressive campaign this year to further promote the adoption of MasterPass, its global digital payments platform that connects consumers with merchants and allows for purchases via mobile applications. It is live in 29 markets around the world.
Since MasterPass was launched in Hong Kong in July last year, the number of banks in the city that has partnered with MasterCard to support the service has grown, according to Dhamodharan.
Those include Bank of East Asia, China Construction Bank (Asia), Dah Sing Bank, DBS Bank, Fubon Bank, Hang Seng Bank and OCBC Wing Hang.
"People trust their banks," Dhamodharan said. "We believe working with banks is the best way to bring the convenience and security consumers want [in terms of in-app mobile payments]."
Despite that trust, Hong Kong remains behind other markets, such as mainland China and Singapore, in the adoption of mobile payment services.
A new survey released on Monday by travel search engine Kayak.com, a subsidiary of US-based travel technology firm the Priceline Group, found that 68 per cent of 1,000 respondents in Hong Kong still preferred to book their travel on a desktop computer rather than a smartphone.
According to MasterCard's own "Safety and Security Index" survey, Hong Kong consumers are highly concerned about online identity theft.
Dhamodharan claimed a number of advanced app solutions based on MasterPass that MasterCard is now testing with partners offer increased convenience to consumers and merchants, without compromising the security of their data.
He expected MasterCard to help disrupt taxi service in Hong Kong with its MasterPass-based taxi service provider's app solution. It can be used to book a ride via the taxi operator's app and the fare is automatically charged to users' payment card registered on their MasterPass account.
Taxi operator ComfortDelGro in Singapore started accepting MasterPass booking and payment on its fleet of 17,000 taxis since October last year.
A food-and-beverage app solution, called MasterCafe, allows merchants to help their customers make orders and payment in advance. Consumers can skip the queues to pay for their coffee, as an example, and simply pick up their orders.
MasterCard's Identity Check mobile app solution adds a biometric security layer to mobile transactions, Dhamodharan said.
He pointed out that MasterCard last year started tests with Canadian biometrics company Nymi and TD Bank Group in Canada on the world's first credit card wristband, which allows mobile payments authenticated by a user's heartbeat.
Last year, MasterCard started cooperating with HKT to roll out the Hong Kong telecommunications giant's contactless "Tap & Go" mobile payment system. That service makes use of near-field communications technology on smartphones, according to Dhamodharan.
While Hong Kong's mobile payments landscape is still developing, various industry players have staked out their positions in the market.
Visa, the global financial payments rival of MasterCard, last year introduced its Visa Checkout, a payments platform for mobile e-commerce transactions.
American Express is set to launch Apple Pay in Hong Kong this year. American Express card members will be able to pay on the go with their iPhone, Apple Watch or iPad when the mobile payment service becomes available.