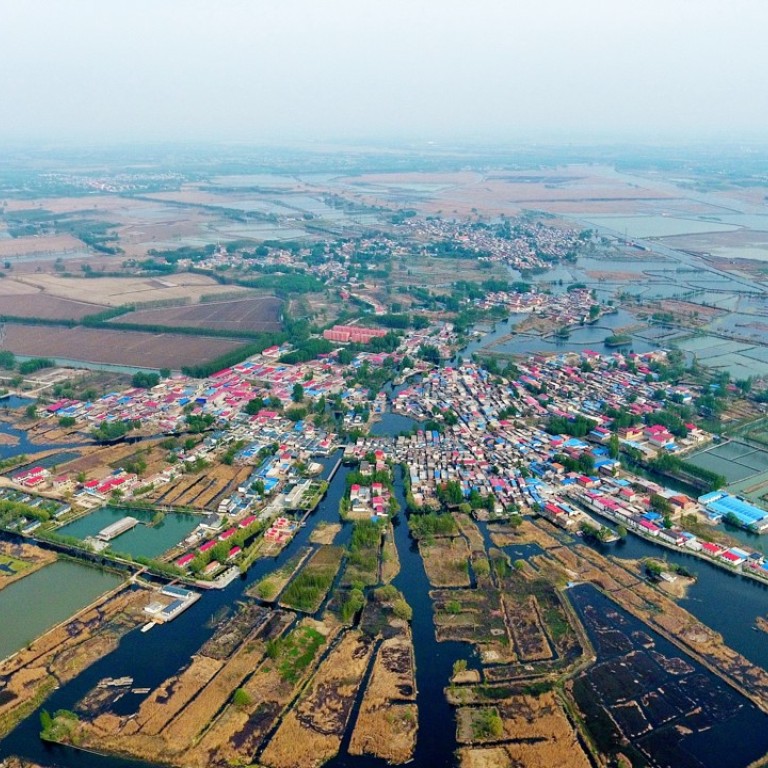 Exclusive

|
Which industries will China set up in Xiongan, the president's dream city?
Xiongan, the area outside Beijing that was hand-picked by Chinese president Xi Jinping as the dream city for his "thousand-year" plan to transform the capital, will be developed into a high-technology hub and showcase of the country's latest innovations, said the Communist Party chief of the district.
The district will seek out companies engaged in information technology, biotechnology, new energy and new materials, providing them with various incentives and benefits to invest and establish operations in Xiongan, said Chen Gang, the district party chief in Hebei province.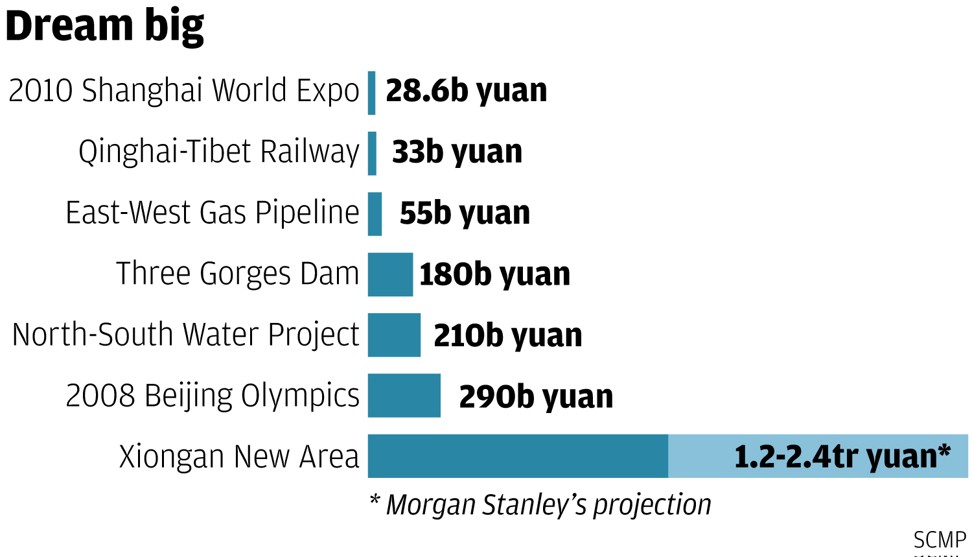 "Although a lot of companies want to squeeze in, we will be selective" in granting them approvals, Chen told the
South China Morning Post
on the sidelines of the party's twice-a-decade meeting in Beijing. "We will also help some local companies transform, because there's still a local population of 1.28 million people in the Xiongan area, who may not all be able to perform hi-tech jobs."
Xiongan sits at the geographic centre of Xi's master plan to integrate Beijing with the port city of Tianjin and with the surrounding Hebei province into a single region for development. Known as the Jing-Jin-Ji plan, it's one of the president's two main development initiatives, along with his ambition to recreate the new overland and maritime Silk Road, dubbed the Belt & Road Initiative.
Xiongan comprises three existing rural counties measuring a combined 100 square kilometres - Xiong, Rongcheng and Anxin - and will eventually expand 20-fold to cover 2,000 sq km, the same size as Shenzhen.
If Xiongan matches Shenzhen in size, it's also comparable to the southern Chinese city in prestige. Every Chinese leader had his hand-picked dream city: Deng Xiaoping chose Shenzhen as the site for China's experiment with market economy, and Jiang Zemin turned Pudong from paddy fields into mainland China's financial centre, while Hu Jintao tried to turn Binhai in Tianjin into a new growth area during his tenure.
Xiongan is no exception. With Xi's imprimatur, the area may see total investments of as much as 2.4 trillion yuan (US$362 billion) over the next two decades, while 4.5 million people move in from Beijing as state enterprises, universities and research institutions relocate there, according to Morgan Stanley's estimates.
For now, the district is still an economic backwater, with weak infrastructure, little financial and industrial support, even though land prices have soared multifold, as speculators jumped in since the president announced his plan in April.
"We will start with a blank sheet of paper," said Chen. The comprehensive strategic planning of the new district is still under preparation, and the government "has no time table" for announcing it, because "it's a thousand-year strategy," he said.
To attract companies with the best cutting-edge technology, Xiongan will offer premium public services including housing, education, and medical services to compete with Shenzhen and other cities that are also vying for talent and investments.
Hebei's governor Xu Qin, a political rising star and former Shenzhen party chief, also give a long "to do list" to strengthen innovation in the province, leveraging on Xiongan's prestige as an answer to Xi's clarion call.
"We welcome big data, internet technology, mobile technology and biotech companies," Xu said. "We will coordinate local resources and companies to integrate with these advance tech companies."
Kuang-Chi Group, a Shenzhen-based technology conglomerate started by five PhD scholars, is Xu's ideal tenant in Xiongan.
The company, founded in 2010, is involved in metamaterial, telecommunication, aerospace, smart-city infrastructure, artificial intelligence and digital health technologies, according to its website. It registered a branch last month in Xiongan to conduct research on new materials. Other companies that have been approve to establish in the area include China Mobile, Baidu, Tencent Holding, and the Post's owner Alibaba Group Holding.
This article appeared in the South China Morning Post print edition as: Welcome mat laid out for tech firms in Xiongan zone