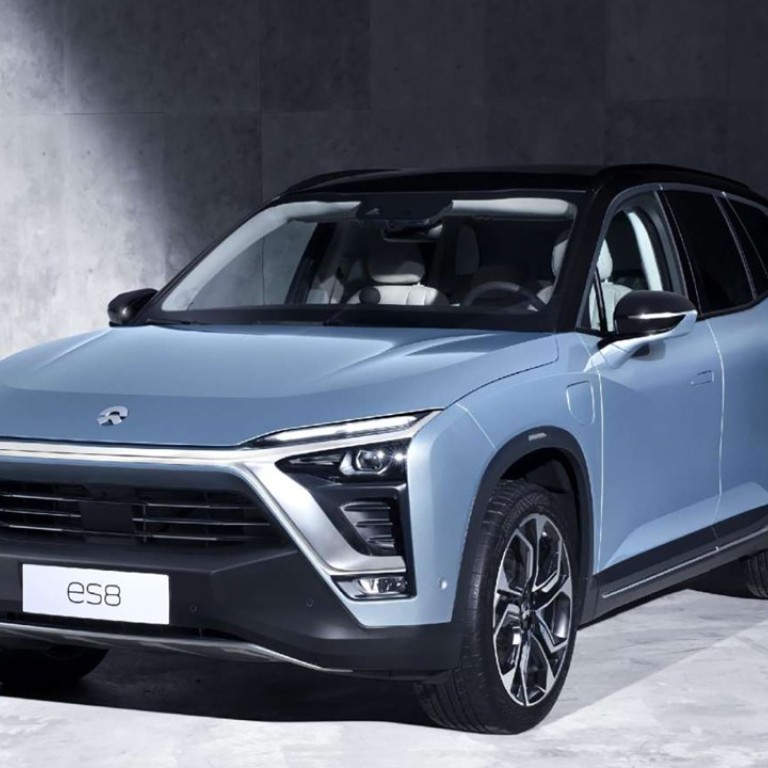 This is China's answer to the Tesla Model X – at about half the price
ES8, SUV launched by electric vehicle start-up NIO, will also feature artificial intelligence system
Chinese electric vehicle start-up NIO has thrown down the gauntlet to US car maker Tesla by launching ES8, a seven-seater high-performance electric SUV, on Saturday, at about half the price of the latter's Model X.
NIO, which was founded in 2014 and counts Chinese tech giants such as Tencent Holdings, Baidu and Xiaomi among its investors, launched the ES8 – its first production car – in Beijing at a base price of 448,000 yuan (US$67,788) before subsidies. Tesla's Model X, which is popular on the mainland despite its price, starts at 836,000 yuan after import duties.
"Tesla is a company founded in the era of the internet while NIO was born in the era of mobile internet. The new era, in which smartphones and apps play a much bigger role in people's daily lives, gives companies like us a great opportunity to revolutionise the automobile industry," said William Li, founder and chairman of NIO, at the SUV's launch event in Beijing Wukesong Arena. The company flew in thousands of reservation holders to see the vehicle in person.
Li said a better understanding of Chinese consumers was expected to give domestic carmakers an edge when competing with companies such as Tesla.
The launch of the ES8 comes amid a rising wave of "Tesla challengers", a clutch of mainland start-ups such as NIO, Byton and Xpeng that are in a race to be the next big electric vehicle major. These companies want to rival Tesla with smart electric vehicles that feature internet connectivity and new technologies, and by leveraging their understanding of Chinese consumers.
The rise of these companies was facilitated by the Chinese government, which gave out electric vehicle manufacturing licences to promote non emission vehicles as part of its strategy to reduce dependence on imported oil and to cut pollution. As a result, the country has emerged as the world's biggest electric vehicle market, surpassing the United States.
The ES8 comes with a driver-assistance system, featuring highway pilot, traffic jam pilot and automatic emergency braking. It also has an in-car artificial intelligence system called NOMI that can help regulate the temperature, take photos and play music based on voice requests.
To address difficulties around charging, NIO also unveiled NIO Power, a charging experience that allows the ES8's battery to be swapped in three minutes, in addition to traditional charging methods. The company plans to build more than 1,100 power swap stations by 2020.
It is also planning to offer mobile charging with vans equipped with battery packs and on-board chargers.
"I doubt Tesla will offer similar services in China," said Li.
The company is also reportedly getting US$1 billion in a new round of funding led by Tencent, which has also invested in Tesla. And there is market speculation that NIO is eyeing an initial public offering next year, though Li declined to comment.
He said the current price of the ES8 was already letting the company enjoy a "reasonable profit margin" and that this margin would increase as the company grows. "But at present, the services we offer to customers cannot be profitable. We hope with the growth of our customer base, we can break even on the service part," he said.
Though presenting itself as a "global start-up" with more than 4,000 employees across about 40 countries, NIO's current focus is still on the China market. The company said it will deliver the first batch of ES8s in China within the first half of 2018, and did not reveal its sales target for the year.
Qin Lihong, the company's president, said it has a production capacity to make 50,000 to 100,000 units a year through its cooperation with JAC Motors, a car manufacturer headquartered in China's central Anhui province.
This article appeared in the South China Morning Post print edition as: China gets its answer to Model X – at half the price