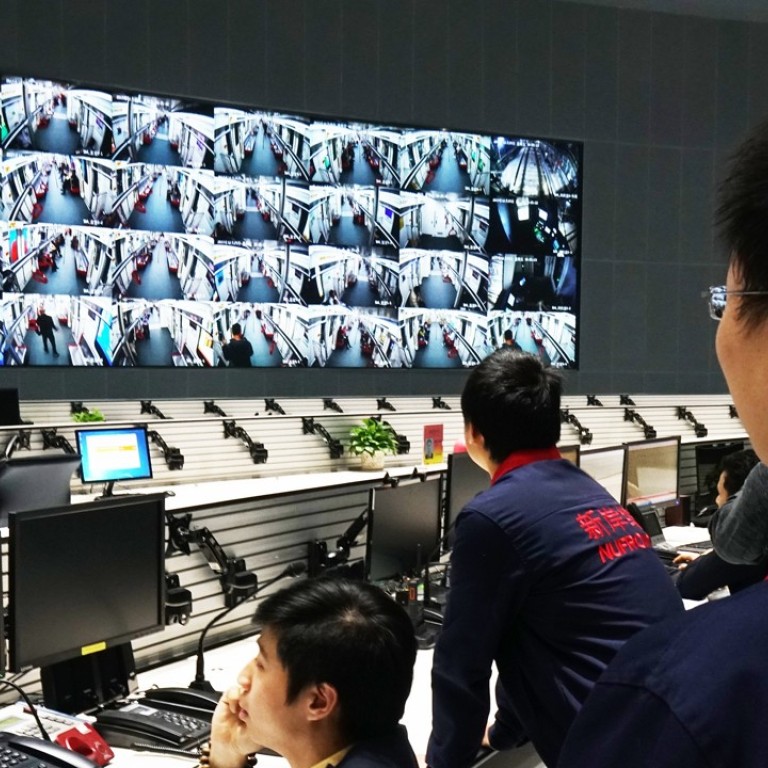 Metro pickpockets beware! China's hi-tech cameras are watching your every move
A Guangzhou metro line is thought to be the first in the world fitted with real-time, high-res 4K CCTV capable of working with facial recognition software
Life may be about to get a lot tougher for China's public-transport pickpockets.
A new metro line in Guangzhou, a wealthy city in the southern province of Guangdong, has been fitted with 4K CCTV cameras that enable real-time surveillance of every inch of the train in ultra-high definition.
The 22km route is thought to be the first subterranean train line in the world to be armed with the cutting-edge security system that beams live images to a control room with spectacular clarity.
Not only can passengers' every move be closely watched, but their most subtle facial expressions are being captured and transmitted in the form of ultra-clear images, without any delay whatsoever. The system, developed by Nufront, a Guangzhou-based technology company, will be rolled out to new metro lines opening in the city.
The level of detail of the image provided by the cameras is such that facial recognition technology could be used to identify people suspected of crimes. Additionally, artificial intelligence could soon be introduced to monitor the number of passengers inside the compartments and control the flow, according to Huang Peng, a Nufront technical manager.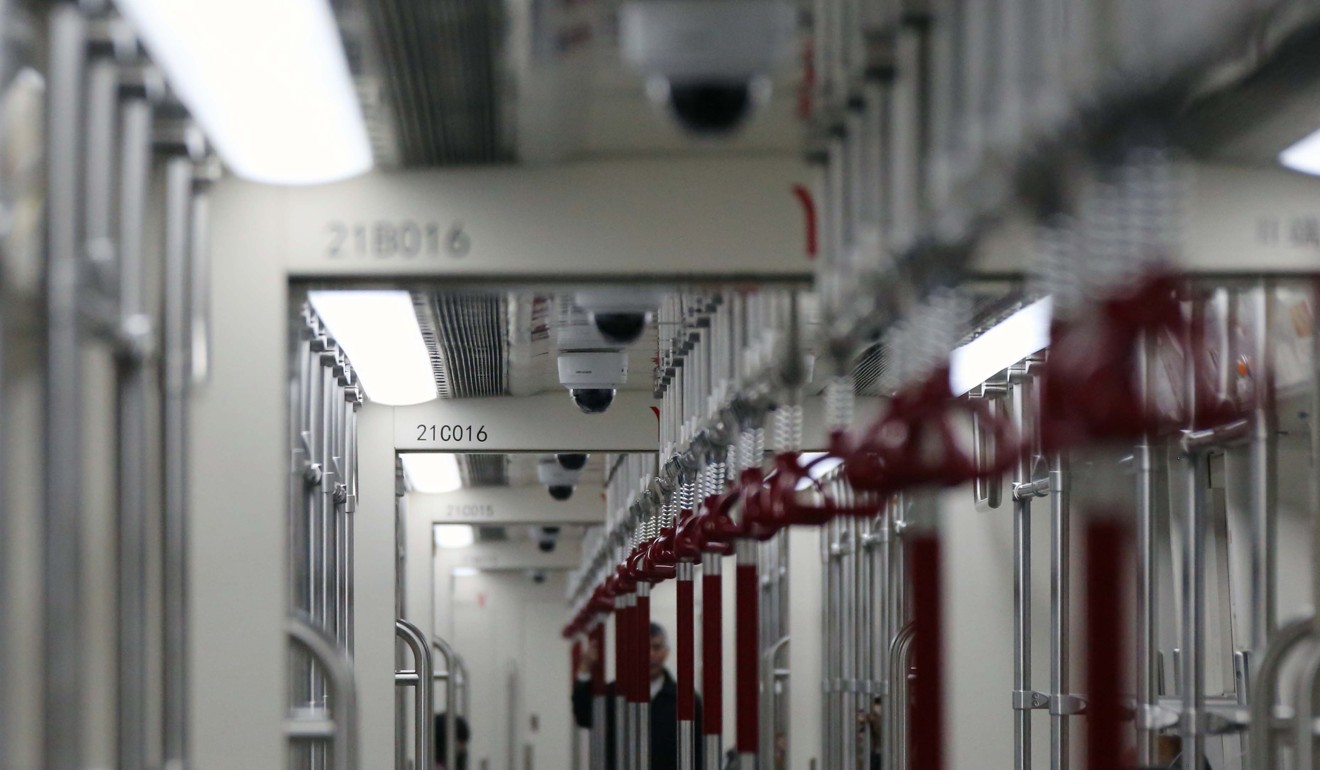 The system will eventually be connected to police databases, meaning criminals who take metro trips in Guangzhou will be recognised through the cameras, said Huang.
It has been tested on Hong Kong's MTR railway system and is likely to be deployed there too to bolster passengers' security, a Nufront executive said.
Nufront's general manager, Chen Fenghua said the MTR is likely to install similar 4K camera surveillance on its Disneyland Resort Line in 2018, initially on a trial basis, before expanding it to more lines.
MTR Corp did not immediately respond to queries regarding its plans for the system.
As real-time transmission requires huge network bandwidth, even existing 4G mobile networks are not able to support Nufront's technology.
The company claims its high bandwidths and low-latency technology works just like next-generation 5G broadband services, which make real-time, high-resolution video transmission possible, even on metro trains running at 120km/h or more.
The ultra-clear surveillance is now fully operational on trains running on the Sino-Singapore Guangzhou Knowledge City Line, a newly built and relatively short section of Line 14. Each of a train's six compartments is fitted with four of the 4K CCTV cameras, and the two cabins each have three.
Trials have shown the control room is able to receive and monitor surveillance images from all the trains running on Line 14 at the same time, and in real time.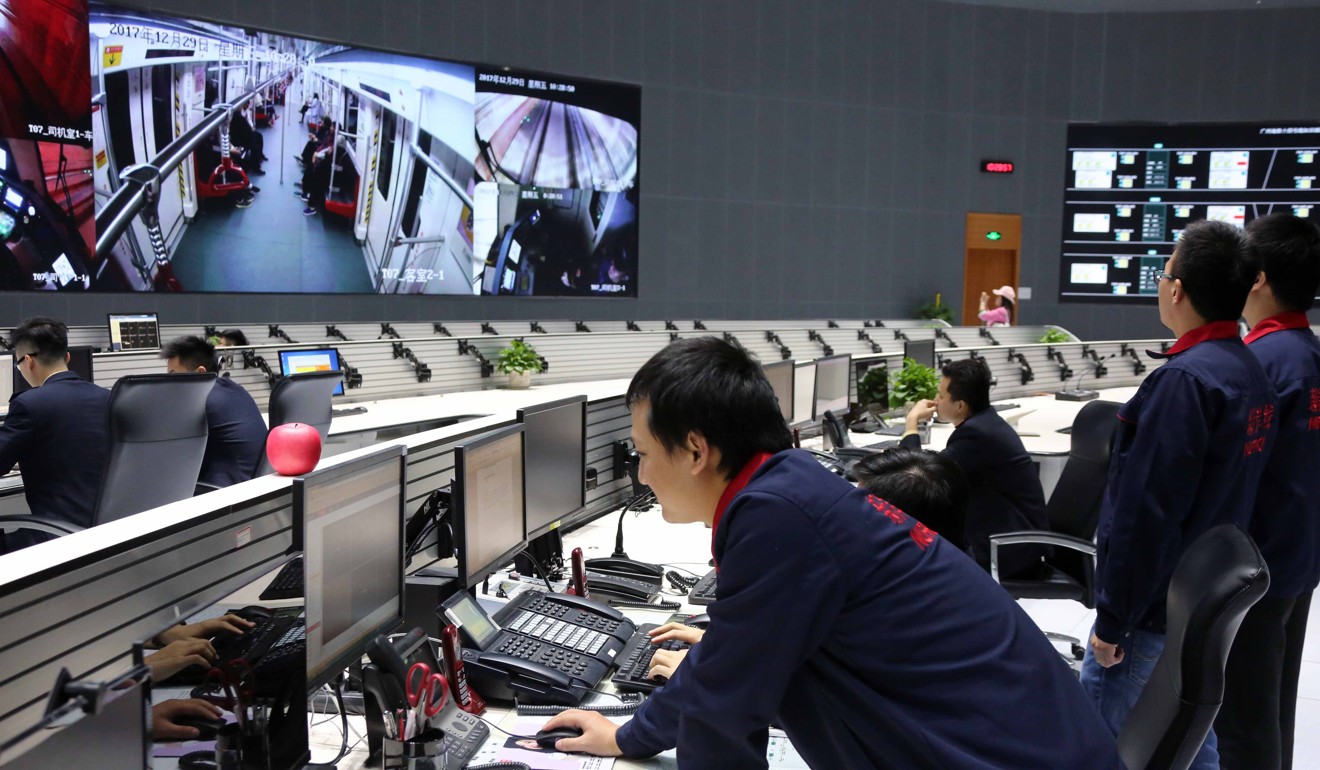 The technology that enables the 30 cameras on a metro train to faithfully record and transmit everything taking place inside the compartments as well as certain areas surrounding the trains, is considered a major breakthrough in combating potential terrorism and illegal activities.
And with China poised to dominate the roll-out of 5G infrastructure, the future is potentially bright for 4K security surveillance on the mainland's transport networks.
However, concerns have been raised about passengers' privacy in the past.
Liu Deliang, a chief researcher at the Asia-Pacific Institute for Cyberlaw Studies, said the high-resolution surveillance could become the norm on metro trains in the future if it proves economically viable.
"I don't see any issues of invading privacy by installing these 4K cameras in metro compartments. It is for public security purposes, and people should behave properly in the public environment," said Liu.
Until now, most CCTV cameras in metro compartments have been low in resolution and only able to videotape what is going on inside the trains. In the event of an emergency, the control room would know nothing about the situation and an immediate response is not possible, said Chen.
"If people fight inside the compartments now, the control room could see it and deal with it immediately," he said.
New metro lines scheduled to be opened in Guangzhou in 2018 will also be equipped with the technology, but kitting out the older, more crowded sections of the network that cover longer distances will be more difficult and take more time, Chen added.
As all the metro systems in China have ramped up their security and safety checks in recent years, the 4K surveillance – so called because it provides a horizontal screen resolution in the order of 4,000 pixels – is likely to find its way on to more and more trains.
A report by HIS Markit in November said China was the largest market for physical security gear in 2016, accounting for 29 per cent of the US$29.2 billion in global revenue.