CES
Get more with myNEWS
A personalised news feed of stories that matter to you
Learn more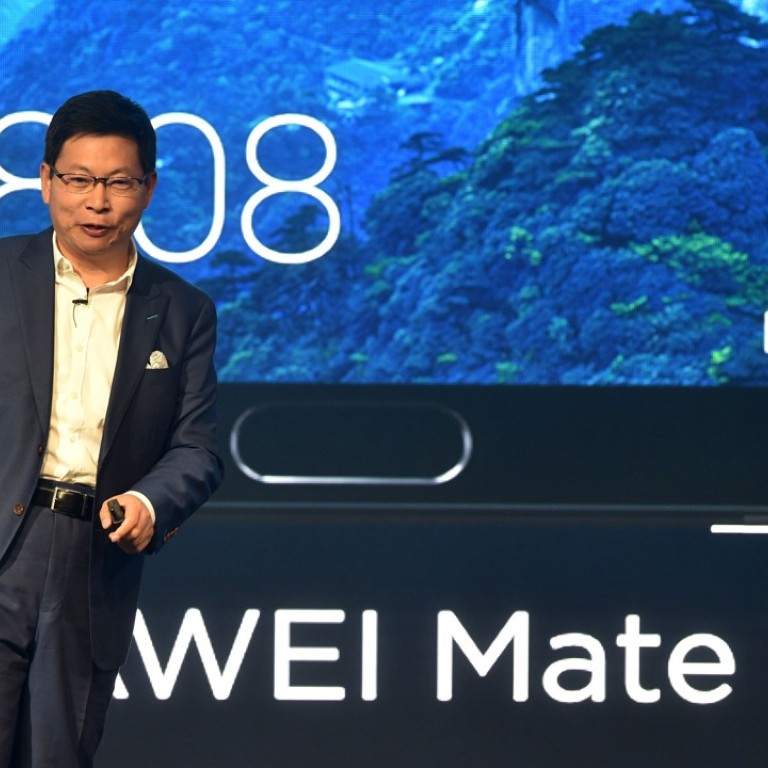 Update

|
Huawei's US market dreams 'harmed again' after AT&T walks away from smartphone pact
Decision scuttles Huawei's immediate plans for the competitive US market because many American consumers buy smartphones through carriers
Huawei Technologies confirmed that a deal to distribute its smartphones through US telecommunications carrier AT&T
has been called off
, a further setback to the Chinese company's plans to enter the world's largest economy and the second time this year that a US deal by a Chinese firm has been rejected over apparent national security concerns.
"We have been harmed again," Huawei's consumer business unit chief executive officer Richard Yu said in a text message to the South China Morning Post.
The abrupt cancellation of the deal is the latest sign of tensions between China and the US over trade and investment, with Washington calling for trade actions against China and tightening screening of Chinese companies, especially in the hi-tech sector.
A former Chinese commerce official said the collapse of the deal will threaten Sino-US cooperation on trade and investment, and that Beijing should consider taking countermeasures if the situation escalates.
The Shenzhen-based Huawei had been widely expected to announce its partnership with AT&T during CES in Las Vegas on Tuesday – in what would have been its first alliance with a major US carrier.
But the company, currently the third largest smartphone vendor globally after Samsung and Apple, has cancelled a round table with media scheduled for Tuesday at
CES in Las Vegas
.
The AT&T deal was scuttled due to "political pressure," according to The Information, citing a person familiar with the situation.
On December 20, the US Senate and House intelligence committees delivered a letter to the Federal Communications Commission raising concerns about Huawei's plan to launch its consumer products through a US telecom carrier. "Additional work by the Intelligence Committees on this topic only reinforces concerns regarding Huawei and Chinese espionage," the letter said, according to The Information.
The AT&T decision has temporarily scuttled Huawei's plans to become a bigger player in the country because many American consumers still buy phones through carriers. The US handset market is crowded and competitive at the high-end and sometimes carriers hold out for deals that are more beneficial to them, said Jon Erensen, research director in the Gartner Research Semiconductors & Electronics Group. Only last week,
US authorities rejected Ant Financial's US$1.2 billion bid for money transfer firm MoneyGram
, citing national security concerns.
Ant Financial is an affiliate of Alibaba Group, which owns the South China Morning Post.
In a statement issued on Tuesday Huawei said: "Over the past five years Huawei has proven itself by delivering premium devices with integrity globally and in the US market. On Tuesday Huawei will introduce new products to the US market, including availability. We look forward to sharing more information with you then."
Calls to a representative for AT&T were not answered.
The AT&T decision marks another setback for Huawei's business strategy in the US after the House Intelligence Committee released a report in 2012 urging US telecommunication companies not to do business with Huawei and ZTE Corp, citing potential Chinese state influence on these companies that could threaten US security.
During an interview last month, Yu made it clear that Huawei would partner with one or several local US carriers to launch its flagship Mate 10 models to tap the world's second-largest smartphone market. The Huawei statement on Tuesday only indicated it would introduce new products to the US, without referring to smartphones.
It remains unclear if Huawei will announce a partnership with other US carriers. Among the four major US carriers, only AT&T and T-Mobile support the mobile chip used in Huawei handsets.
He Weiwen, a former business counsellor at the Chinese consulate in New York, said the failure of the Huawei deal reflected heightened worries in the United States about Chinese investment.
"Investment cooperation between China and the US will be squeezed," He said. "The US is very worried about the impact in the US from the growth of China's hi-tech industry. It is worried that Chinese companies will transfer US technology through mergers and acquisitions.
"China should contemplate countermeasures [if Washington takes punitive action against China]," he said, adding that Chinese companies should also change their investment strategies.
Paul Haswell, tech-focused partner at international law firm Pinsent Masons, said the cancellation of the deal was not a surprise because US concerns about market restrictions in China and misuse of intellectual property made it difficult for Chinese companies to succeed.
"I expect things to get significantly worse as the US and China markets – not just the tech markets – become more polarised."
Economic relations between China and the US have become tense in recent months, with Washington demanding Beijing take action to balance bilateral trade and launching an investigation into alleged intellectual property theft by Chinese companies.
State-run Xinhua news agency in a commentary last week criticised Washington's "zero-sum mentality" with regards to Sino-US trade and threatened to retaliate.
Li Yi, chief fellow at the Shanghai Academy of Social Sciences internet research centre, said the setback is not the end of Huawei's business in the US as the Chinese company should be able to find alternative ways of gaining a foothold.
"Say, if the Trump administration prefers companies to help improve local employment, Huawei may consider learning from Foxconn to set up a factory in the US," said Li, referring to a decision by the Taiwan-based iPhone manufacturer to build a factory in the state of Wisconsin.
Additional reporting by Zen Soo and Bien Perez
This article appeared in the South China Morning Post print edition as: Huawei deal with AT&T cancelled at last moment