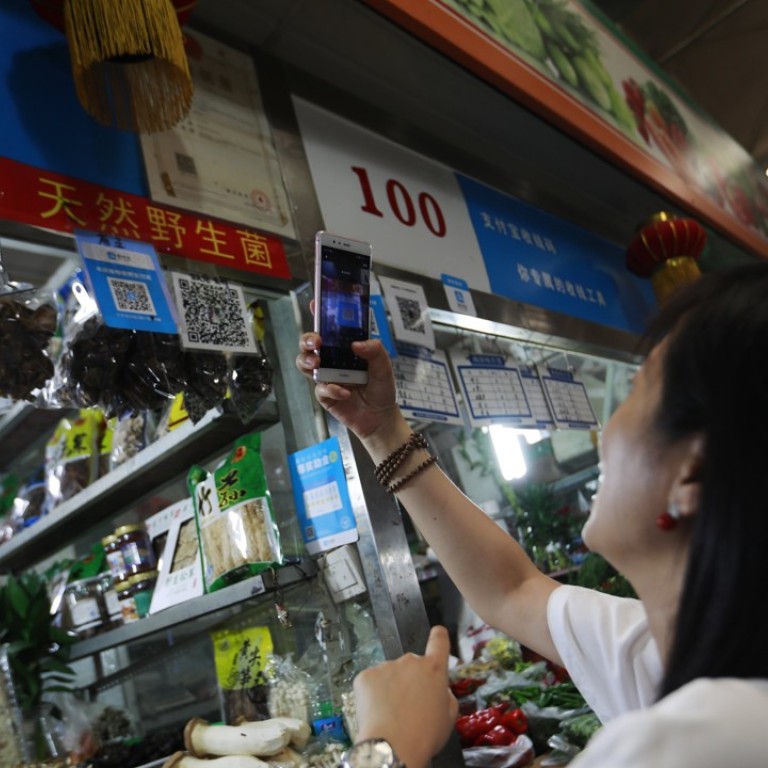 China's village people fast to adopt mobile payments
The mainland market for mobile payment transactions, which reached US$5.5 trillion in 2016, is poised for further expansion as many consumers and businesses go cashless in more than 600,000 villages across the country.
With the growth of popular mobile payment services, consumers and businesses in hundreds of thousands of villages across China are embracing a new era of convenient, cashless transactions.
For orange orchard owner Fang Zhi, who lives in a small village about 200 kilometres away from the central Chinese city of Wuhan, mobile payments have swiftly moved beyond the urban areas.
"WeChat Pay and Alipay are no longer a novelty in my village," said Fang. "I believe almost everyone under the age of 50 in my village have downloaded these apps on their mobile phones."
The 30-year-old Fang, who operates a 400-square-metre orange orchard, said he uses both WeChat Pay and Alipay in buying fertiliser and pesticide, as well as paying his electricity bill and internet fees.
"These apps are easy to use … Even my four-year old son knows how to scan a QR code to buy snacks at the only shop in my village," he said.
His experience reflected how ubiquitous both WeChat Pay and Alipay have become in the world's largest market for mobile phone users and mobile payment transactions.
WeChat Pay, which is operated by Tencent Holdings, and Alipay, the online payments platform of Ant Financial Services, accounted for 93 per cent of China's mobile payments market, according to data from research firm Analysys International.
China, which had 1.4 billion mobile subscribers as of December 31 last year, recorded US$5.5 trillion worth of mobile payment transactions in 2016, according to internet consulting firm iResearch.
Annual mobile payment transactions are poised to grow further as China's more than 600,000 villages increasingly go cashless. These villages are administratively categorised below townships, counties, cities and provinces in the country.
"In the past two years, the villagers I employ to pick fruit at my orchard are happy to accept digital payments," said Fang, on how people in the countryside have adopted well to cashless transactions.
He said a bazaar, which is set up about two kilometres from his village during the Lunar New Year holiday, is where many people get first-hand experience of the popularity of mobile payments.
This bazaar is typically crowded with little stalls, where products of every conceivable kind needed for China's most important public holiday are sold: beef, pork, vegetables, clothes, shoes and even firecrackers.
"I haven't seen much change in the products sold there in the past two years, but the payment methods have changed dramatically," said Fang.
Most of the stallholders in the bazaar now print out QR codes for deals on offer. Fang said sales at his fruit stall, where a QR code is prominently seen, have increased as it attracted shoppers who prefer to make digital payments.
Fang said neither the stallholders nor shoppers wants to waste time changing money at the bazaar, especially during freezing weather. They would rather get busy picking out merchandise or haggling over the price.
Still, there are shoppers and vendors who feel left out in this cashless trend at the bazaar.
"Some of the older villagers, especially those aged over 65 years, do not have smartphones," said Fang. "Some do not know how to use a smartphone or carry out digital transactions, especially when their children leave to work in the cities. My 75-year-old grandfather doesn't even know what is a mobile payment."
He said it was odd that these older villagers appear to be unconvinced about the safety of cashless transactions. "There are many rich people who use WeChat Pay and Alipay, so they shouldn't be worried about the safety of mobile payments."