Apple
Get more with myNEWS
A personalised news feed of stories that matter to you
Learn more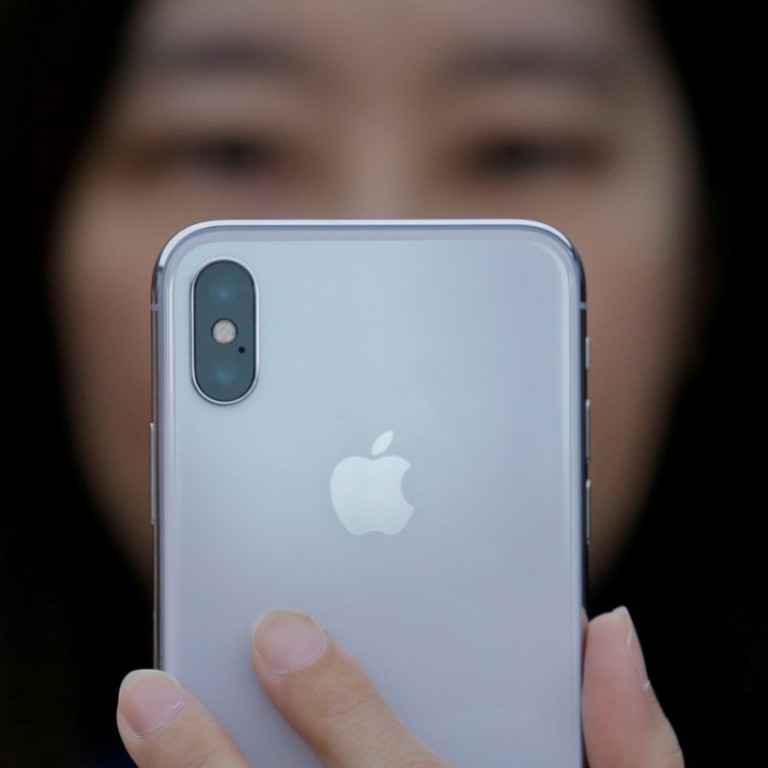 Apple's China sales grow for second straight quarter on strong iPhone demand
Chief executive Tim Cook says the company achieved 'an all-time record for revenue from mainland China' in the December quarter.
Apple has posted its second consecutive quarter of revenue growth for its Greater China business, driven by increased demand for the iPhone, iPad and Mac computers in the three months ended December 31.
The world's most valuable company reported on Thursday in the United States an 11 per cent increase in its combined fiscal first-quarter revenue from mainland China, Hong Kong and Taiwan to US$17.9 billion, up from US$16.2 billion in the same period a year ago.
"We had an all-time record for revenue in mainland China," said Apple chief executive Tim Cook in a conference call with analysts, but did not provide that figure.
"We obviously grew share for iPhone in the quarter, but we also grew share in iPad and Mac during the quarter, and wearables [Apple Watch] were extremely strong there."
Nasdaq-listed Apple, which had a market value of US$853.1 billion at the close of US trading on Thursday, said global revenue in the December quarter jumped 13 per cent to a record US$88.3 billion, compared with US$78.3 billion a year earlier.
Net profit rose 12 per cent to US$20.1 billion from US$17.9 billion a year ago.
Apple sold 77.3 million iPhones, worth US$61.6 billion, worldwide in the December quarter.
Total shipments were down from 78.3 million units a year earlier, but sales were up from the US$54.4 billion recorded in the same period.
The higher iPhone sales last quarter suggested that many smartphone buyers around the world gravitated to Apple's "super premium" iPhone X, with prices starting at US$999, that was widely released in November.
Apple's record revenue on the mainland after the iPhone X launch was earlier forecast by Counterpoint Research director Neil Shah in September.
"In terms of revenue, the three-month period after the iPhone launch would certainly be the best quarter ever for Apple in China," said Shah. "The new iPhone 10th anniversary edition model is designed to drive Apple up further into the super premium smartphone territory."
Mainland Chinese consumers had accounted for about a third of all iPhone users globally, according to research firm Newzoo. It estimated the mainland had 243 million iPhone users as of July last year, which made up 33 per cent of the worldwide total of 728 million in that period.
The latest estimates from Counterpoint showed that Shenzhen-based Huawei Technologies, the world's largest telecommunications equipment supplier, remained the top smartphone brand on the mainland, with a 19 per cent share in the December quarter, up from 16 per cent in the same period in 2016.
Huawei was followed by Oppo, Vivo and Xiaomi with market shares, respectively, of 18 per cent, 17 per cent and 12 per cent last quarter.
Apple's smartphone market share on the mainland was unchanged at 11 per cent.
Counterpoint associate director Tarun Pathak said Apple had "some strong traction for the iPhone X" in December, but was lower than expected either because of supply issues or its high price.
"The Chinese holiday season in the first quarter this year will be a critical period, setting the tone for the vendor's full-year outlook," said Pathak.
Still, Apple's Cook said "there was actually a really nice acceleration" of the company's sales across Greater China in the December quarter.
He indicated that Apple sales on an average weekly revenue basis were up 11 per cent year on year in that period.
In the analysts' conference call, Apple chief financial officer Luca Maestri said "new and switching users made up over 70 per cent of all iPad sales" in the Greater China market in that quarter.
Sales of Mac laptop and desktop computers for first-time buyers and those switching from Windows computers in that market "was almost 90 per cent", according to Maestri.
Apple reported global iPad sales rose 6 per cent year on year to US$5.9 billion in the December quarter on shipments of 13.2 million units.
Worldwide Mac sales, however, were down 5 per cent year on year to US$6.9 billion, with 5.1 million units in total shipments during the quarter.