ZTE
Get more with myNEWS
A personalised news feed of stories that matter to you
Learn more
ZTE defends R&D, innovation as US export ban raises calls in China for 'core tech' development
The US export ban threatens to put ZTE, China's largest listed telecommunications equipment maker, out of business 
ZTE Corp, China's largest listed telecommunications equipment maker, defended its track record in research and development, as well as innovation, as it tried to explain its reliance on American-made technology that is now threatening its survival following a US government ban.
Shenzhen-based ZTE is already a global leader in the development of advanced communications systems, including 5G, and annual patent applications, according to a statement on Tuesday from company chairman Yin Yimin.
"As we all know, countries all over the world are developing their information and communications technologies (ICT)," which are deployed and become part of the global supply chain, according to Yin. 
"Therefore, no country can complete the ICT industrial chain independently," he said. "American companies are no exception."
The statement followed calls made over the weekend by Alibaba Group Holding and Tencent Holdings for the country's hi-tech enterprises to own and develop "core technology", fuelled by a debate over the country's dependence on foreign know-how after the US export ban prevented ZTE from buying semiconductors, software and other components from American suppliers.
Core technology is an important tool for the nation, President Xi Jinping said during a national conference on network security and information on Saturday, calling on various parties to persevere, focus and accelerate breakthroughs in the technology. 
Yin, who issued a call for calm to employees last week after the US export ban was imposed, vowed to bolster ZTE's research and development efforts in light of the company's present difficulties. "We shall strengthen our technological investment to make us more competitive," he said.
The latest release is a contrast in tone from Friday, when Yin said the ban has sent the company into a "state of shock". 
Founded in 1985, ZTE is the world's fourth biggest supplier of telecommunications network equipment and a top-10 vendor of smartphones, with operations in about 160 countries.
The US government banned sales by American hi-tech suppliers to ZTE because the Chinese firm failed to discipline 35 employees involved in the illegal sale of telecommunications equipment to Iran, paid them full bonuses and lied about it to US authorities.
Under the ban, ZTE would not be able to receive goods from US chip companies Qualcomm, Intel and Micron Technology, optical components suppliers Maynard, Acacia, Oclaro and Lumentum, as well as software providers Microsoft and Oracle.
It remains unclear how the ban will impact Google's pre-installed apps on ZTE's smartphones.
Without the US-made chips and other components that it needs, ZTE is expected to be hard-pressed to meet its network equipment as well as smartphone orders around the world, and push forward its 5G-related research and development.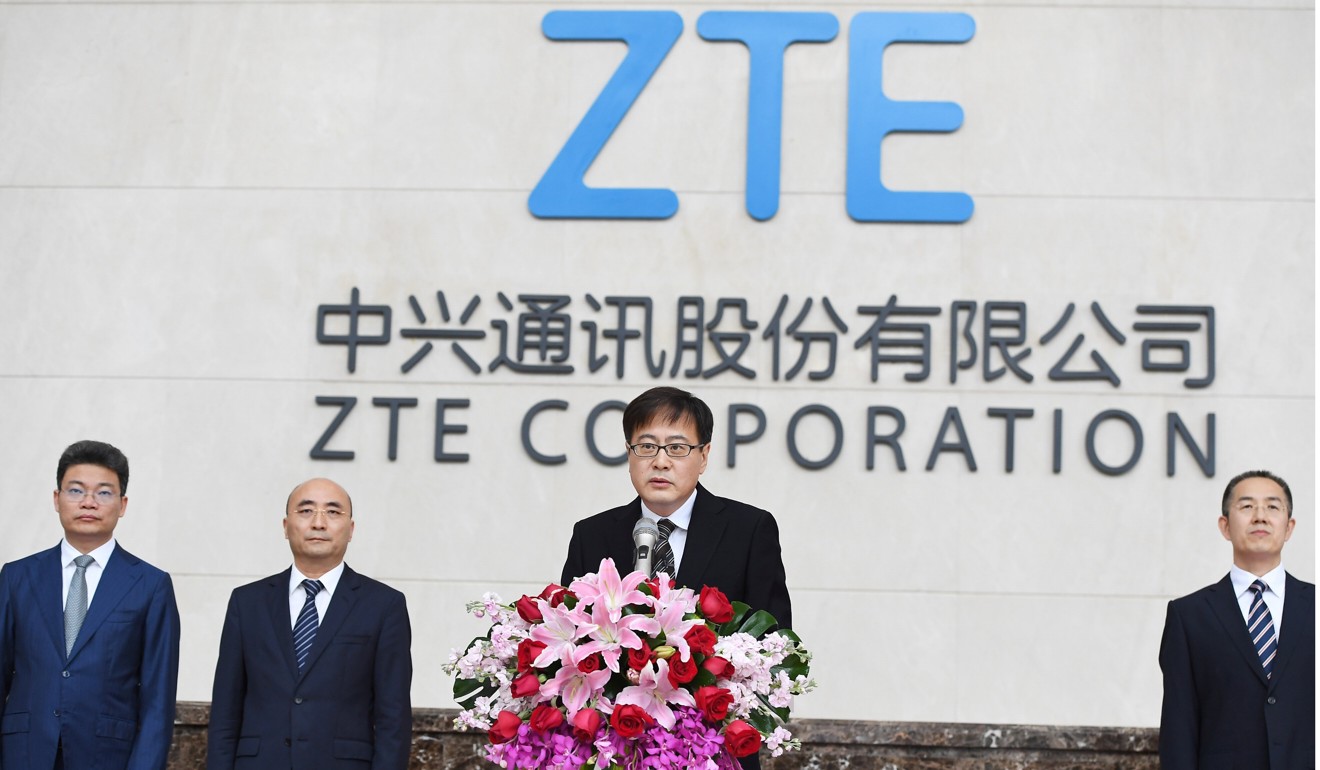 ZTE's major products have largely adopted its company-developed specialised chip set, but these products also require many general components from external suppliers, according to Yin.
He said ZTE was focused on innovation, backed by its 12.9 billion yuan (US$2 billion) in research and development spending last year, as well as some 30,000 researchers. 
The company has invested around 3 billion yuan annually in 5G mobile research and development, which included forming a team of more than 4,500 experts in this field, he said.
It also ranked second in the world last year in patent filings, with 2,965 applications submitted under the Patent Cooperation Treaty, according to the World Intellectual Property Organisation. That was the eighth consecutive year for ZTE to be among the top three companies in the world with the most patent applications.
As of December 31, ZTE owned more than 69,000 global patents, including about 1,700 patents for 5G. That amount of relevant intellectual property will help the company promote tests and large-scale commercial deployments of 5G worldwide, according to ZTE.
Yin defended ZTE's efforts in making export regulation compliance a priority as the company negotiated a settlement with the US government in March last year for violating long-standing trade sanctions against Iran and North Korea. 
"Even though [the] US activated the denial order on ZTE, we [continue to] work in line with the standards for world-class export control compliance," Yin said.
He said ZTE had invested more than US$50 million in compliance management last year and plans to invest more this year. It has also organised compliance training for more than 65,000 employees.
Although the company was in a difficult position, the ZTE chairman said the goal was to "protect the legitimate rights of all employees and shareholders, and fulfil our responsibility to global clients, consumers, partners and suppliers".
This article appeared in the South China Morning Post print edition as: ZTE defends R&D thrust and compliance efforts