Tencent
Get more with myNEWS
A personalised news feed of stories that matter to you
Learn more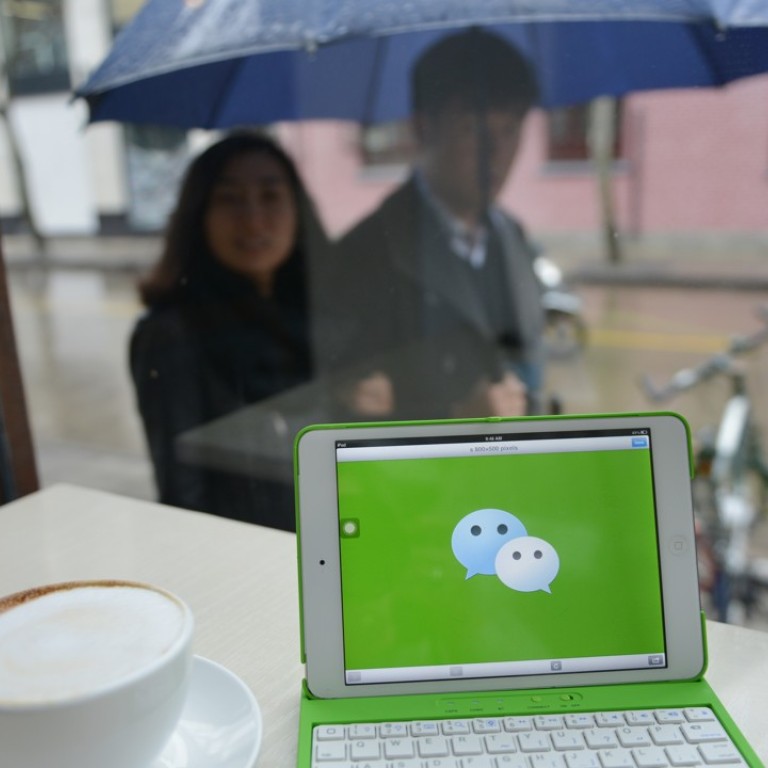 China's taxman is going after fake claims with Tencent blockchain invoices
For unscrupulous businesses attempting to take advantage of tax loopholes in China, the sellers of fake receipts on the mainland usually know the way. 
One such seller, who calls herself Mrs Wang, claims she can provide a faked official invoice – the legal proof of payment called fapiao in Chinese – in 24 hours and guarantee that it will be verified by the country's tax system. She charges two per cent of the fake receipt's face value after it is verified.
"Let me know your company name, the amount of money and the sales item. I can have it ready and mail it to you tomorrow," Wang said.
The days of Mrs Wang's counterfeit receipt business could be numbered, as China employs blockchain technology in its fight against tax evasion.
Chinese internet giant Tencent Holdings has teamed up with the Shenzhen branch of the State Administration of Taxation in a blockchain-enabled digital invoice solution, designed to protect the authenticity of invoices by tracking the process of issuance and circulation.
"We hope to make every fapiao checkable, verifiable, reliable and traceable, and use blockchain technology to manage the whole circulation process of fapiaos," Hong Kong-listed Tencent said in a statement on Thursday. 
Pony Ma Huateng, Tencent's chairman and chief executive, said in the statement that the solution represents the first application of blockchain technology in the handling of digital invoices in China.
Tencent's latest initiative also marks the ramped up adoption of blockchain, the distributed ledger technology behind bitcoin, in China even as regulators continue the clampdown on cryptocurrency fundraising schemes in the country.
In Shenzhen, the sprawling metropolis in the southeastern province of Guangdong and home base of Tencent, a local government-backed fund was recently established to focus on blockchain investments. The fund has an initial war chest of 500 million yuan (US$78.3 million).
Blockchain enables the creation of an online database network where all participants create, share and store records of transactions in a secure and efficient manner, according to a white paper commissioned by the Hong Kong Monetary Authority.
The initial applications of this distributed ledger technology outside cryptocurrencies have included post-trade settlements, record checking and management, and cross-border fund transfers, the paper said.
China helped raise the profile of blockchain when it became one of the first countries in the world to include the technology as part of a state-level policy. In 2016, Premier Li Keqiang announced that blockchain was written into the 13th Five-Year Plan, a road map for the country's development in the five years to 2020.
The ability to trace official invoice information on the Tencent-developed blockchain solution can improve the government's surveillance procedure against counterfeit fapiao, according to the company.
Tencent said that blockchain solution would be incorporated in the Mini Program platform of WeChat, the company's popular messaging-social-media-and-payments app with more than 1 billion users. It would also be included in the enterprise version of WeChat, according to Tencent's Ma.
Last year, there were more than 18,000 cases related to the issuance of counterfeit invoices, which amounted to more than 300 billion yuan, filed to China's public security authorities, according to a report by state broadcaster China Central Television in March.
Blockchain's ability to effectively record and track information has sparked interest in other fields. Walmart, the world's largest retailer, unveiled last year its use of blockchain technology to trace the genuine origins of its food products after holding a successful pilot project in the China. By digitalising and documenting details into a unified storage platform, the technology significantly reduces the time it takes to trace a product back to farm, which is expected to help achieve rapid and accurate product recalls, if needed, and significantly reduce exposure by contaminated products.
The jewellery industry was also looking to blockchain to resolve a range of issues, helping customers ascertain the origin and authenticity of gemstones. Hong Kong jeweller Chow Tai Fook recently said it would use blockchain to help reduce trade in illicit diamonds by dispensing with paper certificates that can easily be tampered or forged.