Qualcomm
Get more with myNEWS
A personalised news feed of stories that matter to you
Learn more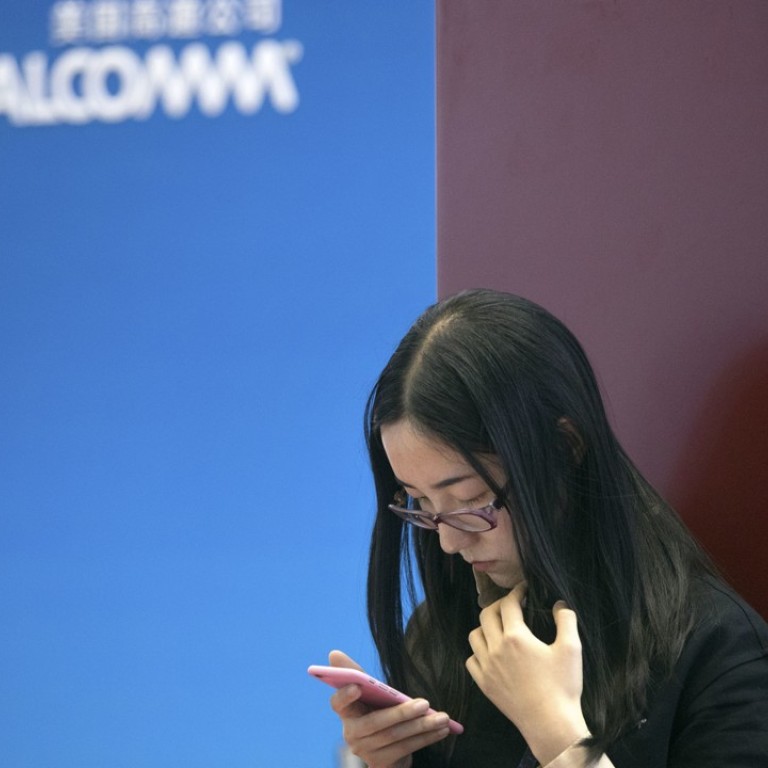 Chip giant Qualcomm wins Taiwan reprieve as global antitrust battle rages
Qualcomm, the smartphone chip maker fighting regulatory actions and lawsuits threatening its most profitable business, has reached a settlement with Taiwan's antitrust regulators that reverses most of a US$773 million fine.
As part of an agreement announced on Friday by the Fair Trade Commission (FTC), the American semiconductor and telecommunications equipment company will invest US$700 million over the next five years and boost research activities in Taiwan, home to a clutch of major suppliers to global technology players such as Apple.
In return, Qualcomm can stop paying fines and retains the right to charge manufacturers royalties on its technology. The commission said on Friday it will keep NT$2.73 billion (US$89 million) in fines that Qualcomm has already paid, but waive the rest.
Taiwan's decision reverses one of a number of actions taken against Qualcomm in recent years that investors worry will destroy its patent-licensing business, a unit that generates most the company's profit.
Qualcomm has argued that such moves are part of a global push by Apple to elicit government support for its legal fight with the chip giant. The iPhone maker is suing Qualcomm for antitrust violations, alleging the San Diego-based company unfairly leverages its market position in modem chips, and has said regulatory actions worldwide show its claims are justified.
Qualcomm still faces multiple lawsuits brought by Apple, as well as actions and investigations in the European Union and the United States.
That flood of legal challenges has weighed on the company's stock price and made it a target for a failed hostile takeover bid by rival Broadcom.
"Both parties felt the FTC's fines were controversial. And we feel, if we continue with the lawsuit, it will take too long should we take Taiwan's industry progress into consideration," FTC commissioner Hong Tsai-lung told reporters.
A lengthy legal process "will have a very negative impact on Taiwan's development, so that is why our stand has changed following an internal collective decision", he said.
Qualcomm chief executive Steve Mollenkopf has said the company will maintain its record of prevailing in court, and contends that the bitter fight with Apple is a commercial dispute that will be resolved when one side gains leverage in trials that are underway.
In an October decision, Taiwan's antitrust agency said Qualcomm had monopoly market status over key mobile phone standards and was violating local laws by not providing products to clients who did not agree with its conditions.
Besides the fine, the FTC told Qualcomm at the time to remove previously signed deals that forced competitors to provide price, customer names, shipment, model name and other sensitive information. Qualcomm appealed the decision.
The company agreed to ensure fair negotiations with local licensees, and will support research and commercial projects in Taiwan, including collaborating on the development of 5G wireless systems, Qualcomm said in a separate statement on Friday.
Most of Qualcomm's revenue comes from its main business of selling chips that connect smartphones to cellular networks. The company, however, gets the bulk of its profit from charging royalties on patents it owns that cover the fundamentals of all modern high-speed data mobile phone systems.