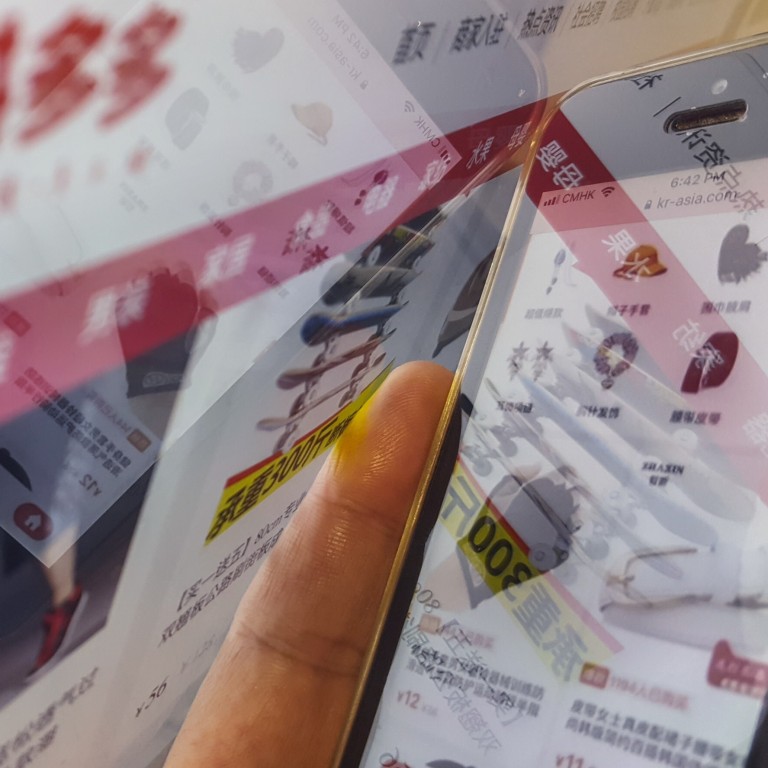 Pinduoduo invests US$200 million in electronics retailer Gome as Covid-19 forces sector consolidation
Shanghai-based Pinduoduo's 585 million users have made it China's second-biggest e-commerce platform, second only to Alibaba's Taobao
Pinduoduo will subscribe to US$200 million worth of Gome convertible bonds with a tenure of three years
Chinese e-commerce platform Pinduoduo has invested US$200 million in Chinese electronics retailer Gome through convertible bonds as part of a plan to integrate Gome's entire product range, logistics, and customer service onto Pinduoduo's platform as the Covid-19 pandemic continues to shake up the global retail industry.
Pinduoduo announced on Sunday that it would subscribe to US$200 million worth of Gome convertible bonds, with a tenure of three years, and an option to extend by two years. The bonds are priced at HK$1.215 per share, equal to around 1.28 billion Gome shares, or around 5.6 per cent of the total on a fully diluted basis.
Pinduoduo said it will also help with Gome's digitalisation upgrade by transferring its entire product range, including household electronics, computers and smartphones, onto Pinduoduo's platform at the same or lower prices, and integrating Gome's supply chain logistics and after-sales customer services with its own.
"This strategic partnership is a win-win-win," said David Liu, vice-president of strategy for Pinduoduo. "Consumers win because they gain a wider selection of authentic and branded products at competitive prices, PDD wins because we enhance our foothold in household appliances and electronics, and Gome wins because they can broaden their access to our 585 million users."
The partnership with Gome is Pinduoduo's first strategic investment since being founded in 2015, and comes after it raised US$1.1 billion in a private share placement and sales promotion between the two companies last month.
"We will capture the opportunities from the consolidation of the retail industry brought by the global public health crisis and speed up the expansion of market share," Gome's CEO Wang Junzhou said in a statement on Sunday. "In the future, Gome will continue to strengthen its all-round cooperation with Pinduoduo in the areas of product purchase and sales, logistics services and other services."
As of last year, the electronics retailer had over 2,600 offline retail stores across 776 cities in China.
Pinduoduo said it expects the partnership to help Gome's offline retail stores become an extension of the shopping experience for Pinduoduo users who may want to experience the products in person before making big-ticket purchases online.
In 2015, e-commerce platform Alibaba made a similar move by investing US$4.56 billion in Gome's rival Suning, in what was then its biggest step towards integrating online and store-based shopping.
Listed on Nasdaq in 2018, Shanghai-based Pinduoduo's 585 million users have made it China's second-biggest e-commerce platform, second only to Alibaba's Taobao. The company, which offers consumer subsidies and a group-buying model on products ranging from electronics to groceries, has built up a strong user base in China's rural areas and lower-tier cities.
Facing pressure from Taobao and JD.com that are increasingly venturing into social shopping business models and the rural market, Pinduoduo is itself looking to serve higher-end consumers by offering consumer electronics such as Apple's iPhones.
It is also working closely with manufacturers and distributors to push the consumer-to-manufacturer (C2M) model where manufacturers can gain more insight into what consumers want and subsequently cut costs by reducing demand mismatches.
"We think the coronavirus pandemic has created conditions that are conducive for C2M to take off in a big way," said Pinduoduo's Liu. In March, the number of physical goods ordered from the company's platform reached 1.5 billion, he said.
Last week, the US Commerce Department announced the biggest month-on-month decline of US retail sales for March. As China's export-oriented manufacturers see a decline from the overseas market and Chinese consumers emerge from a months-long lockdown, Liu expects the migration from offline to online consumption will accelerate C2M in the long run.
Alibaba is the parent company of the South China Morning Post.
This article appeared in the South China Morning Post print edition as: Pinduoduo steps up partnership with retailer Gome