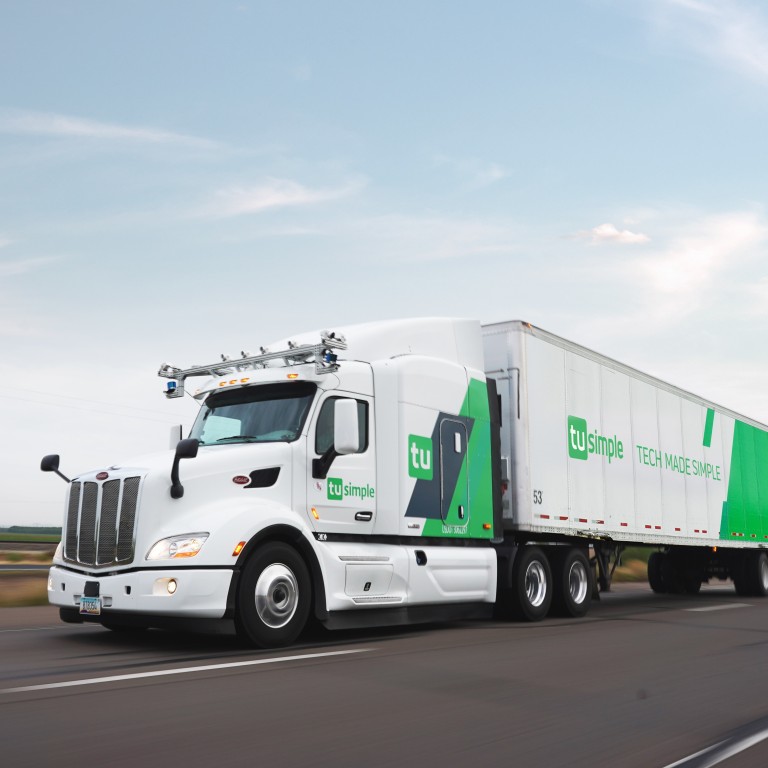 Chinese autonomous truck start-up TuSimple teams up with Navistar to mass-produce self-driving trucks
The partnership marks the latest expansion of TuSimple in the US$800 billion US trucking industry
As part of the deal, Navistar has bought an undisclosed minority stake in TuSimple
TuSimple, a Chinese autonomous truck start-up backed by graphic chip giant Nvidia, struck a partnership with American truck maker Navistar International to co-develop advanced self-driving semi-trailer trucks targeted for production by 2024, TuSimple said on Thursday.
Navistar, a company with 113 years of experience in developing commercial vehicles, also has taken a minority stake in TuSimple, according to a separate release from Navistar. The size of the investment was not revealed by either side.
The deal marks the latest expansion of TuSimple in the US$800 billion US trucking industry after it won deals to provide freight services for logistics giant UPS and McLane Company between Arizona and Texas with a fleet of 40 self-driving trucks.
The deal also comes as the US and China are jostling for supremacy in a wide range of new technologies such as AI, 5G, and autonomous driving that could reshape the global economy in the near future.
Autonomous trucks could potentially double the productivity of long-haul trucks and reduce fuel costs. The use of autonomous driving in logistics operations is seen to have greater commercial potential because the vehicles are driven in restricted traffic conditions with less interference from pedestrians, such as on highways, and do not carry passengers.
More than 35 states in the US have approved tests of self-driving trucks and over 20 states have given the green light to its commercial operations, according to Wu Nan, senior vice president at TuSimple.
"With the combined expertise of Navistar and TuSimple, we have a clear path to commercialise self-driving Class 8 [heavy duty] trucks at scale," said Lu Cheng, president of TuSimple.
"Autonomous technology is entering our industry and will have a profound impact on our customers' businesses," said Persio Lisboa, president and CEO, Navistar, adding that integration of its manufacturing and design expertise with TuSimple's self-driving technology will give it a leading position.
TuSimple and Navistar said they began joint development of pre-production vehicles in 2018 and that the latest arrangement will use Navistar's vehicle manufacturing capabilities to ensure a fully integrated engineering solution is ready for mass production.