Huawei
Get more with myNEWS
A personalised news feed of stories that matter to you
Learn more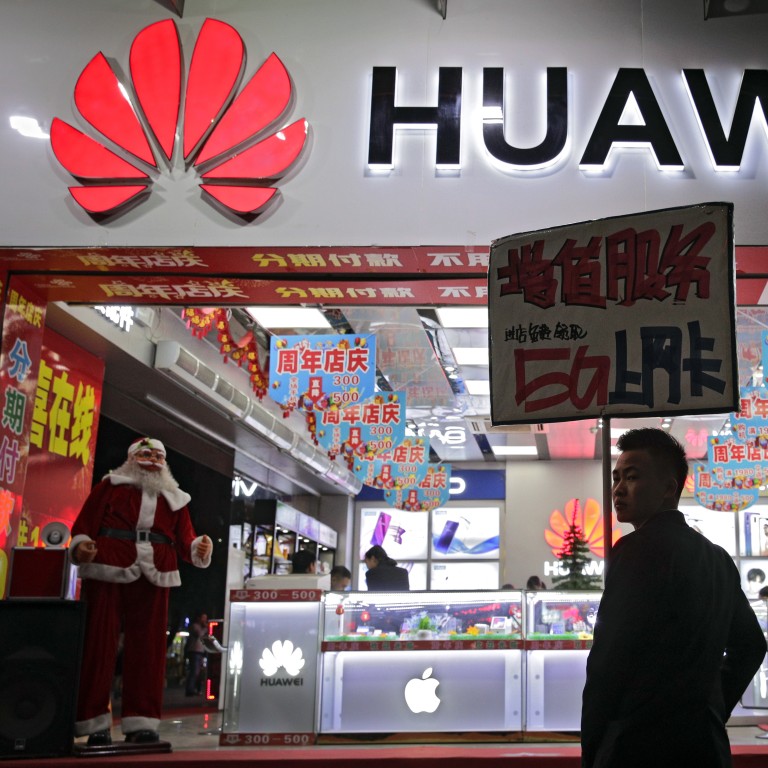 Huawei punishes two employees for using iPhone to send official company 'Happy 2019' tweet
The incident comes just a few days after Huawei announced it shipped a record 200 million smartphones in 2018
Huawei Technologies, which is challenging Apple for the No 2 spot in global smartphones sales, has demoted and cut the salaries of two employees who sent out a New Year tweet using an Apple iPhone.
The Shenzhen-based company greeted its followers with "Happy 2019" on its official Huawei Technologies' Twitter account at 11:31pm on December 31. Trouble is, the message had a "Twitter for iPhone" stamp visible in the bottom right hand corner of the tweet.
Although Huawei immediately deleted the tweet and replaced it with a new post, screenshots of the message went viral on social media.
The incident comes just a few days after Huawei announced it shipped a record 200 million smartphones in 2018. The Chinese company also outstripped Apple in smartphone shipments for a consecutive two quarters starting from April last year, vaulting it to the No 2 spot globally behind South Korean technology titan Samsung Electronics.
Apple this week reported a slowdown in iPhone sales over the holidays in China, sending its shares down by 10 per cent.
It also comes at a time when Huawei finds itself embroiled in a wider trade and technology spat between the US and China, which has seen Washington raise security and espionage concerns over the world's largest telecommunications equipment maker's gear and its chief financial officer Sabrina Meng Wanzhou arrested in Canada at the behest of the US, which has accused her of fraudulently representing Huawei to get around US sanctions on Iran.
On Thursday, an internal disciplinary email widely circulated by Chinese media showed that Huawei had singled out two employees it considered responsible for the mistake. Both were demoted one level and each had their monthly pay reduced by 5,000 yuan (US$727).
Due to the "VPN internet issue", the digital marketing team was unable to send the New Year tweet out in time via computer so instead used an iPhone with a sim card issued by a Hong Kong carrier, Huawei explained in the internal email.
Twitter is blocked in mainland China so accessing the US social media site would require a VPN service, which is illegal in China. However, Hong Kong sim cards are not blocked.
The company's "incomplete management, irresponsibility of certain employees, and insufficient supervision over suppliers" resulted in an "adverse effect outside [the company]", according to the memo, which was signed by Chen Lifang, president of Huawei's public affairs and communications department.
Huawei did not respond to a request asking for validation of the internal memo.
Huawei is not the only major smartphone brand caught using a competitor's phone to send out tweets. Market leader Samsung has done the same several times in the past.
It is not the first public relations gaffe by Huawei. In August last year, a social media post from an actor hired for a Huawei advertising campaign revealed that the company used a professional DSLR camera for images meant to show the quality of its smartphone photos.
This article appeared in the South China Morning Post print edition as: Huawei employees punished over iPhone tweet