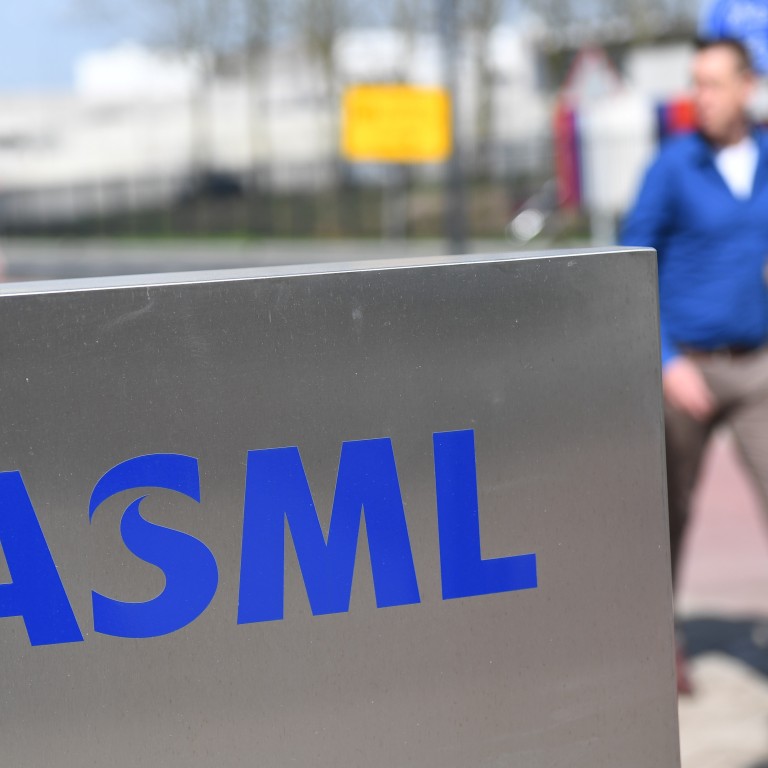 ASML chief dismisses US-China tensions as headache for business
Beijing wants to build its semiconductor industry to wean China off imports – an effort that would need ASML's gear
ASML's extreme ultraviolet lithography technology has both civilian and military applications
ASML Holding's top executive brushed off concerns about tensions between the United States and China, a market that is growing in importance to the Dutch supplier of chip manufacturing gear.
"Someone needs to make those chips and to make those chips you would need EUV, and there is basically only one place where they can get it," ASML chief executive Peter Wennink said in an interview with Bloomberg Radio, referring to the company's extreme ultraviolet lithography equipment. "For our total business it doesn't really matter."
ASML, which has a monopoly on advanced lithography equipment needed to make next-generation chips, is already a crucial supplier to Samsung Electronics and Taiwan Semiconductor Manufacturing Co, but hopes to drive deeper into China.
Beijing wants to build a world-class home-grown chip industry to wean China off imports – an effort that would need ASML's one-of-a-kind machines. Yet it has faced difficulty getting the Dutch government to renew a licence to export to China amid ongoing trade tensions.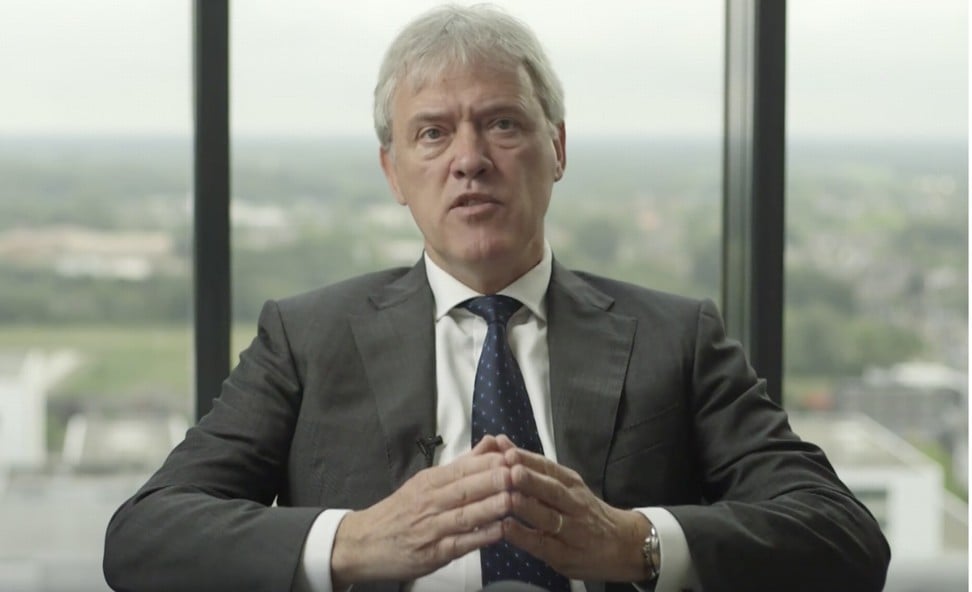 "It's up to the Dutch government to determine whether there is a national security risk and of course there are views in the US and China whether that's a risk," said Wennink, adding that the company has responded to requests for information from the Dutch government.
Asked whether he was optimistic about obtaining the licence, Wennink said "the Dutch government takes very due care when it concerns the facts and the circumstances".
China relies on imported chip manufacturing equipment for its audacious ambition of creating a self-reliant semiconductor industry, which supplies key components for a wide spectrum of electronics from smartphones to satellites.
ASML is an essential link in that plan, which will drive Chinese purchases of more than US$30 billion of semiconductor manufacturing equipment between 2020 and 2021, according to industry organisation SEMI. China's Ministry of Foreign Affairs said in a statement last week that the Netherlands should make an objective decision on ASML's exports based on its own interests.
European businesses have been caught in the middle of trade tensions between the US and China, even as Washington and Beijing last week sealed the first phase of a trade deal. But the US still maintains tariffs on roughly two-thirds of imports from China and both sides still need to negotiate the pact's second phase, with discussions expected to be difficult.
US officials have urged allies to scrutinise business ties with Beijing, invoking concerns around national security and espionage. The White House, concerned about China's ambitions to dominate a swathe of technology from artificial intelligence to semiconductors, has sought ways to contain the country's rise.
China, meanwhile, has threatened European countries with retaliation on trade if its companies are shunned. European telecommunications network operators are among those squeezed between the two major world powers after Washington called on European governments to exclude Huawei Technologies' equipment from the buildout of their 5G mobile networks.
The Dutch government has held back on renewing the license ASML needs to export its EUV lithography machines under pressure from US officials, Reuters reported this month. That equipment is key to any chip maker that wants to fabricate next-generation chips, say of 7 nanometre or lower nodes.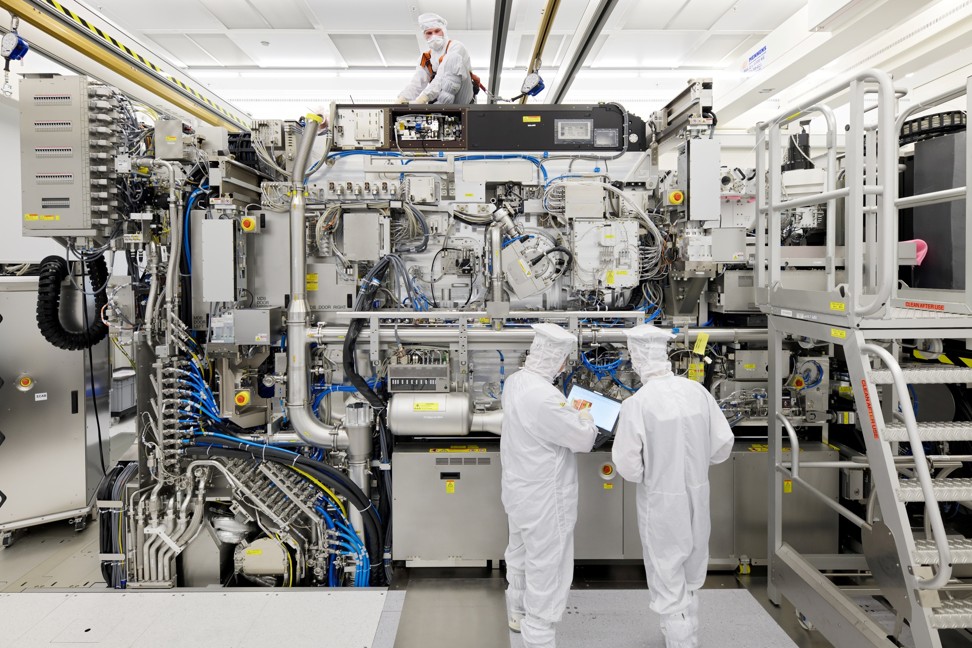 Last week, US ambassador to the Netherlands Pete Hoekstra told Dutch newspaper Het Financieele Dagblad that ASML's technology "doesn't belong in certain places", suggesting China. The Chinese ambassador, Xu Hong, had warned days earlier in the same paper that the relationship between the Netherlands and China was at risk if the government blocks EUV machine exports.
For its part, the Netherlands says it will take its own decision on the matter, independent of foreign influence. "They are free to express their view and we take note of that, but it is not decisive," Dutch Prime Minister Mark Rutte said of the US and Chinese ambassadors' comments last week.
ASML's EUV technology has both civilian and military applications and therefore is subject to EU dual-use licensing obligations under the Wassenaar Arrangement, according to the Dutch Foreign Ministry.
Wennink said at a press conference the Dutch government had asked the company questions about the EUV technology, how it works and who the customer is. The level of detail the government is seeking "is probably more than they would normally do", he said.
The delay in getting the EUV licence has "zero" impact on the company's business, Wennink said. The licensing issue concerns their first-ever EUV order from a customer in China, where few companies are at the stage of ordering the cutting-edge technology. ASML mostly ships the machines, which cost roughly 150 million euros (US$166.4 million), to the US, South Korea and Taiwan.
The company forecast first-quarter sales largely in line with analyst expectations and said it won orders for nine more of its EUV lithography machines in the last quarter. The Dutch company said it expect sales of 3.1 billion euros to 3.3 billion euros for the first quarter, compared with an average estimate of 3.26 billion euros.
ASML also announced a share buy-back programme of as much as 6 billion euros over three years, as the company said it expects to win 4.5 billion euros in EUV revenue this year.
Purchase the China AI Report 2020
brought to you by SCMP Research and enjoy a 20% discount (original price US$400). This 60-page all new intelligence report gives you first-hand insights and analysis into the latest industry developments and intelligence about China AI. Get exclusive access to our webinars for continuous learning, and interact with China AI executives in live Q&A. Offer valid until 31 March 2020.