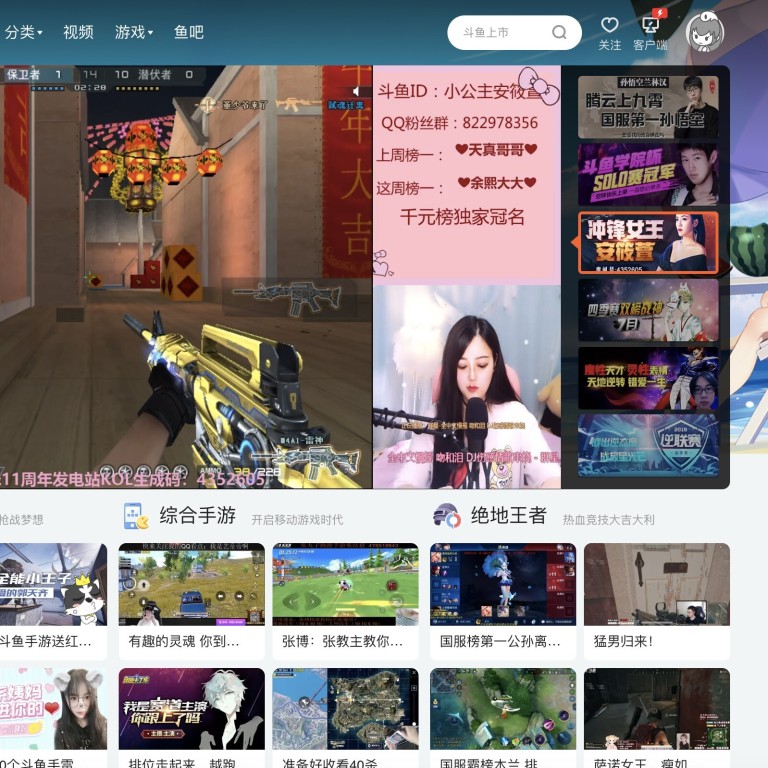 China's Twitch-like platforms remove gaming ads aimed at students following state media criticism
Huya said it introduced 'emergency changes' to the site to address concerns highlighted by state media
In the first quarter, Douyu reported a 53 per cent year-on-year increase in net revenue to US$321.1 million
Chinese live streaming giants Huya and Douyu have removed gaming ads targeting students from the education sections of their apps following criticism from state media.
A prime time news segment on China Central Television (CCTV) on Monday called out the two Twitch-like platforms for bombarding students with gaming ads while actively marketing themselves as online education portals for kids under quarantine from the coronavirus pandemic.
Hours after the segment was aired, gaming ads on Huya's "Let's Learn" and Douyu's "Education" sections had vanished. In a statement released on social media, Huya said that it introduced "emergency changes" to the site to address concerns highlighted by state media. At the time of publication, Douyu had not replied to questions from the South China Morning Post.
The criticism levelled at Huya and Douyu reflects growing Chinese government scrutiny of live-streaming platforms as Covid-19 has made online education and live-streaming indispensable for students. The move also attests to the government's efforts to tighten regulation of underage gaming.
In its news segment on Monday, CCTV also criticised the platform for failing to feature their education sections more prominently. As a result, students had to navigate through a myriad of gaming content before being exposed to any educational content.
Ding Daoshi, director of research at internet consultancy Sootoo in Beijing, said Huya and Douyu were now wrestling with how to balance their core live streaming game content with their new online courses, which have seen a surge in demand during the Covid-19 outbreak.
"Their main audience is young gamers but because they didn't spin off a separate live-streaming platform for education … all the gaming ads naturally spilled over to their education pages," said Ding.
Douyu and Huya, both controlled by internet giant Tencent, rapidly expanded into online education during the early stages of the Covid-19 lockdown. Douyu, which listed on Nasdaq last year, was designated by the Wuhan city government as an official platform for online courses. It now serves about 900,000 primary and middle school students across the city, which was the epicentre of the coronavirus outbreak.
Huya, listed on the New York Stock Exchange since 2018, has hosted free online courses for primary and middle school students countrywide.
The segment aired by CCTV also shed light on how some students were enticed by the gaming ads on the platforms. In one case, a parent discovered her 7th grader had spent 30,000 yuan (US$4,239) on a live-streamer while he was supposed to be listening to online lectures. In its statement, Huya said it has
refunded money to parents
who have reported such cases.
Douyu and Huya are the two biggest live-streaming platforms in China. In the first quarter, Douyu reported a 53 per cent year-on-year increase in net revenue to 2.28 billion yuan (US$321.1 million), with 158.1 million average monthly active users.
For the same period, Huya reported 47 per cent growth in revenue to 2.412 billion yuan, with 74.7 million average monthly active users.
This article appeared in the South China Morning Post print edition as: Gaming ads targeting students removed from apps