Intel
Get more with myNEWS
A personalised news feed of stories that matter to you
Learn more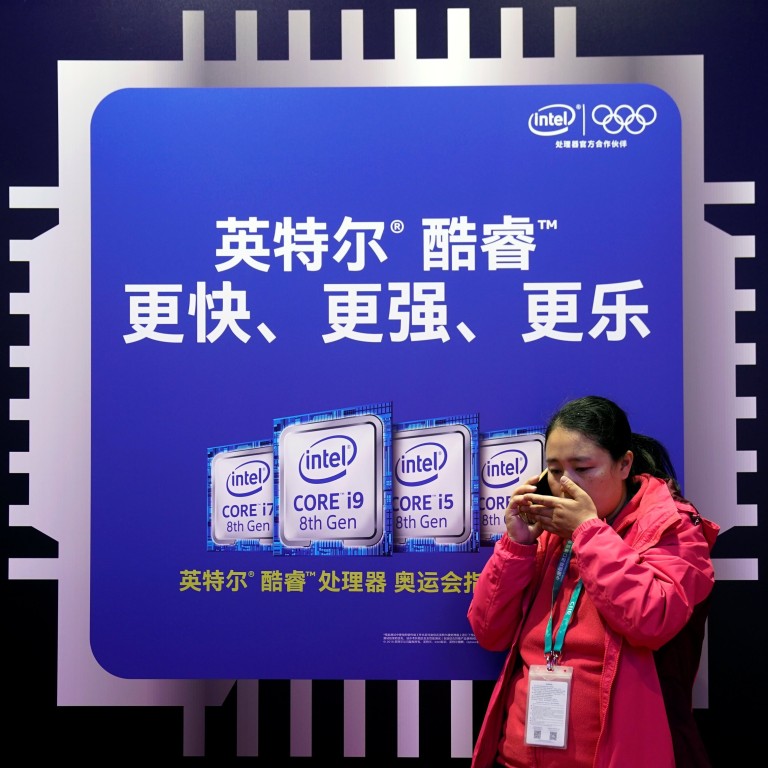 Intel resumes sales to Chinese server giant Inspur after suspension over US laws
Semiconductor maker Intel paused supplies to Inspur earlier this week, citing the need to ensure compliance with US laws
The move comes after the Pentagon listed Inspur and 19 other companies as owned or controlled by the Chinese military
"Intel had to make adjustments to its supply chain to ensure compliance with US laws, and so had no choice but to pause supplies to the customer," a spokeswoman from Intel China told the Post on Thursday night in response to queries about Inspur, without specifying the laws in question. "This suspension is expected to be no more than two weeks, and we will resume supplies to the customer as soon as possible."
On Friday morning, several Chinese media outlets reported that Intel had already resumed normal supplies to the Shanghai-listed company, citing replies by the company to queries on online investor relationship platform Panorama Roadshow. A spokeswoman from Intel confirmed the news.
Intel did not disclose when the suspension began, but local media reported that it halted supplies to Inspur early this week, following the release of the list of Chinese companies last Wednesday.
Inspur did not immediately respond to the Post's requests for comment.
Huawei has repeatedly denied any links with China's military.
The list does not in itself put any new restrictions on the red-flagged companies, but opens them up to increased US scrutiny: following its release, Republican Marco Rubio
said this week
that he is preparing a bill to ban Chinese companies from US capital markets if they engage in spying, human rights abuse or support China's military.
Shanghai-listed Inspur Group was the world's third-largest server vendor in terms of both shipments and revenue in 2019, according to research firm IDC. Its largest shareholder, with a 38 per cent stake, is Shandong State-owned Assets Investment Holdings, a government-owned investment holding company, according to business registration information provider Qichacha.
Analysts the Post spoke to declined to comment on Inspur specifically, but said both the US and China stand to lose from their worsening relationship.
Duan Meng, a server analyst at IDC, said the trade dispute and other factors such as Covid-19 are contributing to current uncertainties expected to "have a certain impact on the landscape of the Chinese server market ahead".
Naomi Wilson, senior director of policy for Asia at Washington, DC-based trade association Information Technology Industry Council, said that while the tech industry fully understands and respects the US government's need to identify and address potential national security concerns, "the US cannot afford to ignore the Chinese market or the increasing competitiveness of Chinese companies".
"They are an essential piece of the global market, in which US companies must fully engage to remain competitive and innovative," Wilson said.