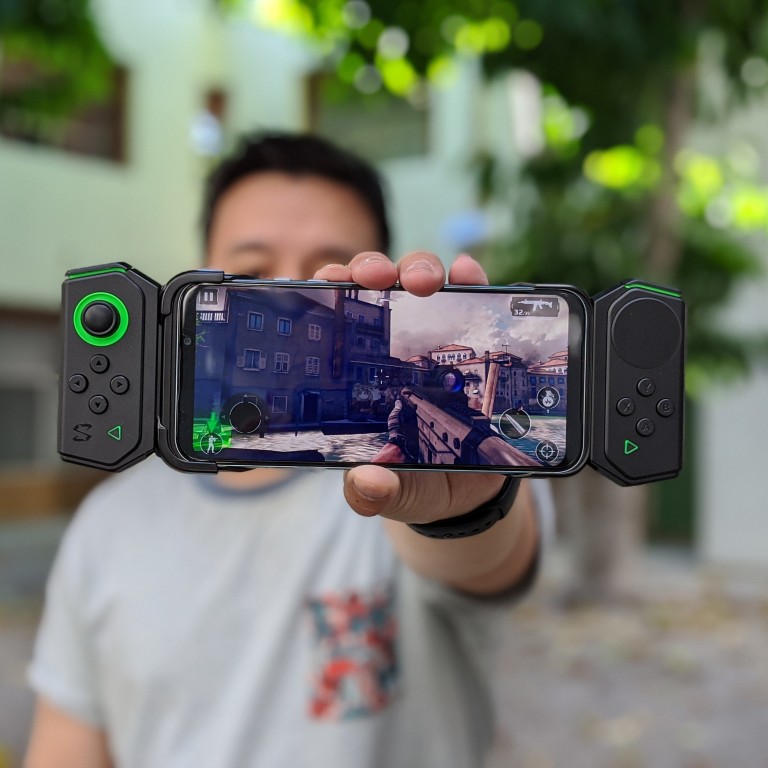 E-commerce firm JD.com launches gaming smartphone alliance to capitalise on mobile e-sports, 5G networks
As the smartphone market approaches saturation, smartphone makers are increasingly relying on gaming handsets to differentiate their products from the competition
China is home to 630 million mobile gamers and 350 million e-sports gamers, according to market research firm AskCI Consulting
With the advent of mobile e-sports and 5G networks, Chinese tech companies are trying to capitalise on the emergence of gaming smartphones. At the China Joy gaming expo that opened in Shanghai on Friday, e-commerce giant JD.com announced the formation of a new industry alliance for the sector.
Headed by JD, which has shown increasing interest in e-sports in recent years, the new 5G Gaming Smartphone Alliance also includes gaming giant Tencent as well as smartphone brands Black Shark, RedMagic, ROG and Lenovo. Black Shark, RedMagic and ROG are gaming device brands under Xiaomi, ZTE and Asus respectively.
Gaming smartphones, known for their massive battery capacity, highly sensitive displays and deep integration with mobile games, have become increasingly attractive to consumers who see their phone as their primary gaming device.
As the smartphone market approaches saturation, smartphone makers are also increasingly relying on gaming smartphones to differentiate their products from the competition.
China is home to 630 million mobile gamers and 350 million e-sports gamers, according to market research firm AskCI Consulting. Gaming consultancy firm Niko Partners reported that mobile and PC games revenue in China was US$33.1 billion in 2019 and it is projected to exceed $46.7 billion by 2024.
JD said it is looking to play a bigger role in the mobile e-sports industry and will facilitate sales of gaming smartphones via this new alliance. "Through exploring new distribution channels, hosting e-sports tournaments and other gaming events [JD will] create a one-stop shop for partners and empower partners across the entire supply chain," said JD Mobile Devices president Daniel Tan.
The ChinaJoy expo, which will run until Monday, has become the preferred venue for promoting gaming smartphones in the country. One announcement was the Tencent edition of the much anticipated ROG Phone 3, a high-end model with a hefty price tag of 7,999 yuan (US$1,142).
Tencent, the biggest gaming company in the world, has been actively promoting the development of gaming smartphones. Besides its partnership with ROG, in March the Shenzhen-based giant and Black Shark jointly launched the world's first 5G gaming phone, the Black Shark 3, priced at 4,999 yuan for the high end version.
China's e-sports market is forecast to top 100 billion yuan for the first time this year. After launching its own e-sports club, JD Gaming, in 2017, the company announced that it was working to bring e-commerce to Tencent's marquee e-sports league, King Pro League (KPL).