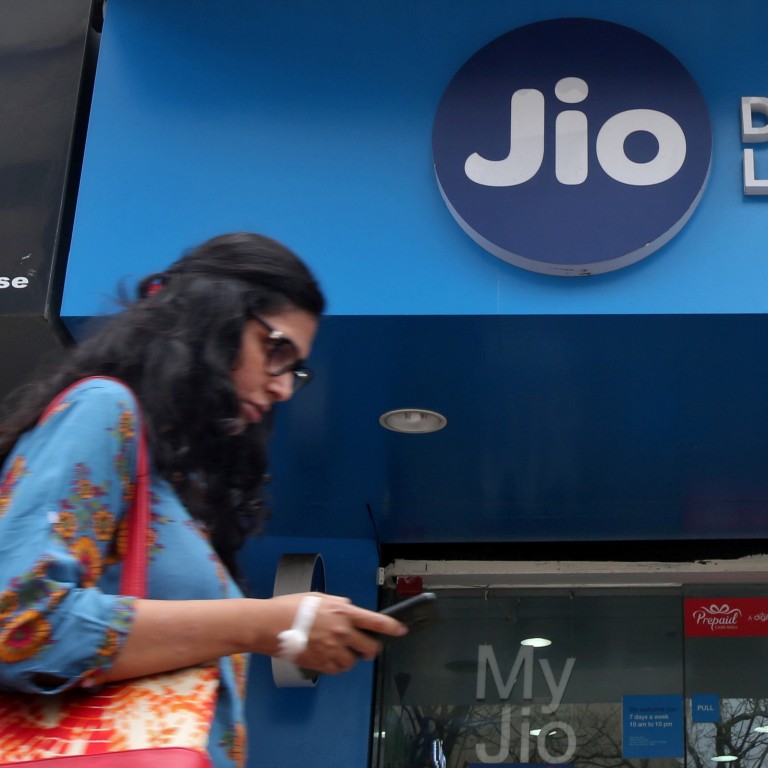 Jio's smartphone push not as big a threat as geopolitics to Chinese brands in India, say analysts
In the first two quarters Chinese smartphone brands saw their market share in India fall from 81 per cent to 72 per cent, according to research firm Counterpoint
Jio dominated the feature phone market in India last year but discontinued its own-brand smartphone in 2018
Indian tech giants are gearing up to take lost ground in a smartphone market dominated by Chinese vendors but analysts do not believe they will dethrone the likes of Xiaomi any time soon, with geopolitics remaining the more imminent threat for Chinese brands.
Jio Platforms, the Indian wireless operator and handset maker, is working with US chip maker Qualcomm to develop 5G solutions and accelerate network roll-out in the country, according to a joint statement by the two companies.
Jio's 5G plans will not have a big impact on Chinese smartphone vendors in the country, according to Zaker Li, senior mobile analyst at Omdia. "Geopolitical tensions between India and China will have a bigger impact on the performance of Chinese smartphones brands in India," he said.
In the first two quarters of the year Chinese smartphone brands saw their market share in India fall from 81 per cent to 72 per cent, according to Hong Kong-based research firm Counterpoint, which attributed the decline in part to anti-China sentiment.
In July Jio said it was teaming up with Google to make an affordable smartphone running custom versions of the Android operating system. Bloomberg reported last month that Jio had stepped up production to make 150 to 200 million smartphones over the next two years. Jio did not immediately respond to a request for comment.
In comparison, Apple shipped 198 million iPhones worldwide last year and Chinese smartphone maker Huawei sold 240 million, according to data from Canalys.
Indian handset makers are gearing up to retake the Indian market amid a backlash against Chinese technology and government bans on more than a hundred Chinese apps after a deadly border clash between Chinese and Indian troops.
Jio also plans to launch a 5G smartphone for less than US$70, with the price eventually going down to US$40, according to a report by The Times of India. Jio's plans are "ambitious" and the cheaper smartphones are likely targeted at potential feature phone upgraders, said Kiranjeet Kaur, senior research manager at IDC Singapore.
In India, 5G phones still operate on the 4G network, but even then some analysts doubt the handsets can go that low. "It is a bit ambitious to target a US$40 5G smartphone as that would hardly cover the component cost and require large subsidies," said Kaur.
"Many local players offered smartphones in this lower price range, but when the Chinese players offered much better specs, albeit at higher prices, consumer demand quickly migrated to higher-price, better-spec smartphones," said Kaur, adding that Jio's success in smartphones will depend on subsidies and bundling options.
Jio dominated the feature phone market in India last year but discontinued its own-brand smartphone in 2018.
Micromax, another local brand which once led the market, last week announced plans to launch a new smartphone brand called "In". The company will invest US$67.9 million in the new brand to compete with Chinese smartphone makers, according to Rahul Sharma, founder of Micromax.
However, Chinese vendors like Xiaomi are regaining ground as India's smartphone market reached an all-time high of 50 million shipments in the third quarter, according to Canalys.
Chinese brands currently dominate, accounting for four of the top five vendors, or 76 per cent of total Indian shipments in the third quarter, up from 74 per cent a year ago, according to a report released by Canalys on Thursday.
Xiaomi remained the market leader with third quarter shipments growing 8 per cent to 13.1 million units. Vivo, Realme and Oppo trailed behind No 2 Samsung, the only non-Chinese brand in the top five.
"The tensions have caused Chinese smartphone brands to act more conservatively in recent months, reducing their marketing spend," said Canalys analyst Varun Kannan, noting that the pull back has had no significant impact on consumer purchasing decisions so far.
The popularity of Chinese brands in categories like the low end, where handsets are priced from US$100 to US$200, has helped them maintain their market position, said IDC's Kaur.
"There is limited choice in those price segments and as long as competitor offerings are not comparable, the patriotic sentiment may just take a back seat," she said.