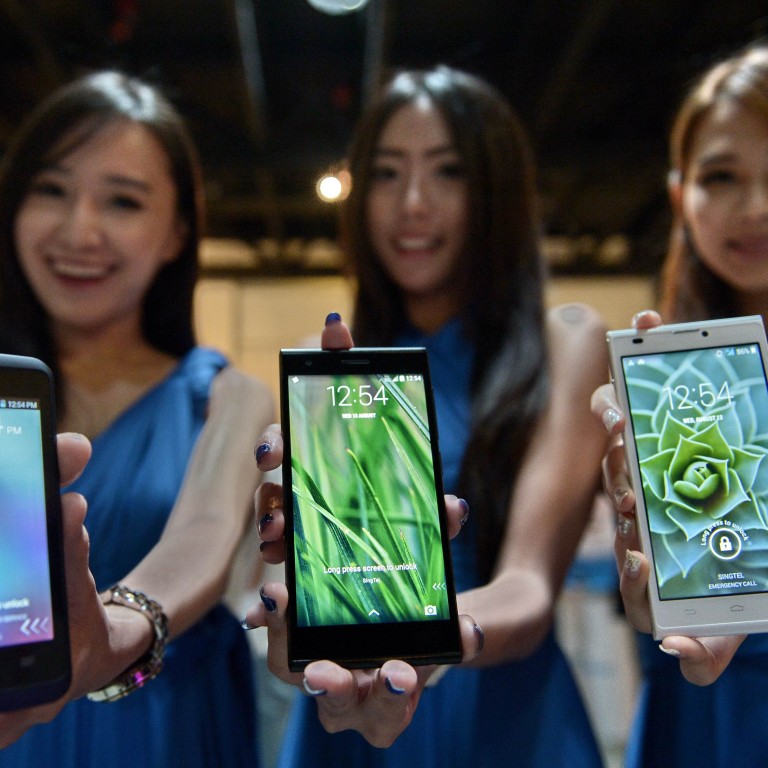 China to get '10 times faster' pre-5G internet in 2016 amid premier's push for tech development
Hundreds of millions of Chinese mobile phone users will have access to much faster internet as soon as the first half of next year, thanks to a key technology development with strong support from the central government to significantly improve internet speeds.
Maggie Cui, vice president in charge of wireless operation at ZTE, told the South China Morning Post that ZTE has been working with China Mobile, the world's largest mobile phone operator, to test so-called "pre-5G" connections, which could be more than 10 times faster than current 4G mobile internet.
"There is still some way to go before we can have a global recognised 5G standard but I think we can apply some mature advanced technology to existing 4G network before we officially enter the 5G era," Cui said on the sidelines of the Mobile World Congress (MWC) Shanghai.
If successful, China could take the lead in pre-5G and later 5G technology development as top Chinese leaders including premier Li Keqiang have shown their frustration over slow internet speeds that they believe could hurt national economic growth and industrial restructuring.
"China is the world's biggest mobile phone market, but internet speeds are ranked worse than 80th in the world. Our information infrastructure is backward," Li said during a cabinet meeting in May, according to the official Xinhua news agency.
Li said state-owned mobile network service providers should aim to increase speeds for urban users by 40 per cent.
Following Li's complaints, the nation's Big Three state-owned mobile network operators – China Mobile, China Unicom and China Telecom – all announced new plans to cut mobile data fees and to increase mobile internet speed. However, local internet users have raised concerns about whether the telecoms giants were really taking the government's push for faster internet speed seriously.
"Clearly, many users feel their demand for faster internet has gone beyond what the existing 4G network can offer. In many top-tier cities where you have far more users gathering in one specific location and they all get on the internet, our existing 4G network could easily meet its peak," Cui explained.
ZTE has touted its "pre-5G" technology as providing faster speeds on 4G networks. It sees this as an intermediate step between 4G and 5G, which the global wireless industry is hoping to have up and running by 2020. The company has said it will spend around US$220 million globally on 5G and other mobile communication technologies between 2015 and 2018.
This week, ZTE signed a deal with South Korean telecoms provider KT Corp to form a strategic partnership to jointly research the commercialisation of 5G technology. This deal followed ZTE's agreement last week with Japanese firm SoftBank to bring its "pre-5G" technology to Japan.
Domestically, ZTE and China Mobile have completed their first test-run for "pre-5G" network and China Mobile could choose some top-tier cities where demand for faster internet speed is high to launch the "pre-5G" service first, said Cui.
"For example, in [Shanghai's] Lujiazui area, demand of users there for fast mobile internet must be much higher than in other second-tier or third-tier cities," she said.
Internationally, ZTE is also working with telecoms firms in Germany and Australia to jointly push for "pre-5G" and eventually 5G technology development.
ZTE's tie-up with China Mobile on "pre-5G" technology is an exclusive deal for now but Cui said the firm will not rule out the possibility of working with the other two major state-owned mobile network operators in the future.
Such a joint effort between ZTE and China Mobile has won support from the government, said Cui, partly because it meets premier Li's "Internet Plus" strategy to push for faster integration of traditional sectors and new digital services so that the government can meet its goal for industrial upgrade and economic restructuring.
"In the long run, if China can master the 'pre-5G' technology well, it also lays the foundation in the future for China to stay on top of 5G technology on the world stage," said Cui.
Mobile phone users will not need to do anything to take advantage of the new "pre-5G" network once it is implemented, she said, adding that China Mobile could also expect higher data traffic from the upgrade.
China Mobile chairman Xi Guohua agreed. "The faster the network is, the more traffic users will use," he said during a keynote speech at MWC Shanghai.
Users of 3G and 4G smartphones in China are on pace to make up two-thirds of the country's mobile connections by the end of this year, according to a recent industry study.
Smartphones will account for 913 million, or 68 per cent, of the estimated 1.3 billion mobile connections in mainland China, industry association GSMA said this week.
In June, China Mobile said it expected to reach 300 million 4G subscribers by the end of this year.