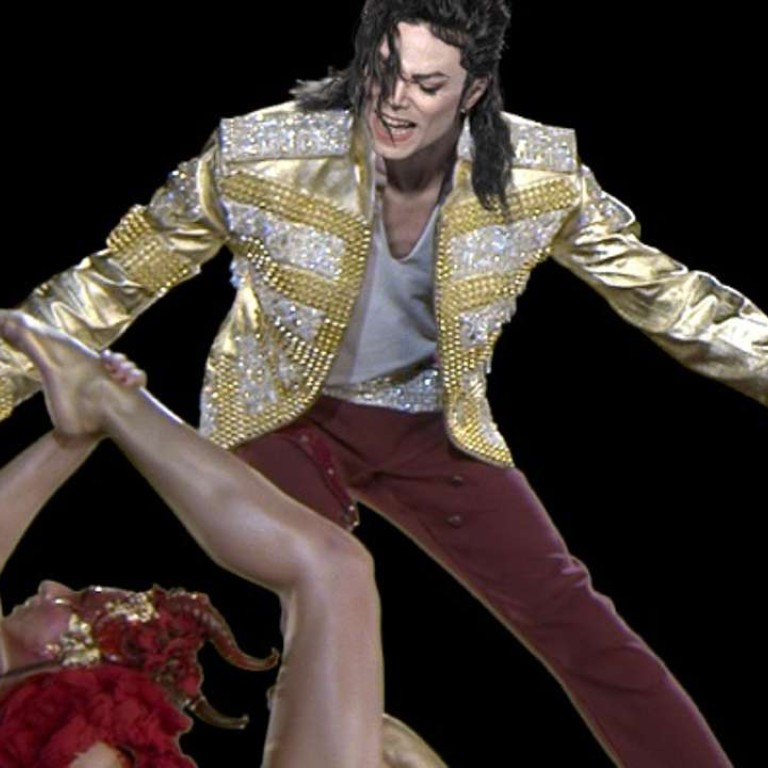 Tupac, Jacko - who's next? Pulse Evolution says many holograms of stage stars coming soon as era of 'digital humans' beckons
"Digital humans" are coming to a stage, classroom or video game near you as the company behind Michael Jackson's appearance as a hologram at the Billboard Music Awards in 2014 expands its reach beyond celebrities who have passed away.
Since temporarily reviving the King of Pop via some clever technology, Pulse Evolution has been at work developing digital versions of Elvis Presley and Marilyn Monroe.
The company, which was created by the former owners of visual effects company Digital Domain, is also developing new ways to bring more realistic characters to games using virtual reality so that gamers can fully immerse themselves in and interact with such 3D worlds.
WATCH: even Jacko's hologram is a slave to the rhythm at the 2014 Billboard Music Awards
"When you're in a VR environment, you'll meet other humans, but they won't be flesh and blood, they'll be digital and we think they should be realistic and compelling," said John Textor, executive chairman of Pulse Evolution.
Last month, the company announced a partnership with British music mogul Simon Fuller to create "digital pop stars" using real artists who have just started out.
One project reportedly involves a young woman who aims to become the first singer to launch in person and as a digital presence at the same time.
WATCH: Tupac hologram at Coachella HD, from the film reel of Pulse Evolution's John Textor
Virtual reality entertainment sales are expected to reach US$5.1 billion globally in this year, according to SuperData, which provides data and insights on the global games market. Virtual reality gaming in Asia is forecast to be worth US$1.1 billion.
Asia is potentially a large market for Pulse Evolution, Textor said. Japan has already embraced hologram star Hatsune Miku - a humanoid persona voiced by a singing synthesiser app - and Chinese media companies are now more open to embracing innovative ideas, he added.
Earlier this year, the company received investment from China's Original Force Computer Animation and Shanghai U9 Game, both of which are backed by Chinese gaming and social giant Tencent.
Textor said a quarter of the US$40 million Pulse Evolution had raised has come from Chinese investors.
A deceased celebrity can be recreated in digital form from thousands of photographs, while a living person's face can be scanned showing various emotions, the company said.
Each digital human created by the company has 15,000 to 18,000 individually moving parts for their face alone. Details range from dilating pupils to imperfections in their complexion.
"The face has to be inconsistent. If it's too perfect, it looks fake," Textor said.
"Imperfect is really difficult to do. The amount of technology we had to develop to make bad skin is pretty amazing."
To create the hologram, the image is projected onto a plastic screen angled at 45 degrees from a large horizontal screen above the stage. It is similar to the illusion technique known as Pepper's Ghost, which dates back to the 16th century and was often used at carnivals in the 19th century. This relied on a stage arranged into two rooms with a plate of glass between them to conjure up "ghostly" images.
Textor said the estates of many deceased celebrities are interested in creating digital versions of the person to keep generating revenue through performances or by allowing the digital images to be used for advertising.
Late American rap star Tupac Shakur's performance at the Coachella Valley Music and Arts Festival in 2014 was created by Textor's former company Digital Domain. It served as an early test case for the potential of the technology.
After the performance, the artist's music sales shot up and between US$150 million and US$200 million of commercial transactions were recorded, Textor said.
The technology can also be combined with artificial intelligence for interactive learning.
Textor said the company has been approached to create digital representations of historical figures from various nations for educational purposes.