Baidu
Get more with myNEWS
A personalised news feed of stories that matter to you
Learn more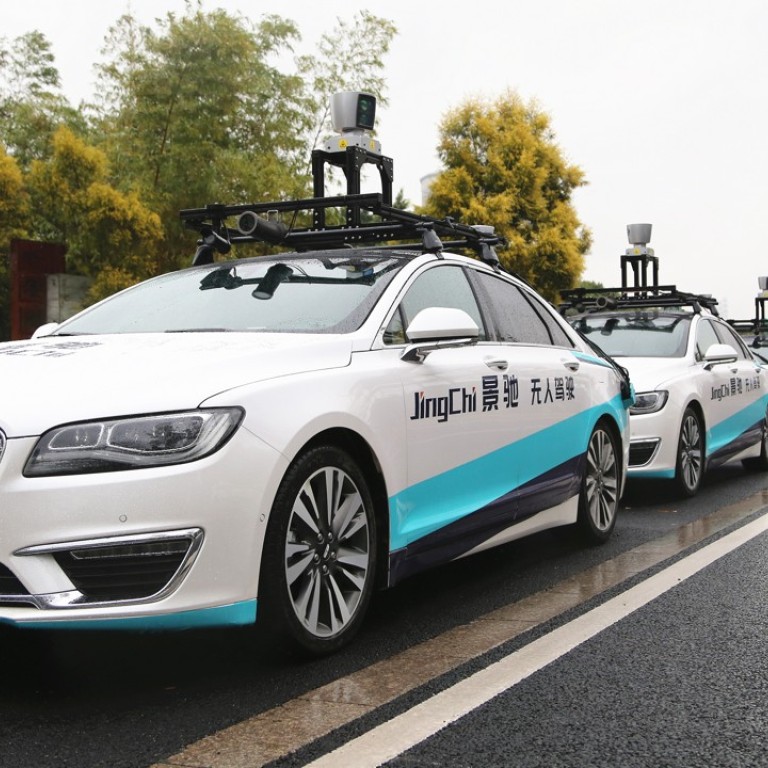 Baidu's former self-driving chief offers test rides of autonomous cars in Guangzhou amid lawsuit
JingChi, the start-up founded by Baidu's former autonomous driving chief, has launched a three-month public demonstration of its fleet of self-driving cars on an island located at the centre of the capital of Guangdong province.
Unfazed by a lawsuit accusing him of stealing technology from China's largest online search provider, Wang Jing, the former general manager of Baidu's autonomous driving unit, is now offering test rides of his new company's fleet of self-driving cars to the general public in the southern coastal city of Guangzhou.
JingChi, the self-driving technology start-up that Wang co-founded in April last year, launched on Tuesday a three-month, public test ride programme as part of its goal to be the first company to achieve large-scale, commercial deployment of Level 4 autonomous vehicles in China.
The Level 4 category means a highly automated vehicle that can run without human input in specific conditions, such as a type of road or geographic area.
All test rides by JingChi are to be conducted within the government-established Guangzhou International Biotech Island, which covers a 1.8-square kilometre (0.69-square mile) area located in the geographic centre of the capital of Guangdong province.
JingChi, which is headquartered in the Guangzhou Development Zone in the city's Huangpu district, said in a statement that its trial will enable "the general public to experience the future of transport", while the firm continued to collect data on open roads before expanding its self-driving car tests.
Online reservations are now being accepted by JingChi for test rides, each of which is estimated to take about 15 minutes on a circular route in the island.
That public autonomous driving trial, however, will likely be under scrutiny by
Baidu
. The Nasdaq-listed company had sued both JingChi and its 52-year-old chief executive, Wang, in December last year for alleged theft of intellectual property related to self-driving technology.
The Baidu lawsuit, which was filed in the Beijing Intellectual Property Court, reflects
a similar dispute in the United States
between Waymo, the autonomous car development subsidiary of Google parent Alphabet, and Uber Technologies.
Baidu has demanded JingChi to cease using the technology it purportedly stole, as well as pay it 50 million yuan (US$7.9 million) and bear all legal costs. 
Wang had earlier described Baidu's lawsuit as "entirely groundless".
JingChi's public trial of self-driving cars in Guangzhou showed the start-up was determined to push forward with its expansion plans, which includes launching up to 1,000 self-driving vehicles in China this year.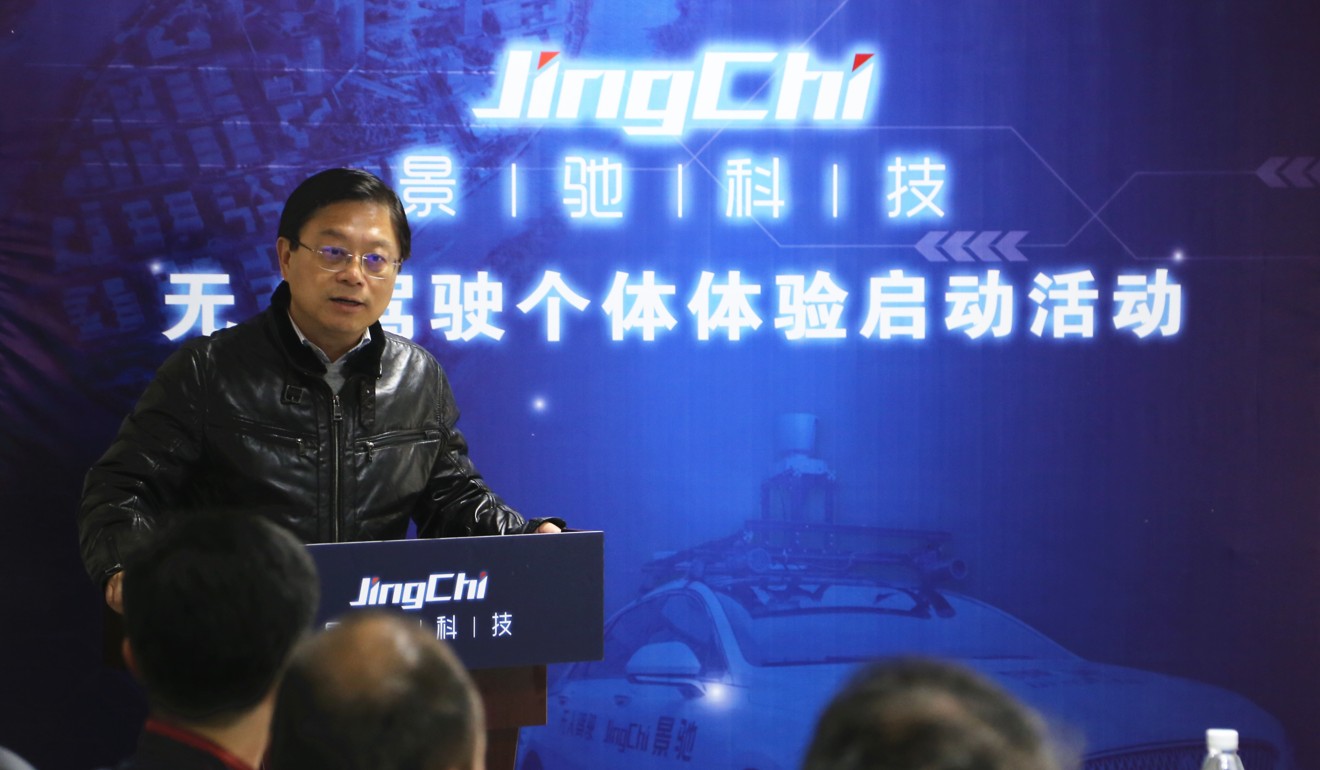 The company had already obtained strategic funding. It completed in September last year a US$52 million pre-A funding round from Chinese venture capital firm Qiming Venture, the GPU Ventures programme of US chip supplier Nvidia Corp and a consortium of undisclosed investors.
In August last year, JingChi signed an agreement with the government of Anqing, a city in the eastern province of Anhui, that allows the company to initially deploy a fleet of 50 self-driving vehicles and then provide a ride-hailing service using its "robotaxis" this year.
JingChi's self-driving car trial in Guangzhou was announced days ahead of another autonomous driving programme that will be launched by rival Pony.ai this Friday in the same city.
Based in Beijing and in California's Silicon Valley, self-driving car start-up Pony.ai was also formed by former Baidu executives. Pony.ai chief executive James Peng previously served as chief architect for autonomous driving at Baidu's US operations, while chief technology officer Lou Tiancheng was a US-based Baidu engineer involved in the same field.
Pony.ai raised US$112 million earlier this month from its Series A funding round, led by Chinese venture capital firms Legend Capital and Morningside Venture Capital. Other investors included IDG Capital Partners and Sequoia Capital.
JingChi and Pony.ai are among dozens of Chinese autonomous driving start-ups that have emerged over the past two years in the world's largest car market. These companies are now competing in a new car market segment that pits technology companies, such as Alphabet and Baidu, against traditional car makers like General Motors, Ford, Toyota, BMW and Mercedez-Benz owner Daimler.
Baidu has vowed to release a driverless car this year, with mass production to begin by 2021, and has enlisted 70 global and Chinese companies – from carmakers to ride-sharing companies – as partners for its Apollo autonomous car software initiative. Baidu also launched a 10 billion yuan autonomous driving fund with Yangtze River Industry Fund last year to invest in more than 100 self-driving projects. 
China's government has played an active role in fostering the smart car era in the world's second-largest economy. The National Development and Reform Commission, the country's top economic planning agency, has set a three-year plan to accelerate the building of a nationwide visual mapping database, which is crucial for the adoption of self-driving vehicles.