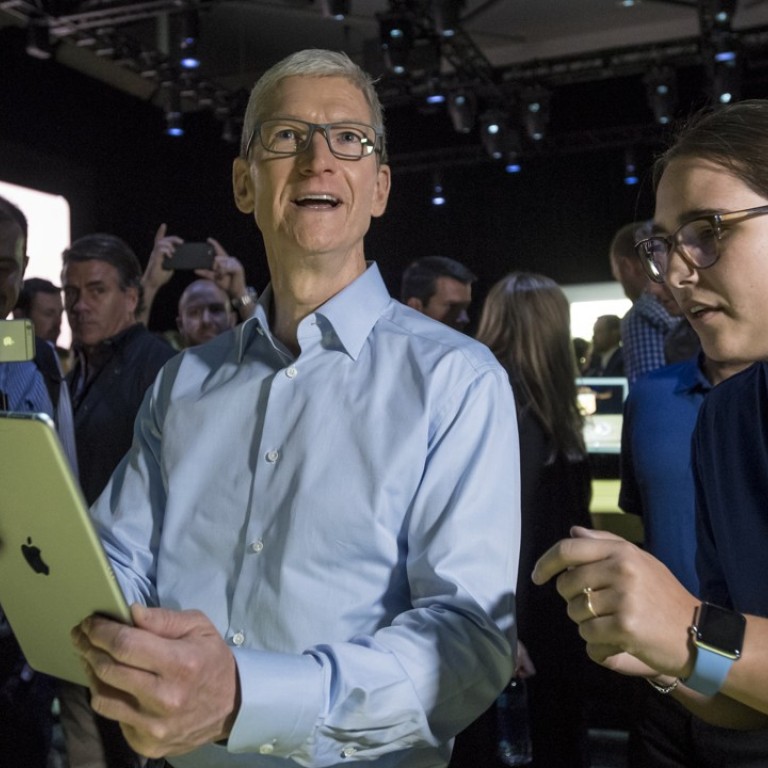 Tim Cook is no Steve Jobs, and that's fine
Despite higher profit and revenue under his watch, Tim Cook's Apple is criticised for no longer being the innovator it once was
By Leon Lazaroff
CEO Tim Cook has heard it all before. And he's heard it for a while. He's no Steve Jobs.
Despite doubling revenue and profit and tripling the amount of cash Apple holds in banks around the world, Cook is routinely blasted for a lack of innovation.
"In five years the only truly new product that's managed to ship is the Apple Watch," a Quartz columnist wrote at the end of last year. "And somehow, with 115,000 employees, Apple can barely get annual updates out for its laptops and desktop computers."
In an April segment from NPR, Apple was unfavourably compared with Amazon.com Inc., which has taken an early lead in the connected home with its voice-activated Echo, and Microsoft Corp., which has created a nice business from its Surface laptop. Also cited was Samsung Electronics Co. Ltd. for its
Galaxy S8 smartphone, which finally has a battery that works.
And earlier this week, TheStreet's Natalie Walters spoke with former Apple creative director Hugh Dubberly, who didn't hold back his feelings that the company just isn't what it once was.
"Steve is gone, and so the creative direction is gone," Dubberly said. "It's sad to see Apple slipping to the position of follower, which used to be Samsung's position."
So what's up, Mr. Cook?
Well, revenue in the fiscal third quarter, ended July 1, climbed seven per cent to US$45.41 billion as fears that iPhone 8 production delays might crimp sales didn't materialise. In fact, Apple said Tuesday, Aug. 1, that iPhone unit sales rose two per cent to 41 million from the same period a year ago, meeting expectations. Sounds like someone, somewhere at Apple effectively dealt with production delays.
IPad sales were easily the biggest surprise in the report, according to TheStreet's Eric Jhonsa, who closely covers Apple. Despite a 12 per cent drop in iPad sales for the previous quarter year over year, iPad revenue grew two per cent this time aroundto US$4.97 billion, easily surpassing analyst expectations that sales would total US$3.95 billion.
Most importantly, Cook's Apple delivered the kind of upbeat projections that make investors happy to drive Apple shares to record levels. Apple has projected sales of US$49 billion to US$52 billion for the three months through September, while analysts were expecting sales of US$49.1 billion. The higher figure suggests the new iPhone model will be released by the end of September, according to Jackdaw Research chief analyst Jan Dawson, further putting to rest concerns about production delays.
It seems very likely that Apple will release its new iPhone 8 model in the fall rather than at the end of 2017 or early 2018 as some had forecast. Updated models of the iPhone 7 and iPhone 7 Plus are likely as well. Morgan Stanley said its expected 23 per cent iPhone unit growth supported by a 20 per cent increase in sales of two-year-old iPhones.
For Cook, the result points to the importance of managing a product as valuable as the iPhone. Innovation is hard to do. It takes brilliance and a bit of luck. Still, Apple is making inroads into augmented reality, Cook said, explaining that AR-capable devices represent future growth areas for the company.
"I could not be more excited," he said. It might, in turn, be time for people to finally get excited that Apple is headed by Tim Cook.
Apple shares on Wednesday afternoon were up 4.6 per cent to US$156.93, giving the company a market capitalisation of nearly US$820 billion. Not bad for someone not named Steve Jobs.