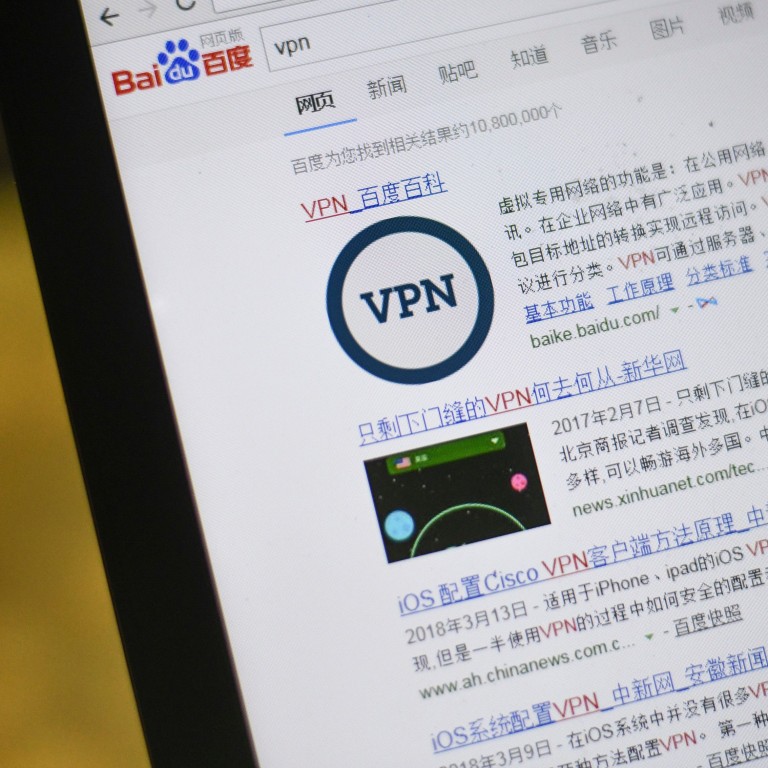 Chinese VPN user fined for accessing overseas websites as part of Beijing's ongoing 'clean up' of internet
China blocks access to 135 out of 1,000 of the world's top websites, including Google, Facebook, Twitter and YouTube
Chinese authorities have issued a disciplinary warning to a Guangdong man and ordered him pay a fine of 1,000 yuan (US$164) for setting up an unauthorised Virtual Private Network (VPN) service to connect to international websites, as Beijing intensifies its campaign to "clean up" the domestic internet.
The man, surnamed Zhu and from Shaoguan city in Guangdong province, was punished on December 28 because his behaviour violated Articles 6 and 14 of the Provisional Regulations of China's Administration of International Networking of Computer Information, according to an announcement posted on the Guangdong government's website.
Individuals and organisations can only connect to international networks through channels provided by the government, according to regulations listed on the Ministry of Industry and Information Technology's website.
China blocks access to 135 out of 1,000 of the world's top websites, including Google, Facebook, Twitter and YouTube, according to Greatfire.org, which monitors online censorship in the country. In recent months regulators have cracked down on Chinese internet companies, ordering them to remove "inappropriate" content, including pornography and political speech, as part of the Communist Party's "clean up" of the country's online environment.
It is not the first time authorities have singled out a Chinese citizen for punishment for offering VPN services in China. In 2017, as part of a 14-month nationwide campaign against unauthorised internet connections, including VPN services, a Chinese man from southwest Guangxi province, Wu Xiangyang, was sentenced to five and a half years in prison for selling VPN services online. Wu also had to pay a fine of 500,000 yuan (US$72,790), an amount equivalent to the profits he had made from his VPN business since 2013.
The most recent VPN clean-up campaign, which started in January 2017 and ran until March 31, 2018, crippled most VPN services on the mainland as the government required them to obtain approval. At the time Chinese authorities said the country's internet connection service market showed signs of "disorderly development that ­requires urgent regulation and governance".
The last major crackdown on VPNs was in March 2016 during the National People's Congress meeting in Beijing. Many companies complained that their paid-for VPN services were not functioning for up to a week.
Millions of Chinese netizens, however, have expressed the desire to access overseas websites, especially younger online users who have more international experience. The growing demand from Chinese people to connect overseas is in direct conflict with the government's intensified crackdowns on VPN services. As a result, a cat-and-mouse game has been going on for years between authorities and VPN service providers.
VPN services provide alternative channels so that Chinese netizens can bypass the Great Firewall, which is the government's system for limiting access to international websites and online services.