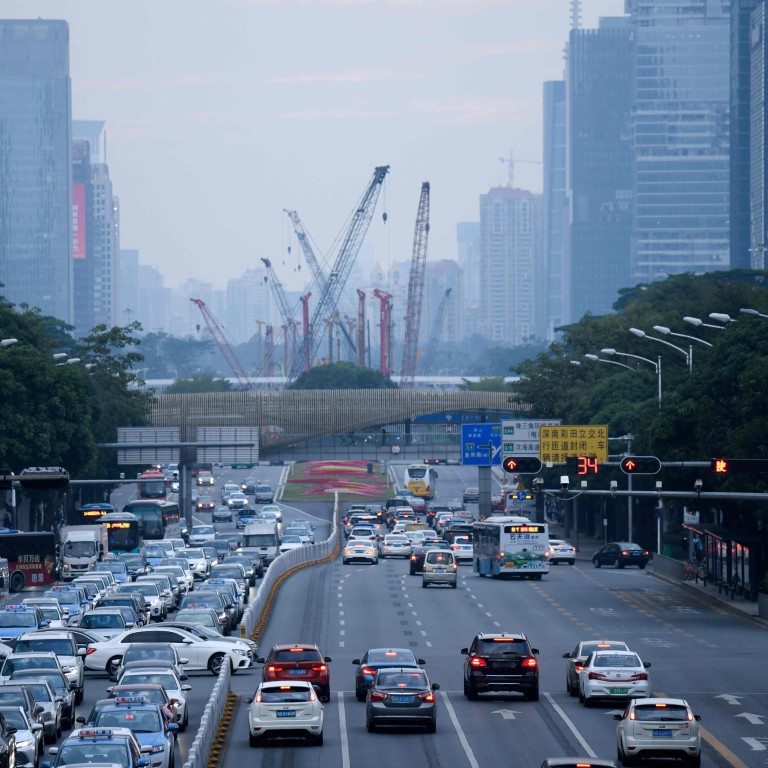 China's Greater Bay Area still has hurdles to clear if it wants to be a tech challenger to Silicon Valley
Greater Bay Area aims to erase barriers between cities in the region in terms of policy, financing, logistics and talent
However, regional shortage of hi-tech research capacity is turning into a hindrance, analysts say
The "Greater Bay Area", touted as China's answer to Silicon Valley, may serve as a symbol of China's determination to match US technological might, but a shortage of top-notch talent and schools, along with the simmering trade war between the US and China, have clouded its prospects in the short term, according to analysts.
Beijing wants this proposed integrated area, which links nine cities in Guangdong province – including Shenzhen and Guangzhou – with the Hong Kong and Macau special administrative regions, to become an economic powerhouse that can match any other technology hub on the planet. This may take time though.
The detailed bay area plan, released by Xinhua on Monday evening, vows to develop an international innovation and technology hub.
That will leverage the region's scientific research and development capabilities, which includes a number of universities, research institutes, hi-tech enterprises and national science programmes, according to the plan.
It said China aims for the bay area to deepen hi-tech cooperation between Guangdong province, Hong Kong and Macau by pooling resources and promoting policies that foster innovation. In addition, the bay area will focus on improving the commercial application of new technological achievements and becoming a major source of emerging industries.
"Whether China's technological ambition can be realised will largely depend on investment in basic research," said Ouyang Liangyi, an associate professor at Peking University HSBC Business School. "Most of China's technological innovations are application-oriented, which needs support from foreign suppliers, in areas such as chips … the development of the underlying technology is decided by the entire environment, not something that the Great Bay Area alone can change."
The country has been trying to reduce its dependency on imported technology by developing its own. Beijing's "Made in China 2025" programme is explicitly aimed at lifting the country's industries – from robotics, aerospace and new materials to new energy vehicles – up the value chain, replacing imports with local products and building global champions able to take on Western tech giants in cutting-edge technologies.
Although the bay area was officially announced by Chinese Premier Li Keqiang in March 2017, the Pearl River Delta region in southern China has been the focus of reforms over the past four decades. Shenzhen is now a well-established electronics manufacturing zone and home to several of China's most famous tech names, such as Huawei Technologies, Tencent Holdings, ZTE Corp, drone-maker SZ DJI Technology, and battery and electric vehicle maker BYD Co.
Shenzhen, once a small fishing village with a population of around 300,000, benefited from liberalisation under paramount leader Deng Xiaoping and today it has grown into a city of around 12 million people known for its spirit of entrepreneurship and innovation. Many of the city's talented engineers are products of apprenticeship programmes under which students learn the necessary skills from a mentor before becoming owners or vendors themselves in the popular Huaqiangbei electronics market, where hundreds of stalls sell electronic products.
The bay area's formation is aimed at erasing barriers between cities in the region in areas such as policy, financing, logistics and talent, and greatly enhancing the overall technology focus of the region, said Witman Hung, principal liaison officer for the Hong Kong, Shenzhen Qianhai Authority, which facilitates cooperation between the two cities.
"The Greater Bay Area is meant to work as an integrated value chain," said Hung. "In future, research results from a Hong Kong lab will be made into a prototype by a Shenzhen company, and sent back to Hong Kong for the design. Factories in Dongguan will then start production, and the products will be shipped overseas immediately."
However, a shortage of hi-tech research capacity in the region is turning into a hindrance, according to analysts, with most of China's top-notch science and engineering schools located in the northern and eastern provinces. Although Hong Kong has several universities in the world's top 100, only a few of them have a science and technology focus.
"Insufficient original innovation capacity could affect subsequent development of the Greater Bay Area as the combined number of scientific papers from Shenzhen, Hong Kong and Guangzhou is [only] equal to the amount in Shanghai, and only half the number in Beijing," said Liu Guohong, a director at Shenzhen-based think tank China Development Institute. "There's a huge gap [between north and south]."
After Silicon Valley in California, Shanghai, Tokyo, London and New York are the next biggest tech hubs, according to a survey of 750 global technology leaders last year by accounting firm KPMG. Beijing and Singapore were placed in a "promising" category in the survey, but Shenzhen and Hong Kong did not make it into the top 10.
Some of the region's leading companies have also become embroiled in the ongoing trade war between the US and China. Huawei, the world's largest telecommunications equipment supplier, has been accused by the US of conspiring to steal technology from network operator T-Mobile and violating US sanctions by concealing its business ties in Iran. Meanwhile, ZTE was fined almost US$3 billion for export rule violations involving Iran and North Korea.
DJI, the runaway leader in consumer drones with almost three-quarters of the market, became mired in a data privacy controversy last year, when the US Army banned the use of its drones over security concerns.
Being one of the biggest integrated, industrial supply chains in the country, it comes as no surprise that the bay area initiative has been negatively impacted by US-China trade tensions, said Liu of the China Development Institute.
"But in the long run, it (trade friction) might also be a trigger point to force these enterprises to accelerate their transition from applied innovation to original innovation, as well as sector integration in the region, making it a global high-end region in terms of technology design and manufacturing," said Liu.