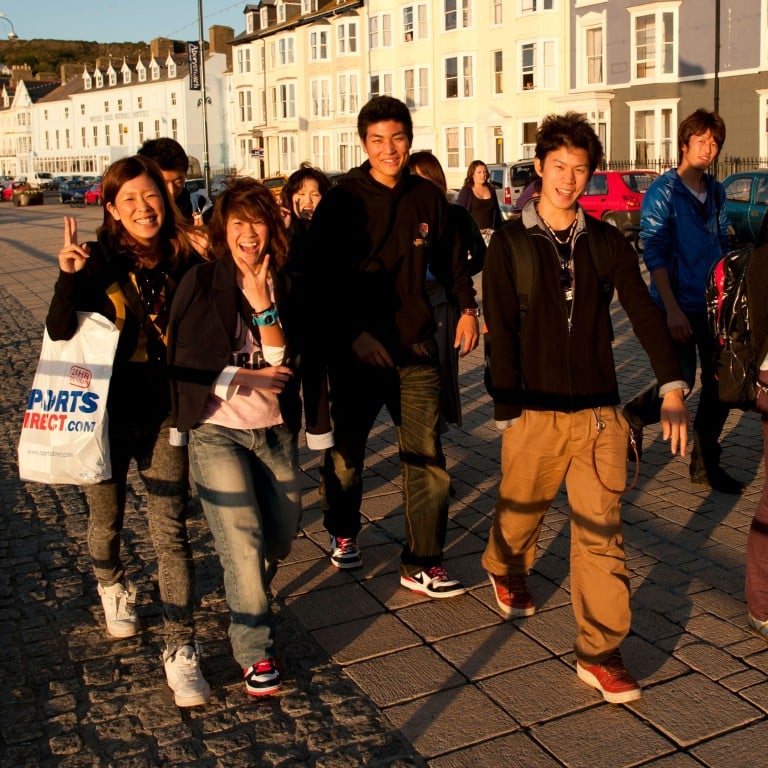 Trade war turning Chinese students off the US, with many opting for UK, Canada and Australia, says payments firm
Survey found that 20.14 per cent of respondents chose the UK as their first choice, ahead of the US at 17.05 per cent
Chinese students are shunning the US amid the trade war with China, with many opting instead for Britain, Canada and Australia, according to money-transfer firm Easy Transfer.
After the Trump administration imposed tariffs on Chinese imports last year amid accusations of IP theft and forced technology transfer, the number of Chinese students wanting to study in the US declined over concerns they may not be able to get a visa, according to Easy Transfer, a fintech start-up facilitating tuition payments for Chinese students abroad.
The Beijing-based firm saw its total transaction volume reach US$776 million in 2018 and expects that to top US$1 billion this year. However, its China-to-US payment transition volume, which accounted for 95 per cent in 2015, dropped to 50 per cent in the first quarter of 2019.
"There is a trend of Chinese students choosing non-US universities. The countries taking the most share of new transaction volumes and student interest are the UK, Canada, and Australia," said Tony Gao, chief executive officer of Easy Transfer. "More and more Chinese companies are thinking about a broad set of markets when they develop outside China."
The Beijing-based company was established in 2013 by two Chinese students when they were studying in the US and found there was no convenient way to transfer funds out of China to pay tuition, housing costs and other expenses.
"It was always time consuming and expensive to transfer money to overseas countries. Parents have to visit their bank in-person, often several times over multiple days," said Gao. "Our business expanded quickly as we bring this process down to as little as three minutes and halve the service charge."
The "2019 Chinese Student Overseas Study Survey Report" from Chinese education consultancy EIC Education showed that 20.14 per cent of respondents chose the UK as their first choice of study destination, ahead of the United States at 17.05 per cent.
Other popular choices included Canada and Australia among English-speaking nations, as well as Germany and France in Europe, and Hong Kong, Japan and South Korea in Asia.
Studying in the US is seen by Chinese students as the best way to open doors to the top jobs at home or abroad. Chinese nationals make up one third of the 1.1 million international students in the US, according to New York-based Institute of International Education.
However, the situation is changing. "The trade war makes it more difficult for Chinese students to apply to US universities and it is also harder to find jobs in the US after graduation, especially in the hi-tech sectors," said Zhang Yuguang, whose 16-year-old daughter had been preparing for two years to study computer science overseas.
Another contributing factor is the Chinese yuan, which has weakened beyond 6.9 to the US dollar over the past two weeks, making tuition fees higher in the US, Zhang added.
Since last summer, Chinese students involved in robotics, aviation, engineering and hi-tech manufacturing – priority areas in Beijing's Made in China 2025 industrial policy – have faced tighter visa controls. Horror stories about not being able to get visas have been circulating among Chinese students in the US. Some are reluctant to travel back to China to visit family for fear of not being allowed back into the US.
At least 100 Chinese students – including one ranked among the 10 most influential scientists by British scientific journal Nature – have encountered delays in visas to the US.
The Trump administration has rolled back an Obama-era policy that allowed Chinese citizens to secure five-year student visas. Chinese students in hi-tech fields considered sensitive could also face additional screening from US embassies and consulates, a senior State Department official confirmed at a Senate hearing in June last year.